No Time To Die (2021)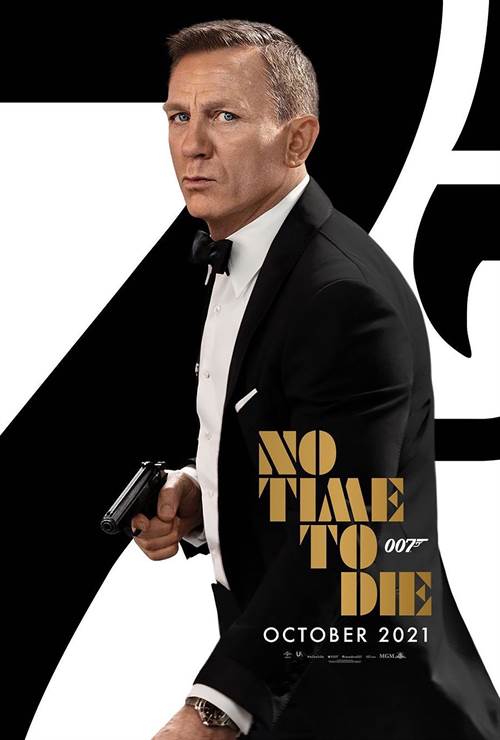 | | |
| --- | --- |
| Director: | |
| Writers: | |
| Cast: | |
| Released: | Friday, October 8, 2021 |
| Length: | 163 minutes |
| Studio: | MGM Studios |
| Genre: | Action/Adventure |
| Rating: | Some material may be inappropriate for children under 13. |
Synopsis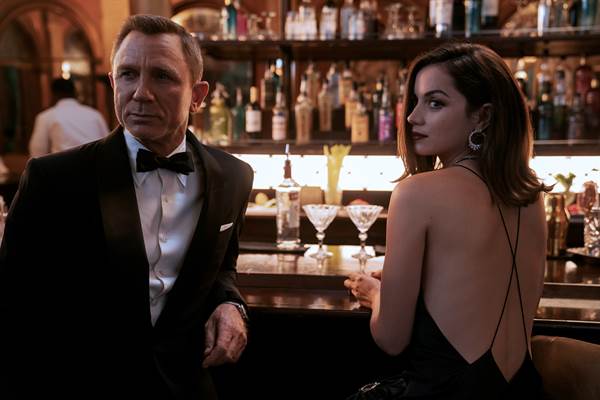 In No Time To Die, Bond has left active service and is enjoying a tranquil life in Jamaica. His peace is short-lived when his old friend Felix Leiter from the CIA turns up asking for help. The mission to rescue a kidnapped scientist turns out to be far more treacherous than expected, leading Bond onto the trail of a mysterious villain armed with dangerous new technology.

Purchase DVD/Blu-ray/4K UHD physical copy of No Time To Die today at Amazon.com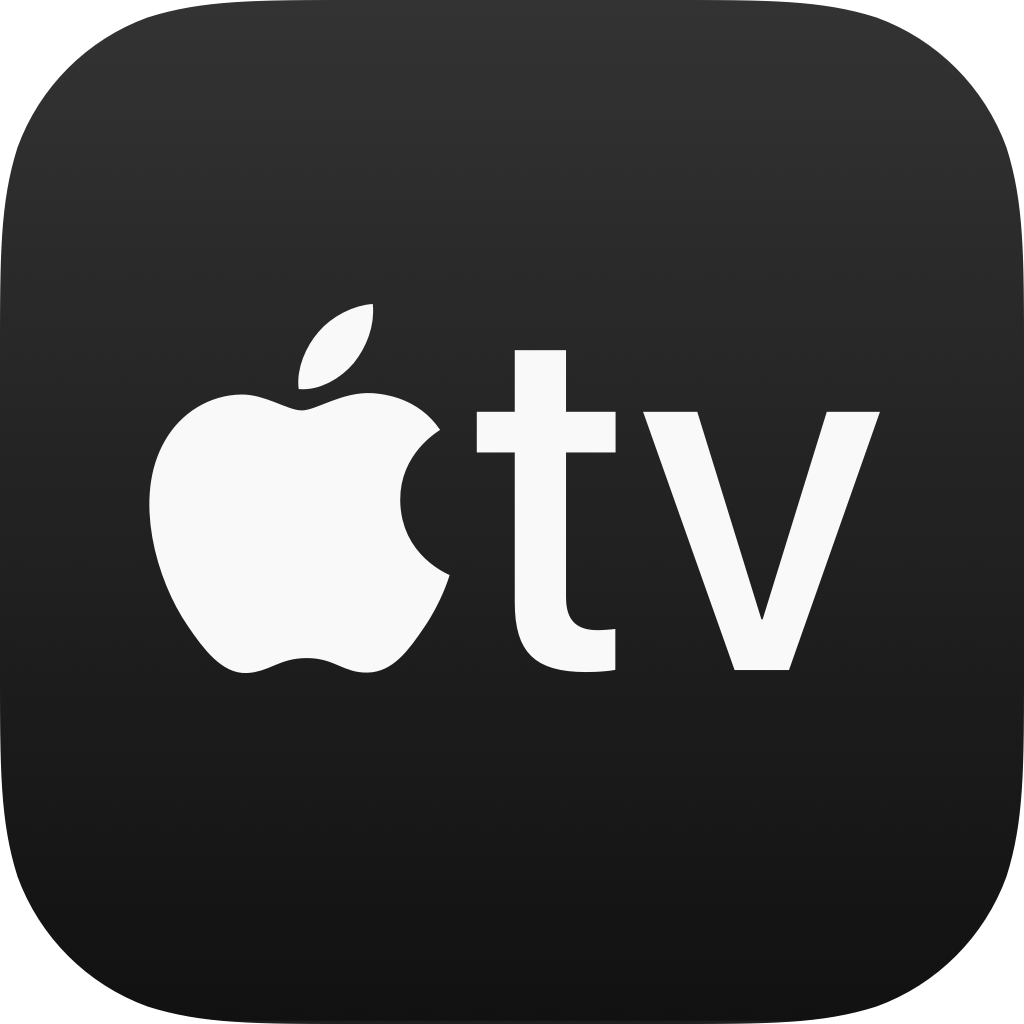 Download No Time To Die in Digital HD/4K from the iTunes store.
Listen to the No Time To Die soundtrack on Apple Music.
No Time To Die images are © MGM Studios. All Rights Reserved.
MGM & EON Productions Celebrate 60 Years of Bond
1/19/2022 6:49 PM EST
MGM and EON Productions will re-release No Time To Die in IMAX theaters nationwide beginning January 21st, in celebration of the 60th anniversary of one of the longest-running and most successful film franchises.In honor of the milestone, Daniel Craig, Cary Joji Fukunaga, Michael G. Wilson, and Barbara Broccoli will participate in an exclusive Q & A ahead of select IMAX screenings on Friday, Janua...
More>>
Win Passes To See NO TIME TO DIE For Free in Florida
10/7/2021 1:55 PM EST
It has been six years since James Bond (Daniel Craig; Layer Cake) last graced movie screens and fans are definitely ready for the latest movie in the 007 franchise to open.  Luckily, that wait will be over, as NO TIME TO DIE hits theaters on October 8, 2021. United Artists Releasing, in conjunction with FlickDirect, would like to offer some lucky winners one admit-two pass to see the film at an AM...
More>>
No Time to Die Scores Big in International Debut
10/4/2021 11:35 AM EST
Before its arrival in the U.S., the latest installment in the James Bond franchise racked up an estimated $119.1 million in international ticket sales over the weekend, making it the first Motion Picture Association title to top $100 million in an overseas debut except for China.  The film will arrive in China on October 29.The fifth and final James Bond film featuring Daniel Craig had its best op...
More>>
No Time to Die to Premier on World's Largest Imax Theater in Ger...
9/27/2021 2:58 PM EST
Germany will be opening the world's largest Imax screen on September 30, just in time for the release of "No Time to Die", the latest film of the James Bond franchise. The theater is located at the Traumpalast Multiplex in Leonberg and will be able to showcase the Imax exclusive footage shot for the new Bond film. It is the first to be shot with Imax cameras and will include 40 minutes of Imax exp...
More>>
James Bond Franchise to See Theatrical Releases Despite Amazon A...
5/27/2021 2:33 PM EST
James Bond producers Barbara Broccoli and Michael G. Wilson have stated that they plan on making more films for the franchise, despite the news about Amazon acquiring MGM."We are committed to continuing to make James Bond films for the worldwide theatrical audience," said Broccoli and Wilson.The deal definitely won't affect the Oct. 8 release of "No Time to Die", which will be the last film to sta...
More>>
No Time to Die Release Delayed Until April 2021
10/2/2020 4:56 PM EST
"No Time to Die", the upcoming James Bond film, has had its release date pushed back. The film will now open in theatres on April 2, 2021, instead of Nov. 20 of this year.In a statement, the studio said, "MGM, Universal and Bond producers, Michael G Wilson and Barbara Broccoli, today announced the release of No Time To Die, the 25th film in the James Bond series, will be delayed until 2 April in o...
More>>
James Bond No Time to Die Release Delayed Until November
3/5/2020 10:35 AM EST
MGM, Eon, and Universal have decided to postpone the opening of James Bond: No Time to Die. The film, which was slated for an April 10 release, will now be released on November 25.The trio released a statement saying, "MGM, Universal and Bond producers, Michael G Wilson and Barbara Broccoli, announced today that after careful consideration and thorough evaluation of the global theatrical marketpla...
More>>
Billie Eilish Releases Theme Song For No Time To Die
2/14/2020 10:57 AM EST
Billie Eilish has released the song she wrote for the upcoming "James Bond" film. "No Time To Die" is the official song for the film.The song was created by the five-time Grammy winner, along with her Grammy-winning brother Finneas, Stephen Lipson, Hans Zimmer, Matt Dunkley, Johnny Marr.Michael G. Wilson and Barbara Broccoli, the producers of "No Time To Die", said, "Billie and Finneas have writte...
More>>
James Bond Producer Nixes the Thought of a Female Bond
1/16/2020 2:21 PM EST
In a recent interview with Variety, "James Bond" producer Barbara Broccoli dismissed the idea of having a female play the iconic character."He can be of any color, but he is male. I believe we should be creating new characters for women -- strong female characters," said Broccoli. She went on to add, "I think women are far more interesting than that."There hasn't been any word on who will next pla...
More>>
No Time To Die Poster Design Contest
12/13/2019 3:44 PM EST
Daniel Craig has announced via social media that EON Productions, Metro Goldwyn Mayer Studios (MGM), Universal Pictures International and United Artists Releasing have launched a global initiative that challenges fan of James Bond to create an original poster for the upcoming release of No Time To Die.The marketing teams of MGM, Universal Pictures International, and United Artists Releasing will b...
More>>
No Time to Die is Official Title for Bond 25
8/20/2019 3:54 PM EST
It was announced today by James Bond producers,  Michael G. Wilson, and Barbara Broccoli, that the official title of the 25th film in the franchise is No Time to Die. The Cary Joji Fukunaga directed film hails from Albert R. Broccoli's EON Productions, Metro Goldwyn Mayer Studios (MGM), and Universal Pictures International. Daniel Craig will reprise his role as James Bond for the fifth time.No Tim...
More>>
Principal Photography for Bond 25 to Begin on April 28
4/25/2019 10:30 AM EST
Principal photography will begin on April 28 on the 25th film in the iconic Bond franchise. The film will be directed by Cary Joji Fukunaga and stars Daniel Craig, who returns for his fifth film as Ian Fleming's James Bond 007. In the upcoming film, we see a retired Bond in Jamaica, living a leisurely life until an old friend, Felix Leiter from the CIA, turns up asking for help. The mission? To re...
More>>
No Time To Die 4K Review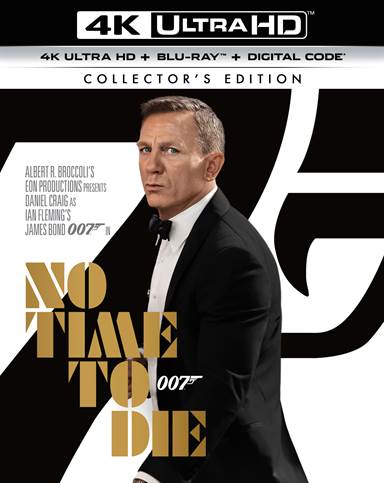 "Bond, James Bond". Since 1962 we have heard that name uttered in twenty-five different 007 movies by six different actors. Next year will be the sixtieth anniversary of the first movie, Dr. No but this year, "post-COVID" (if there is such a thing), heralded in the release of movie #25 and the fifth film starring Daniel Craig (Knives Out), No Time to Die. From the beginning of his tenure as the British MI6 Agent fifteen years ago, Craig's bond had a different feel. So, it is only fitting that his final movie in the franchise, also feels a little different.
After years of loyalty to his majesty's service, Bond has retired and lives quietly in Jamaica. Of course, that peace is short-lived when he receives a visit from CIA Agent, Felix Leiter (Jeffrey Wright; Westworld) asking for his help in finding a terrorist who has nanotechnology which can be programmed to destroy the DNA of certain individuals, killing them almost instantly, while causing no harm to others with different DNA.
After the terrorist killed all of Spectre, Bond tracks him to an island off the coast of Japan where he is holding Bond's former love, Madeleine (Léa Seydoux; Midnight in Paris), and her daughter. Knowing Bond has feelings for Madeleine, the terrorist Lyutsifer Safin (Rami Malek; Mr. Robot), infects Bond with nanobots programmed for Madeleine and her daughter, ensuring Bond can never see either of them again.
When we first were introduced to Craig as Bond in Casino Royale, it was obvious he wasn't what audiences were used to from a Bond character. While he was confident, suave, debonair, intelligent, etc. he also had a certain streetwise swagger to him as if he had come from less-than-ideal beginnings. Some would argue that would make him the most realistic and therefore, the best Bond of them all. However, others would state he was too "gritty" and raw to be Bond. Regardless of your take, Craig makes for a very good Bond and arguably one of the better actors to take on the iconic role.
Malek is the consummate character actor, and his portrayal of the villainous Safin is excellent. He is methodical yet maniacal, calculating, and cold, making Safin seem truly terrifying as you get the sense he would infect his own parents if it achieved his goal. Seydoux portrays Madeleine as
Strong yet a little "broken" but generally a good match for Bond.
While the combo pack also comes with a Blu-ray disc that is sharp and clean, it can't compare to the 4K version of the film. The quality of the UHD Dolby Vision picture is incredible. By far it is probably one of the best I have seen with color reproduction that pops off the screen and details that are minute yet exacting.
Both the Blu-ray and 4K discs have the same Dolby Atmos audio track which matches the quality of the video perfectly. Explosions and gunfire (of which there is an abundance) ricochet from every angle, immersing the viewer into the scene. The dialogue has the right balance, so it is clear and isn't overwhelmed by the action sound effects.
Four of the five extras can be found on both the Blu-ray and 4K with the latter also housing a 45-minute retrospective by Daniel Craig about his fifteen-year journey as 007. This feature originally aired on Apple TV but if you haven't seen it previously, I highly recommend it. The other features are Designing Bond, Anatomy of a Scene: Matera; Keeping it Real: The Action of No Time to Die, and A Global Journey.
If you are a die-hard James Bond fan you will need to own this combo pack, but you may also be a little disappointed with the plot of this film. Although it has a terrific action sequence near the beginning of the movie (with others later on), it didn't feel completely like a 007 film as Bond seemed softer and more emotional than he ever has in the past.
Bottom line…the movie is good, the 4K quality is outstanding.
Grade: B+
-- Allison Rose
Read More No Time To Die Reviews
For more reviews please visit our film/television review section.
Listen to "No Time To Die", the theme song for the 25th James Bond film. In No Time To Die...

"We aimed to do something extraordinary with this one," Director Cary Joji Fukunaga gives...

Every mission, every sacrifice, has led him to this. Watch the final trailer for #NoTimeToDie....
In No Time To Die, Bond has left active service and is enjoying a tranquil life in Jamaica. His peac...

Is the mysterious Safin (Rami Malek) 007's most terrifying adversary yet? #NoTimeToDie in cinemas th...

Bond is back. The first trailer for NO TIME TO DIE arrives tomorrow, December 4th, 2019. Be sure to...
In No Time To Die, Bond has left active service and is enjoying a tranquil life in Jamaica. His peac...

The mission that changes everything begins… No Time To Die in cinemas this November. In No Time To D...

For today's review, FlickDirect's Austin Putnam talks about Daniel Craig's final film as...
SPONSORED LINKS