Jurassic World: Fallen Kingdom (2018)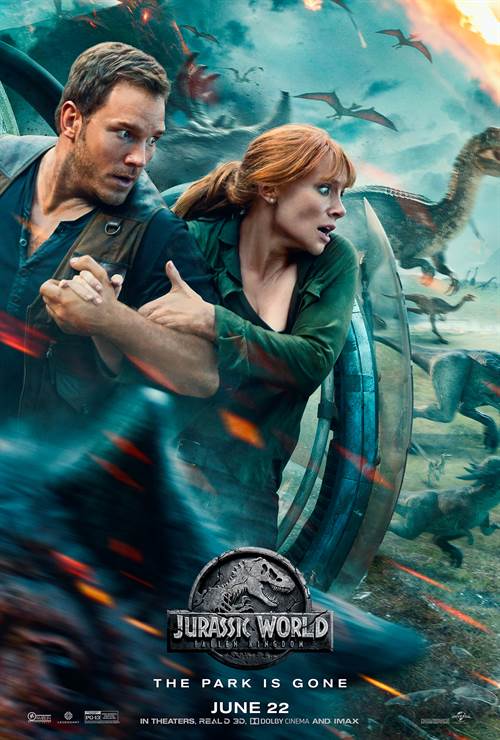 Share this:
| | |
| --- | --- |
| Director: | |
| Writers: | Derek Connolly, Colin Trevorrow |
| Cast: | |
| Released: | Friday, June 22, 2018 |
| Length: | 128 minutes |
| Studio: | Universal Pictures |
| Genre: | Action/Adventure |
| Rating: | Some material may be inappropriate for children under 13. |
This film contains a scene during or after the credits.
Synopsis
It's been four year since theme park and luxury resort Jurassic World was destroyed by dinosaurs out of containment. Isla Nublar now sits abandoned by humans while the surviving dinosaurs fend for themselves in the jungles.

When the island's dormant volcano begins roaring to life, Owen (Chris Pratt) and Claire (Bryce Dallas Howard) mount a campaign to rescue the remaining dinosaurs from this extinction-level event. Owen is driven to find Blue, his lead raptor who's still missing in the wild, and Claire has grown a respect for these creatures she now makes this her mission. Arriving on the unstable island as lava begins raining down, their expedition uncovers a conspiracy that could return our entire planet to a perilous order not seen since prehistoric times. Stars Pratt and Howard return alongside executive producers Steven Spielberg and Colin Trevorrow for "Jurassic World: Fallen Kingdom." They are joined by co-stars James Cromwell, Ted Levine, Justice Smith, Geraldine Chaplin, Daniella Pineda, Toby Jones, Rafe Spall and Isabella Sermon, while BD Wong and Jeff Goldblum reprise their roles.
Purchase DVD/Blu-ray/4K physical copy of Jurassic World: Fallen Kingdom today at
Download Jurassic World: Fallen Kingdom in Digital HD/4K from the iTunes store.
Listen to the Jurassic World: Fallen Kingdom soundtrack on Apple Music.
Jurassic World: Fallen Kingdom images are © Universal Pictures. All Rights Reserved.


Jurassic World Dominion to Resume Production on July 6
6/15/2020 10:46 AM EDT
Things are slowly returning to normal during this pandemic, and many businesses are finally getting the chance to open nack up. This also includes show business. In March, the production of "Jurassic World: Dominion" was stopped because of COVID-19. Now, the film is set to begin production again on July 6. This will mark the U.K.'s first major film to shoot since the pandemic began.Production was ...
More>>
Dichen Lachman Joins Cast of Jurassic World 3
2/19/2020 2:54 PM EDT
Dichen Lachman has signed on to join the cast of Jurassic World 3. Lachman starred as Jiaying on "Agents of S.H.I.E.L.D.", as well as Frankie in TNT's "Animal Kingdom". For "Jurassic World 3" She will be joining a cast that includes Chris Pratt, Bryce Dallas Howard, Mamoudou Athie, DeWanda Wise, Laura Dern, Sam Neill, and Jeff Goldblum. The entire Jurassic franchise, which spans almost 27 years, h...
More>>
Jeff Goldblum, Laura Dern, and Sam Neill Returning for Jurassic ...
9/25/2019 1:24 PM EDT
Jeff Goldblum, Laura Dern, and Sam Neill will be returning to the "Jurassic Park" franchise. All three are set to reprise their roles for the upcoming "Jurassic World 3." Goldblum will return as Dr. Ian Malcolm, Dern as Dr. Ellie Sattler and Neill as Dr. Alan Grant. The film will also see the return of stars Chris Pratt as Owen Grady and Bryce Dallas Howard as Claire Dearing."Jurassic World 3" wil...
More>>
Win Complimentary Passes For Two To An Advance Screening of Univ...
6/5/2018 2:07 PM EDT
Twenty five years ago the idea of an island full of dinosaurs thrilled audiences and set off a great movie franchise. Jurassic Park spawned two sequels as well a plethora of merchandising.  Three years ago that franchise got a reboot with Jurassic World and now the highly anticipated fifth film, JURASSIC WORLD: FALLEN KINGDOM is coming to theaters on June 22, 2018.FlickDirect, in conjunction with ...
More>>
Chris Pratt and Bryce Dallas Howard Unbox Enormous Jurassic Worl...
6/4/2018 10:43 AM EDT
Universal Pictures and Amblin Entertainment's Jurassic World: Fallen Kingdom, in collaboration with Amazon, had announced that they had an enormous special delivery that was sent to The Grove in Los Angeles on May 30. The package, delivered by a Jeep Wrangler motorcade, measured in at 40' L x 14' 9" H x 14' W. Chris Pratt and Bryce Dallas Howard were on hand Saturday at The Grove to unbox the larg...
More>>
Amazon and Jurassic World: Fallen Kingdom Team Up to Make Amazon...
5/31/2018 4:45 PM EDT
A special delivery was made yesterday to The Grove in Los Angeles. Universal Pictures and Amblin Entertainment's Jurassic World: Fallen Kingdom, in collaboration with Amazon, have sent Amazon's largest delivery in their history to the popular shopping spot. The delivery was escorted by a Jeep motorcade.The box is now on display but we won't find out what's inside until June 2 at 12 p.m. PDT. The s...
More>>
Jurassic World 3 to be Directed by Colin Trevorrow
3/30/2018 5:18 PM EDT
It was announced today that the third film in the Jurassic World franchise will be directed by Colin Trevorrow. Trevorrow directed 2015's installment that brought the franchise back to life. The film grossed over $1.6 billion at the box office, making it the fourth highest-grossing title of all time. The director also wrote and produced the second film in the franchise titled Jurassic World: The F...
More>>
Jeff Goldblum Joins Cast for Jurassic World Sequel
4/26/2017 2:04 PM EDT
It has been announced that Jeff Goldblum will be returning to the Jurassic Park franchise. The actor appeared in 1993's Jurassic Park and 1997's The Lost World: Jurassic Park.Goldblum has been cast in the upcoming Jurassic World sequel alongside Chris Pratt, Bryce Dallas Howard, Justice Smith, James Cromwell and Toby Jones. He will be reprising his role as Dr. Ian Malcolm, a mathematician, and ins...
More>>
Reports Point To Universal Pictures Servers Responsible for Pira...
7/23/2015 2:51 PM EDT
Unverified reports have surfaced that Universal Pictures in France has been seeding a pirated copy of Jurassic World from its servers.The studio, which released the blockbuster film on June 12 of this year, had filed a takedown notice with Google, which demanded that they block any links to sites that lead to pirated copies of Jurassic World.  A specific block request stood out, which was a link t...
More>>
Jurassic World Takes A Dino Sized Bite Out of Box Office Records
6/15/2015 12:17 PM EDT
Jurassic World, the fourth in a series of Jurassic Park films, has become the highest grossing debut film of all time, both domestically and internationally. As of Monday morning, the film has grossed $209 million domestically and over $511 million globally. The previous record holder was 2012's Avengers film, which earned $207.4 million domestically.  Leading into the weekend Universal low-balled...
More>>
Win a Complimentary Pass to See an Advance Screening of Universa...
5/28/2015 2:31 PM EDT
Universal Pictures highly anticipated release JURASSIC WORLD opens nationwide on June 12, 2015 but South Floridians can win passes to a complimentary screening before it is released in Theaters. Enter by downloading the Movie Hype App and "following" JURASSIC WORLD. Be sure to tell us what dinosaur scares you the most and why with the hashtag #contest. We will choose the best, most original entrie...
More>>
Jurassic World a Direct Sequel to Jurassic Park, According to Di...
4/29/2015 3:56 PM EDT
Colin Trevorrow, director of the upcoming Jurassic World film, made some comments about the direction that this new film in the franchise will be taking.  Some may have noticed that the film seems to be giving off the same vibe that the original had, and according to Trevorrow, it's on purpose. "Of course, Jurassic World isn't a mere re-creation of Jurassic Park; it's a direct sequel to the origin...
More>>
Jurassic World: Fallen Kingdom Theatrical Review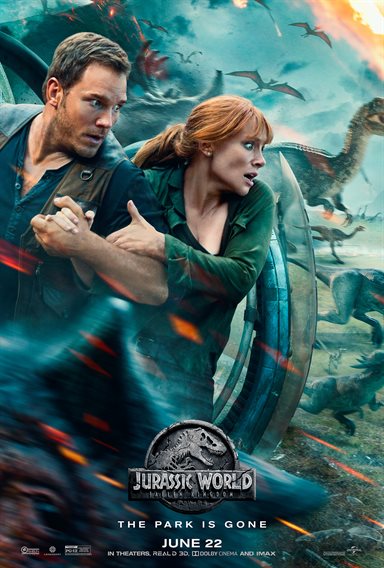 Twenty-five years ago we were taken to an Island and transported back in time to when dinosaurs roamed the earth.
Jurassic Park
was an immediate box office hit which spawned two sequels. In 2015 the series got a reboot when
Jurassic World
came to theaters and once again was a big hit. Naturally the success of the film made it impossible to ignore and the powers that be at Universal Pictures green lit a second installment that opens this week.
Jurassic World: Fallen Kingdom
once again reunites audiences with the amazing creatures we were awed by back in 1993.
As the film opens we see the once dormant Volcano on Isla Nublar beginning to spew lava. People, including Claire Dearing (Bryce Dallas Howard; The Help), are scrambling to find a way to save the dinosaurs that will once again become extinct should the Volcano erupt. When Congress declines to help it seemed all hope is lost until Benjamin Lockwood's (James Cromwell, L.A. Confidential) assistant, Eli Mills (Rafe Spall, The Big Short) calls Claire asking for her help in relocating the creatures. Thankful that the animals will be saved Claire is willing to do almost anything including talking to her ex-boyfriend, Owen Grady (Chris Pratt; Guardians of the Galaxy).
However, once on the island, and Owen helps "capture" Blue, they realize things aren't exactly what they seem and Eli Mills isn't the altruistic soul he portrays. Claire and Owen discover that these creatures aren't being relocated but sold to the highest bidder in order to fund more DNA experiments that would have dire consequences on a Global scale. What could possibly go wrong? Of course things end up out of control with deadly dinosaurs running wild and the bad guys getting what they deserve. Meanwhile we also learn the backstory as to why Hammond and Lockwood parted ways years ago with a somewhat shocking result.
For those who were hoping for more of the same, this film has a different feel than its predecessors. There is a darkness and a looming sadness that permeates the movie that the others didn't have. While still somewhat scary (I admit I jumped a couple of times), this Jurassic seemed more sinister and a little devastating at times. When we see the volcano erupt and watch as the dinosaurs left on the island perish in the lava there is a melancholy that descends 1) because this is the end of an era (Twenty-five years in the making) and 2) you can't help but feel for the dinosaurs that die since none of this was their choice in the first place.
Pratt and Howard were terrific choices for the original reboot and they once again prove why they deserve to be in this blockbuster. Pratt infuses Owen with a sense of humor that comes in handy to break up some of the tension while his softer side comes through at just the right moments and to just the right degree. Howard blends a toughness with a soft underbelly that makes her endearing while not portraying Claire as the "damsel in distress". Newcomer Isabella Sermon does a good job for her first role as Lockwood's granddaughter, Maisie and the supporting cast is excellent.
Director J.A. Bayona (A Monster Calls) offers some interesting angles and beautiful panoramas which envelopes the audience in the vastness of Isla Nublar. At times I felt the pacing was a little slow which didn't build suspense as much as it seemed to drag out the scene. Veteran Composer Michael Giancchino's score (Up) unfortunately was distracting and more often than not took me out of the film rather than enhancing my experience.
While the ending leaves the door wide open for another movie in the franchise I'm not sure how many more times I can watch extinct creatures wreak havoc while humans try to capture them. I was looking forward to this sequel but, while I didn't hate it, I didn't love it either.
Grade: B-
Read More Jurassic World: Fallen Kingdom Reviews
For more reviews please visit our film/television review section.
It's been four year since theme park and luxury resort Jurassic World was destroyed by dinosaurs ou...

Watch the all-new short film Battle at Big Rock now. BATTLE AT BIG ROCK is an all-new short film dir...

It's been four year since theme park and luxury resort Jurassic World was destroyed by dinosaurs ou...
It's been four year since theme park and luxury resort Jurassic World was destroyed by dinos...

Chris Pratt interviews Actors Daniella Pineda and Justice Smith It's been four year since theme par...

Chris Pratt interviews Make-Up Artist Vivian Baker. It's been four year since theme park and luxury...
SPONSORED LINKS
Comments

Courtesy of
Movie Hype App
axel1208
I'm excited
9/28/2018 9:06 PM EDT
darlyn
Its amazing
7/7/2018 1:17 AM EDT
darlyn
I want watch movie
7/7/2018 1:17 AM EDT
starlord112
It's amazing
6/24/2018 1:30 PM EDT
movieguynathan
Round 2. I can't enough of this movie!
6/24/2018 9:58 AM EDT
ali121
can't wait for this movie!!
6/19/2018 6:58 PM EDT
movieguynathan
The park closes....tonight!
6/19/2018 6:56 PM EDT
countrygirl36
Yaaaaay
12/5/2017 1:52 AM EDT
kittyhartshelby
I LOVE THE FIRST MOVIE SO MUCH I found out about this move at the movie theater when I watched the Emoji movie
12/2/2017 4:13 PM EDT
zmouse253
Yeaaaa
10/17/2017 12:29 AM EDT
hammbone187
Yes!
1/29/2016 9:10 PM EDT
countrygirl36
A jurasdic World sequel i loved the first one they made. jurrasic park was awesome too
12/23/2015 9:43 AM EDT
samantha15544
OMG!! Loved the Jurassic park and Jurassic world! I'm so excited for the sequel!!!!
8/1/2015 8:00 PM EDT