Bumblebee (2018)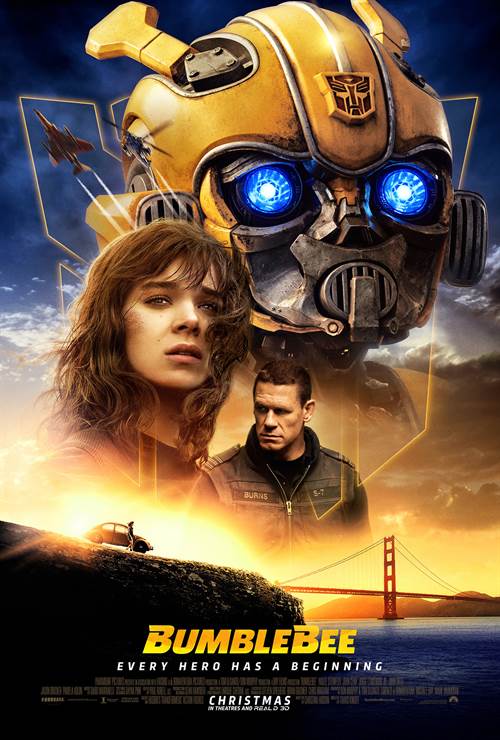 | | |
| --- | --- |
| Director: | |
| Writers: | |
| Cast: | |
| Released: | Friday, December 21, 2018 |
| Length: | 113 minutes |
| Studio: | Paramount Pictures |
| Genre: | Sci-Fi/Fantasy, Action/Adventure |
| Rating: | Some material may be inappropriate for children under 13. |
This film contains a scene during or after the credits.
Bumblebee Synopsis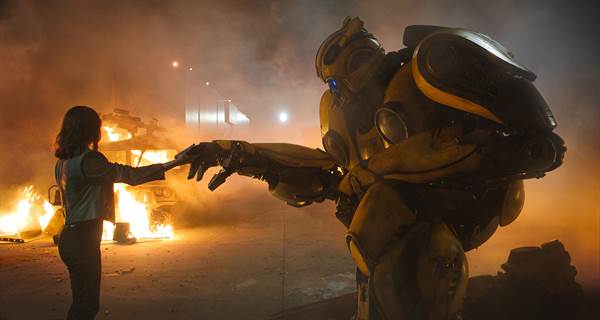 On the run in the year 1987, Bumblebee finds refuge in a junkyard in a small Californian beach town. Charlie (Hailee Steinfeld), on the cusp of turning 18 and trying to find her place in the world, discovers Bumblebee, battle-scarred and broken. When Charlie revives him, she quickly learns this is no ordinary, yellow VW bug.

Purchase DVD/Blu-ray/4K UHD physical copy of Bumblebee today at Amazon.com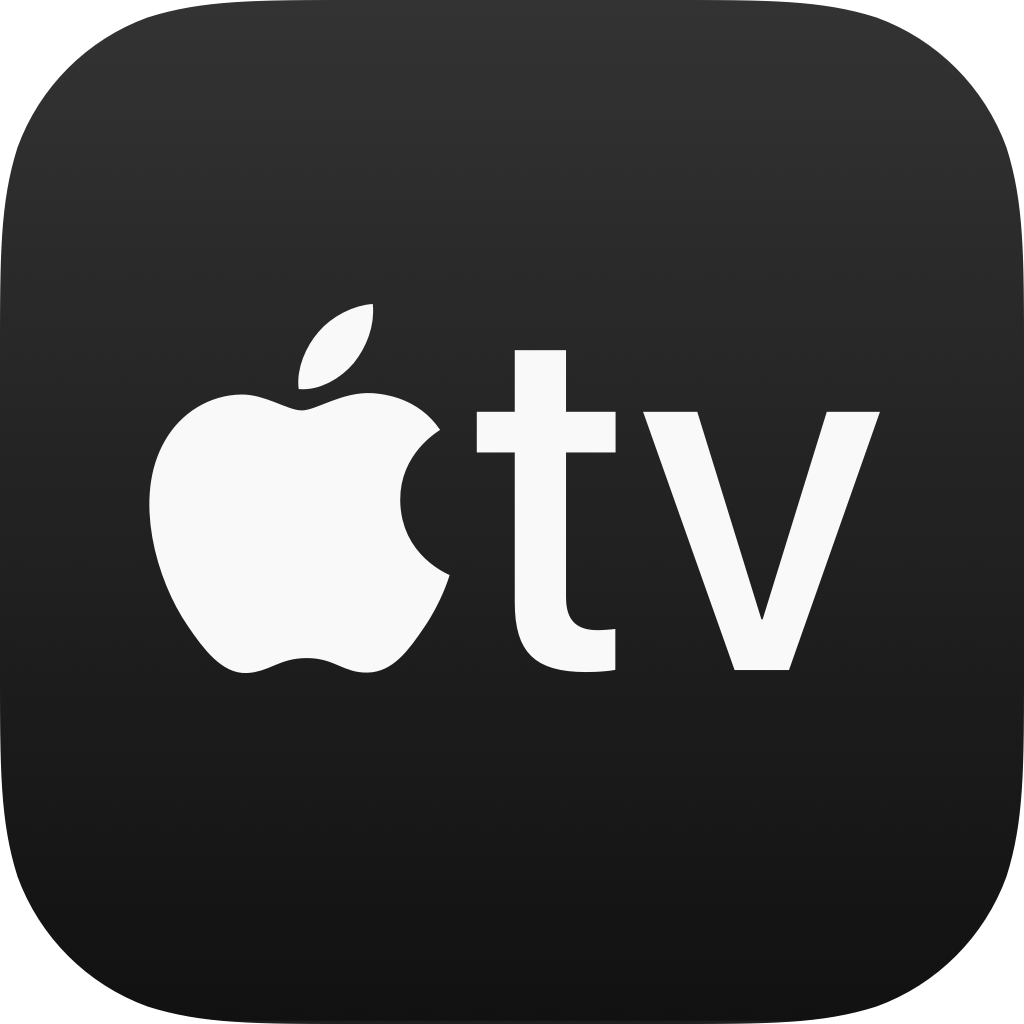 Stream Bumblebee in Digital HD/4K from the AppleTV store.
Listen to the Bumblebee soundtrack on Apple Music.
Bumblebee images are © Paramount Pictures. All Rights Reserved.
Win Bumblebee on 4k UHD!
4/1/2019 1:38 AM EST
Have you enjoyed all of the Transformer movies that have come out in the past several years?  Is Bumblebee your favorite character? Then this is the contest for you. FlickDirect, in conjunction with Paramount Pictures, wants to give one lucky winner the chance to own BUMBLEBEE for themselves as they celebrate the release of the DVD, Blu-ray 4K Combo pack on April 5, 2019.To enter follow the 4 simp...
More>>
Transformers 7 Taken Out of Paramount's 2019 Lineup
5/24/2018 2:18 PM EST
Paramount has decided to take Transformers 7 out of its 2019 lineup. The film was originally scheduled to debut on June 28, 2019. That date will now see the release of Tiffany Haddish's comedy "Limited Partners".The studio will still be releasing the Transformers spinoff Bumblebee on December 21 of this year.Haddish is coming off the success of last year's "Girls Trip" and we can see her next in "...
More>>
Principal Photography Begins on Bumblebee
7/31/2017 3:59 PM EST
Paramount Pictures has announced that they have begun principal photography on "Bumblebee", which is being directed by Travis Knight."Bumblebee" takes place in 1987, where we find the bot hiding out in a junkyard in a small Californian beach town. Charlie (Hailee Steinfeld), on the cusp of turning 18 and trying to find her place in the world, discovers Bumblebee, battle-scarred and broken.  When C...
More>>
Travis Knight to Helm Bumblebee Standalone Film
3/2/2017 9:21 PM EST
Transformers was a hugely popular franchise, both in the 80s and now, and one of its star characters will be getting a spinoff film. Bumblebee will be the focus of the spinoff, and Travis Knight has been chosen to helm the project.Knight directed the Oscar-nominated stop-motion animated film, Kubo And The Two Strings. He is also the president and CEO of Laika, his animation house, based out of Por...
More>>
Michael Bay Discusses Tranformers: The Last Knight on His Website
2/3/2017 10:32 AM EST
Michael Bay has taken to his official site to discuss the upcoming film, Transformers: The Last Knight, and what the franchise has meant to him.  He spoke about the mythology of this film, and how this release is "bittersweet". The Last Knight trailer was released back in December, and now, with the plot synopsis released by Paramount, we see that this could very well the last film of the franchis...
More>>
Josh Duhamel Confirms Return to Transformers
5/18/2016 1:03 PM EST
Josh Duhamel, who starred in the first three Transformer films, will be returning to the franchise.  The actor tweeted out the following:"Lieutenant Colonel Lennox reporting for duty. Let's do this. #transformers"Duhamel, who portrayed Lt. Col. Lennox, skipped the last film, Age of Extinction, but will be back for the upcoming "Transformers: The Last Knight".The franchise will be releasing their f...
More>>
Michael Bay Confirms His Return for Transformers 5
1/5/2016 9:50 AM EST
It has been confirmed by Michael Bay, himself, that he will be returning to direct Transformers 5.  Bay made the announcement while doing promotion for his upcoming film, "13 Hours".It is also expected that Mark Wahlberg will be returning to franchise, as well as Lorenzo di Bonaventura, who will be producing. While plot details for the newest installment aren't released yet, it is said that Wahlbe...
More>>
Michael Bay Will Stay On for Fifth Transformer Film
7/1/2014 3:49 PM EST
It has been reported that Michael Bay will be directing the next installment of the Transformers franchise, "Transformers 5".Bay has agreed to come back on board, but under one condition - he wants to make a "smaller" film first.  This means that the film will most likely not be released in 2016.  Ben Kendrick, producer for the film, said in a statement, "I think it's one of those classic things w...
More>>
Next Transformers Film Could Feature Dinobots
5/22/2013 1:54 PM EST
There are rumors swirling around about the possibility of the Dinobots making an appearance in the next "Transformers" film.Supposedly, the villain Lockdown will be in the film and is said to own a ship full of decommissioned Transformers including the Dinobots.  It is said that Optimus Prime and Bumblebee will use the Dinobots  Grimlock and a Pterandon to ride into Hong Kong.Filming beings next m...
More>>
New Casting Revealed for Transformers 4
1/8/2013 4:05 PM EST
"Transformers" director, Michael Bay, has just announced new casting for the upcoming fourth film in the franchise via his website.Bay wrote, "I just hired a great new actor for Transformers 4 to star against Mark Wahlberg. Jack Reynor, he is an Irish kid that came to America with 30 bucks in his pocket. Pretty ballsy. Seriously who does that? Anyway I spotted him in a great little Irish movie Wha...
More>>
Mark Wahlberg to Star in Transformers 4
11/9/2012 11:34 AM EST
In somewhat shocking news, Michael Bay has announced that Mark Wahlberg will be starring in the upcoming "Transformers 4" film. "Mark is awesome. We had a blast working on Pain And Gain and I'm so fired up to be back working with him. An actor of his caliber is the perfect guy to re-invigorate the franchise and carry on the Transformers' legacy,"  said Bay via his website. The film will be produce...
More>>
Mark Wahlberg Wanted for Upcoming Transformers Film
10/24/2012 4:08 PM EST
It is rumored that Michael Bay is interested in Mark Wahlberg for the leading man role in the fourth movie of the "Transformers" franchise, although the director has taken to his personal website to try and quell this, his statement can be found here.Bay himself has been on record stating that this is most likely his final "Transformers" movie, though this one may be different from the others, as ...
More>>
Bumblebee 4K Review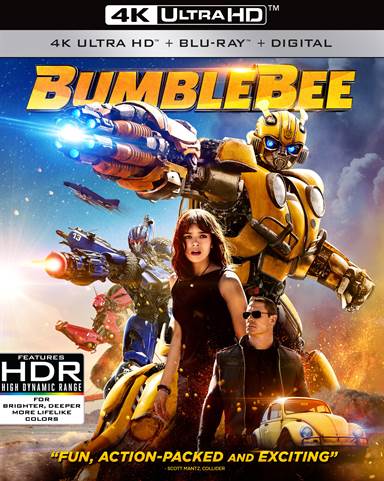 Since 2007 audiences have had the pleasure of watching a Saturday morning cartoon come to life in the form of Transformers. These autoboot, alien creatures came to Earth seeking a place to hide from the evil forces that looked to destroy them. Over five films spread across a dozen years, we have gotten to know Optimus Prime, Bumblebee, Megatron and all the autoboots. While all the films tended to focus on Optimus as the Autobot leader and the quest to save earth from villains, last year's feature, Bumblebee, told the story of how the cute, little yellow bot came to earth.
After a long fought battle, Cybertron was falling to the Decepticons and the autoboots needed to escape. Optimus Prime tasked his soldier B-127 to go to Earth to see if it was suitable for the new Autobot base camp. Unfortunately, some of the Decepticons followed B-127 and damaged his voice box so he couldn't communicate with the American military member who located him. Meanwhile, Charlie Watson (Hailee Steinfeld; The Edge of Seventeen) lives in California with her Mom and stepdad after her father tragically passed away from a heart attack. Once a High School diving champion, Charlie now spends her free time in the garage trying to repair her father's beloved vintage car; a hobby the two of them used to share.
One day at the junkyard Charlie sees an old Volkswagon beetle and asks if she can have it. When she gets it home and inspects it she finds it comes to life. Nicknaming the car Bumblebee she spends time with him and the two become close. However, unbeknownst to them, Decepticons have tracked B-127 to Earth and have befriended the United States government in order to trick them. With the Decepticons heading to Bumblebee to destroy him, the other Autobots arrive on Earth to save their friend and the whole planet.
Steinfeld is a terrific young actor and she shines here as a damaged, rebellious teenager who longs for her former life and her father. Her range of emotions upon meeting the alien creature is reminiscent of a veteran actor. She is joined by Jorge Lendeborg Jr.; Spider-Man: Homecoming) who plays her nerdy neighbor that has a crush on Charlie. Lendeborg Jr. adds some comic relief and plays his part well. John Cena (Trainwreck) plays US Soldier Burns who first encounters Bumblebee and hunts him until Burns realizes Bumblebee isn't the enemy. Whoever keeps giving Cena acting roles should just stop. He is a low point of this otherwise solid cast.
It's easy to see the excellent video quality of this film when the main character is a bright yellow car. The colors are vibrant and crisp and the landscape is beautifully depicted. The Dolby Atmos audio is outstanding and envelopes the viewer from all sides. The explosions boom and rattle you right down to your core for a truly memorable experience. The 4K combo pack comes with 2 discs and a digital download as well as a Sector 7: The Battle of Half Dome comic book. The extras are housed on the Blu-ray disc and include: Sector 7 Archive – Agent Burns: Welcome to Sector 7, Sector 7 Adventures: The Battle at Half Dome, Deleted and Extended Scenes, Outtakes, Bee Vision: The Transformers robots of Cybertron, and the multipart Bringing Bumblebee to the Big Screen.
As far as Transformers films go, Bumblebee ranks among the better of the group in the series. Director Travis Knight (Kubo and the Two Strings) does an excellent job of blending action and comedy with a serious story. His pacing is very good so the audience never feels neither bored nor rushed.
If you are a Transformers fan, you will definitely want to own this film.
Grade: A
For more reviews please visit our film/television review section.
Now on Digital and VHS*On Blu-ray April 2http://bumblebeemovie.comOrder:Digital: http://paramnt.us/BumblebeeGPlayPre-Order:Blu-ray: http://param...

On the run in the year 1987, Bumblebee finds refuge in a junkyard in a small Californian beach town. Charlie (Hailee Steinfeld), on the cusp of turnin...
On the run in the year 1987, Bumblebee finds refuge in a junkyard in a small Californian beach town. Charlie (Hailee Steinfeld), on the cusp of turnin...
SPONSORED LINKS