The Mummy (1999)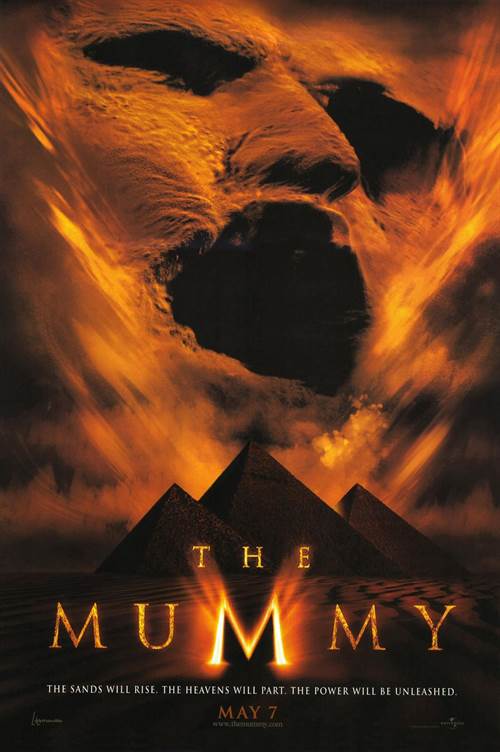 | | |
| --- | --- |
| Director: | |
| Writers: | |
| Cast: | |
| Released: | Friday, May 7, 1999 |
| Length: | 125 minutes |
| Studio: | Universal Pictures |
| Genre: | Sci-Fi/Fantasy, Action/Adventure |
| Rating: | Some material may be inappropriate for children under 13. |
The Mummy Synopsis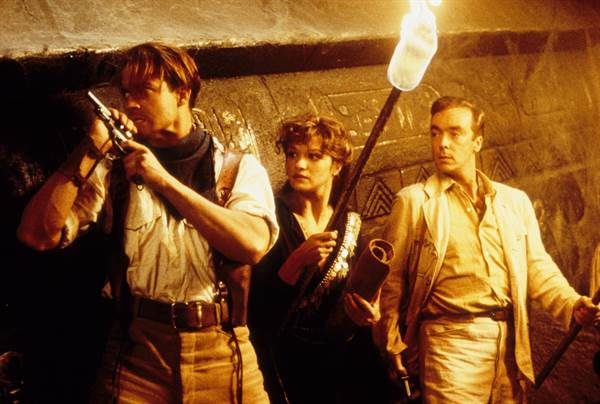 A full-scale re-imagining of Universal Pictures' seminal 1932 film, The Mummy is a rousing, suspenseful and horrifying epic about an expedition of treasure-seeking explorers in the Sahara Desert in 1925. Stumbling upon an ancient tomb, the hunters unwittingly set loose a 3,000-year-old legacy of terror, which is embodied in the vengeful reincarnation of an Egyptian priest who had been sentenced to an eternity as one of the living dead.

The Mummy stars Brendan Fraser (George of The Jungle), Rachel Weisz (Swept From The Sea) and John Hannah (Sliding Doors). The film was written and directed by Stephen Sommers (Rudyard Kipling's The Jungle Book, The Adventures of Huck Finn) and produced by James Jacks and Sean Daniel (Tombstone, Michael, Dazed & Confused). Industrial Light & Magic will produce the ground-breaking visual effects necessary to bring the awe-inspiring and terrifying world of The Mummy to life on the screen.
The Mummy images are © Universal Pictures. All Rights Reserved.
Brendan Fraser Open to Returning to Mummy Franchise
10/12/2022 12:58 PM EST
When recently asked about returning to "The Mummy" franchise, Brendan Fraser said that he would be open to the idea. Fraser starred as adventurer Rick O'Connell in the film series, which started back in 1999."I don't know how it would work. But I'd b...
| Full Article
New Mummy Film Could Star Female Lead
10/14/2015 11:53 AM EST
Universal will be launching a new "Mummy" to start their new monsters franchise, but this time, we could see a female lead in the film.Boris Karloff played the Mummy back in 1932, and in 1999, Arnold Vosloo took the lead.  Now, casting is open to eit...
| Full Article
Total Recall Director, Len Wiseman, In Final Talks To Take Over ...
9/25/2012 10:13 AM EST
Len Wiseman has been set by Universal Pictures to direct "The Mummy", a reboot of the franchise which most recently spawned a trilogy earning around $1.25 billion.  The film will be written by Jon Spaihts and produced by Alex Kurtzman and Roberto Orc...
| Full Article
The Mummy To Get A Reboot
4/6/2012 2:36 PM EST
Thirteen years it seems is a long enough wait to reboot a movie these days, according to Universal Pictures any way. That's how long ago Stephen Sommers bought Imhotep back from his then sixty Seven years slumber in the Mummy. A movie that went on to...
| Full Article
Mummy 3 September 2007 Update
9/13/2007 10:57 AM EST
Maria Bello was recently interviewd by Sci Fi Wire at the Toronto Film Festival, where she was promoting her new film, The Jane Austen Book Club.  She spoke of her upcoming role in The Mummy: Tomb of the Dragon Emporor.Bello, who will be replacing Ra...
| Full Article
Scorpion King Sequel In The Works
6/19/2007 2:25 PM EST
There is a sequel for "The Scorpion King" in the works, and it's reported that Russell Mulcahy will be the director. Mulcahy also directed Resident Evil: Extinction and Highlander.The Scorpion King was a spin-off from "The Mummy" movies series, whic...
| Full Article
Mummy Franchise To Be Reinvented With Brendan Fraser in 3rd Film
9/8/2006 10:40 AM EST
Brendan Fraser will reprise the role of Rick O'Connell from the popular "The Mummy" franchise. Details are scarce but the role will re-imagine the character in a "new setting" rumored to be away from the desert and the mummies curse.  Joe Johnston is...
| Full Article
SPONSORED LINKS