Superman (1978)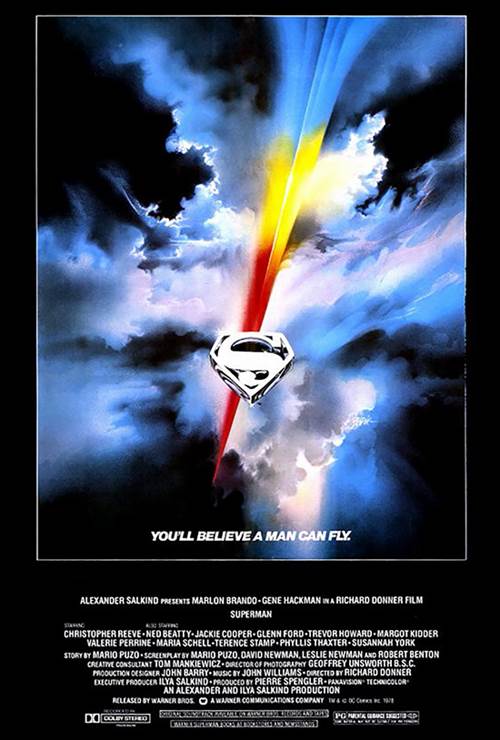 | | |
| --- | --- |
| Director: | |
| Writers: | |
| Cast: | |
| Released: | Friday, December 15, 1978 |
| Length: | 143 minutes |
| Studio: | Warner Bros. |
| Genre: | Sci-Fi/Fantasy, Action/Adventure |
| Rating: | Some material may not be suitable for children. |
Superman Synopsis
The infant Kal-El, of the planet Krypton, makes his journey to Earth in a ship constructed by his father, Jor-El, just as the planet explodes. Crashing down in the midwest United States, the boy is adopted by farmers Jonathan and Martha Kent. After Jonathan's death several years later, Kal-El - now known as Clark Kent - learns of his true identity from the ghost of Jor-El. He has great powers - he can fly, outrun a train, and lift up a 1-ton truck. But it isn't until he gains a job at Metropolis' Daily Planet newspaper that things begin to come together. One night, after leaving work, he sees a helicopter crash on the building's roof. From this night on, he will be known by a new name...SUPERMAN! His mission: "To fight for truth, justice and the American Way". Lex Luthor, however, has other ideas - to sabotage a pair of nuclear missiles and use them to create an earthquake that will wipe out the California coastline. Superman must race against time and stop a sinister plan by Luthor to eliminate him before millions of innocent people are killed.
Superman images are © Warner Bros.. All Rights Reserved.
Henry Cavill Up for More Superman Films
11/10/2021 4:27 PM EST
Old habits die hard. So do acting roles, apparently. Henry Cavill is still itching to don the cape and play Superman again.In a recent interview, Cavill spoke about the role and how he feels there's still more to cover with his version of the charact...
| Full Article
J.J. Abrams to Produce Black Superman Film
2/26/2021 2:54 PM EST
J.J. Abrams will be producing a "Superman" reboot, this time with a black Superman.Essayist and novelist Ta-Nehisi Coates will be writing the script for the film, and he was happy to comment about the news to the website Shadow and Act."To be invited...
| Full Article
Henry Cavill Reprising Superman Role for Upcoming Films
5/28/2020 1:27 PM EST
It's being reported that Henry Cavill may be in talks to put on his Superman cape sometime in the near future. While there are bo plans for another standalone "Superman" film, there could be appearances made in other films for the Warner Bros. DC Uni...
| Full Article
Henry Cavill May Need to Part Ways with Warner Bros. After Super...
9/12/2018 12:27 PM EST
UPDATE: Warner Bros. has released a statement regarding the question of Cavill's future in the Superman role saying, "While no decisions have been made regarding any upcoming Superman films, we've always had great respect for and a great relationship...
| Full Article
Superman Actress Margot Kidder Dies at Age 69
5/14/2018 2:01 PM EST
Margot Kidder, best known for her role as Lois Lane in Superman, died yesterday. She was 69 years old. Kidder passed away at her home in  Livingston, Montana but the cause of death isn't known yet.Her acting credits also included The Great Waldo Pepp...
| Full Article
Zack Snyder and Henry Cavill Open to Doing Another Superman Film
4/7/2016 11:05 AM EST
Director Zack Snyder, as well as Superman himself, Henry Cavill, have both recently commented on the possibility of another standalone Superman film - and both of them show support for the idea."I think if we could get a good script it would be great...
| Full Article
Joaquin Phoenix as Lex Luthor in new Superman Film?
12/19/2013 2:25 PM EST
Unconfirmed rumors suggest that Joaquin Phoenix is being considered by Warner Bros for the upcoming Batman / Superman movie, with some speculating he is wanted for the super villain role of Lex Luthor.The role of Luthor has for so long been rumored t...
| Full Article
Join Filmmakers and Cast of Man of Steel™ During a Live Online ...
11/8/2013 2:13 PM EST
WHAT:  Join Henry Cavill, Amy Adams and Man of Steel Director Zack Snyder with special host Kevin Smith on November 9th at 9:00AM PST/Noon EST for an exclusive fan event on Yahoo! Movies.The cast and crew will talk all the things Man of Steel, discus...
| Full Article
Russell Crowe Discusses Suiting Up for Superman Prequel
7/8/2013 4:37 PM EST
Russell Crowe, who recently starred as Jor-El in "Man of Steel", responded via Twitter to the many requests and comments about seeing some more of pre-destruction Krypton.Crowe said he would absolutely be up for reprising the role and exploring more ...
| Full Article
Man of Steel Soars To The Top of UK Box Office With A Heroic Ope...
6/17/2013 10:25 AM EST
LONDON, June 17, 2013 - Warner Bros. Pictures' and Legendary Pictures' "Man of Steel" has opened to a stellar opening of £11.2 million in the UK and Ireland, marking the biggest opening day of 2013 and the second biggest opening weekend of the year. ...
| Full Article
Man of Steel Ready to Hit Cinemas in June
2/28/2013 11:43 AM EST
Word on the street is that the upcoming film, "Man of Steel" is done.The Superman reboot, which is due out on June 14, is said to have only the 3D post-conversion work left, which is currently taking place.  According to Joblo, there is a bullet list...
| Full Article
Zack Snyder Confirms Man of Steel Trailer to Play Before The Hobbit
11/21/2012 11:23 AM EST
Zack Snyder, directer of "Man of Steel" has confirmed that the trailer for the film will be playing before "The Hobbit".  Snyder said, "I can't wait for The Hobbit, so it will be fun to see our crazy Man Of Steel trailer and then enjoy The Hobbit bec...
| Full Article
SPONSORED LINKS