Joker (2019)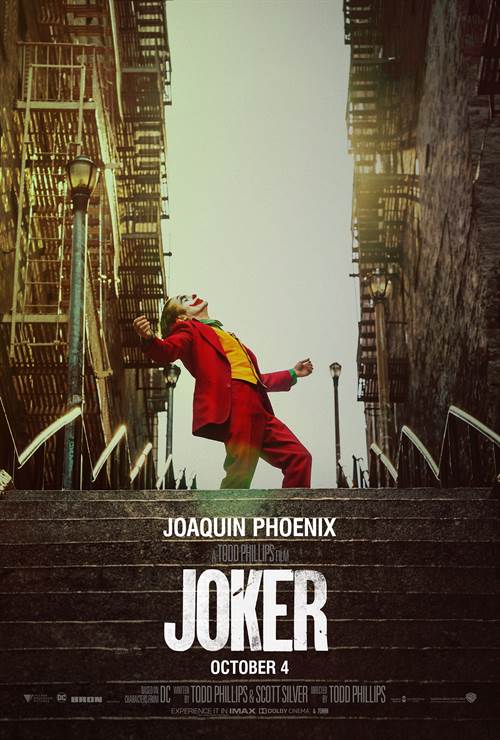 | | |
| --- | --- |
| Director: | |
| Writers: | |
| Cast: | |
| Released: | Friday, October 4, 2019 |
| Length: | 122 minutes |
| Studio: | Warner Bros. |
| Genre: | Drama, Sci-Fi/Fantasy |
| Rating: | Under 17 requires accompanying parent or adult guardian. |
Synopsis
"Joker" centers around the iconic arch nemesis and is an original, standalone story not seen before on the big screen. Phillips' exploration of Arthur Fleck (Phoenix), a man disregarded by society, is not only a gritty character study, but also a broader cautionary tale.

Purchase DVD/Blu-ray/4K UHD physical copy of Joker today at Amazon.com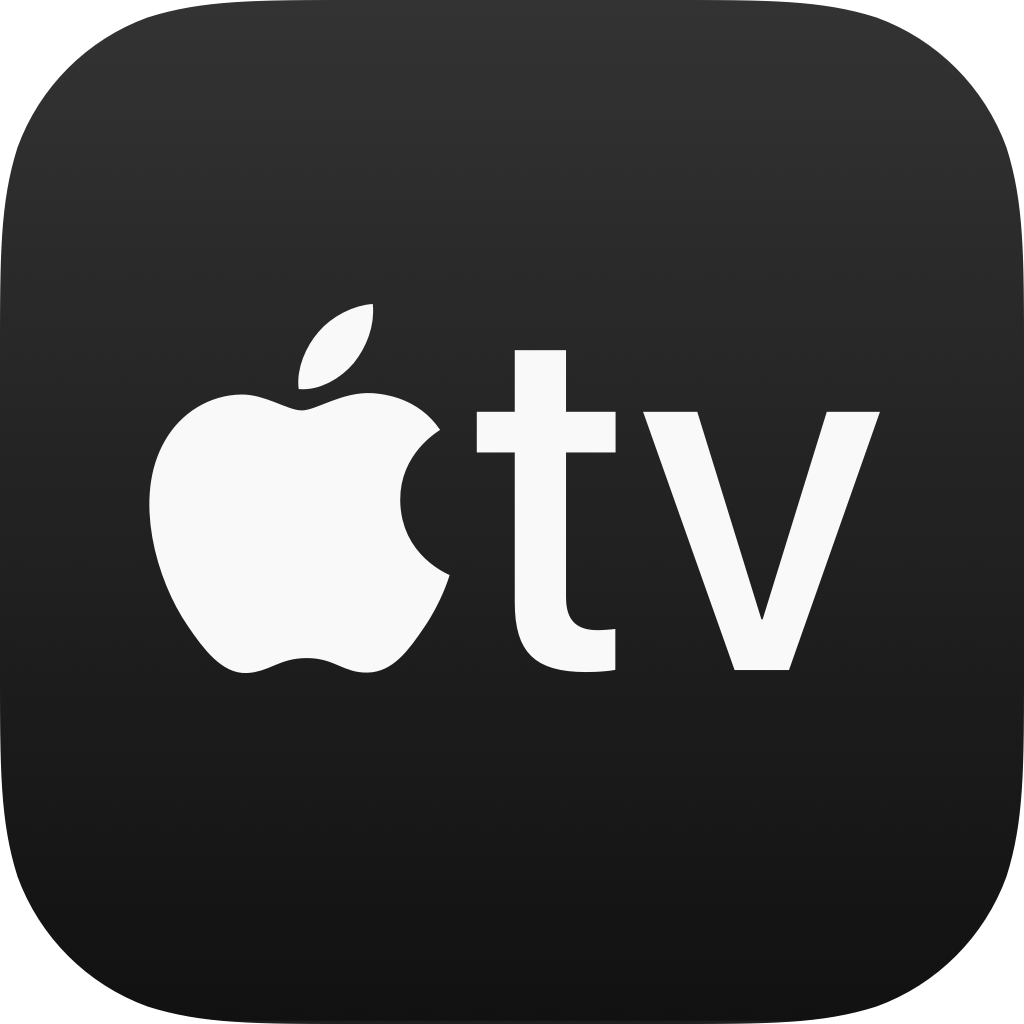 Download Joker in Digital HD/4K from the iTunes store.
Listen to the Joker soundtrack on Apple Music.
Joker images are © Warner Bros.. All Rights Reserved.
The Batman Runtime is Released
1/20/2022 4:50 PM EST
The official runtime for "The Batman" has been announced, so settle in for a while. The film, not including the credits, will be two hours and 47 minutes, making it one of the longest-running comic-themed films ever.Robert Pattinson stars in the film, alongside Zoë Kravitz, Paul Dano, Jeffrey Wright, John Turturro, Peter Sarsgaard, Andy Serkis, and Colin Farrell."The Batman" lands in theaters on M...
More>>
Largest Batman Franchise Merchandising Campaign in a Decade Laun...
1/10/2022 3:08 PM EST
WarnerMedia Global Brands and Experiences has announced that they are launching a new "The Batman" lifestyle merchandise collection, which allows fans to channel Batman/Bruce Wayne and Catwoman/Selina Kyle like never before.Today, the largest collection of Batman film products in over a decade has been revealed with premier partners worldwide launching "The Batman" fashion, accessories, beauty pro...
More>>
Michael Keaton in Talks to Reprise Batman Role
6/22/2020 3:29 PM EST
Word around town is that Michael Keaton may be reprising his role as Batman. The actor is currently in talks to star in the Warner Bros.'s DC movie The Flash.Keaton played the iconic superhero in 1989's Batman and again in 1992's Batman Returns. He turned out to be a fan favorite, even though many initially doubted his ability to play the debonair caped crusader. It's also being said that these ta...
More>>
Joker Returns to Theaters January 17
1/14/2020 2:46 PM EST
"Joker" will be returning to theaters this Friday, January 17th. The film has earned 11 Oscar nominations, as well as 11 BAFTA nods, and two Golden Globe wins, including Best Actor for Joaquin Phoenix's performance. The film will hit over 750 theatres across North America.Jeff Goldstein, President of Domestic Distribution, Warner Bros. Pictures, stated, "With the continued interest in 'Joker' as a...
More>>
BAFTA Film Award Nominations Announced
1/7/2020 10:59 AM EST
The BAFTA Film Award nominations were announced today. The 73rd annual event will award ceremony will take place on February 2 at the Royal Albert Hall in London. Graham Norton will host. Below is the complete list of nominations.BEST PICTURE"1917""The Irishman""Joker""Once Upon a Time in Hollywood""Parasite"BEST DIRECTORSam Mendes, "1917"Martin Scorsese, "The Irishman"Todd Phillips, "Joker"Quenti...
More>>
The Dark Knight Coming Back to IMAX Theatres for Batman's 80th A...
3/14/2019 10:52 AM EST
To commemorate the 80th anniversary of Batman, Warner Bros. will be returning all three "Dark Knight" films to IMAX theatres. Jeff Goldstein, President, Domestic Distribution, Warner Bros. Pictures, made the announcement."Christopher Nolan broke new ground with the 'Dark Knight' Trilogy, and this is a rare chance for today's audiences to experience these extraordinary films as they were meant to b...
More>>
Batman's 80th Anniversary Events Announced Around the Globe
3/7/2019 4:04 PM EST
Batman will turn 80 this year, and celebrations for the event are being announced.On March 30, DC Comics will hold a "Happy Birthday Batman" panel at WonderCon, which takes place in Anaheim, with tie-in events that will be held at this year's ComicCon in SanDiego. To celebrate Batman Day on September 21, more events will be held, such as a 5K and 10K cosplay run and a display of Bat-signals in cit...
More>>
Imax to Release The Dark Knight for 10th Anniversary
7/18/2018 2:01 PM EST
In honor of its 10th anniversary, Imax will be releasing The Dark Knight on its screens next month. Beginning on August 24, fans can take advantage of seeing the film in this giant format for one week at Imax theaters in Los Angeles, New York, San Francisco and Toronto.The film, which starred Christian Bale as Batman/Bruce Wayne, was originally released July 18, 2008 and brought the world a legend...
More>>
Hangover Director Todd Phillips Working on Joker Origin Film
8/23/2017 11:02 AM EST
Rumors have been swirling about a possible Joker origin film being in the works. According to reports,  "The Hangover" director Todd Phillips is currently in talks to direct and co-write the film. It is also said that Martin Scorcese could be involved with the project as well.  Origin films have become quite popular in recent years and the Joker would be perfect for such a platform. The character ...
More>>
Matt Reeves Signs on to Direct The Batman
2/23/2017 2:53 PM EST
In a seemingly never ending saga, Matt Reeves has officially signed on to direct "The Batman".Ben Affleck, who stars as Batman, was originally set to direct the film, but stepped back so that he could focus more on his starring role.  Reeves was then offered the job, and negotiations started taking place. Just last week, however, it was announced that negotiations had been put on hold, but that th...
More>>
The Batman Still Looking for a Director
2/20/2017 8:55 AM EST
"The Batman", which will star Ben Affleck as the Caped Crusader, has suffered another setback in production, according to reports. This time, the issue lies with the negotiations between Warner Bros. and Matt Reeves for the role of directing the film.Ben Affleck was to direct "The Batman", as well as star, but had stepped out of the director's chair last month to focus more on his acting role. He ...
More>>
Ben Affleck Steps Down from Directing The Batman
1/30/2017 10:20 PM EST
Ben Affleck has decided that he will be stepping down from directing his upcoming film tentatively titled The Batman.Affleck said in a statement, "There are certain characters who hold a special place in the hearts of millions. Performing this role demands focus, passion and the very best performance I can give. It has become clear that I cannot do both jobs to the level they require. Together wit...
More>>
Joker Theatrical Review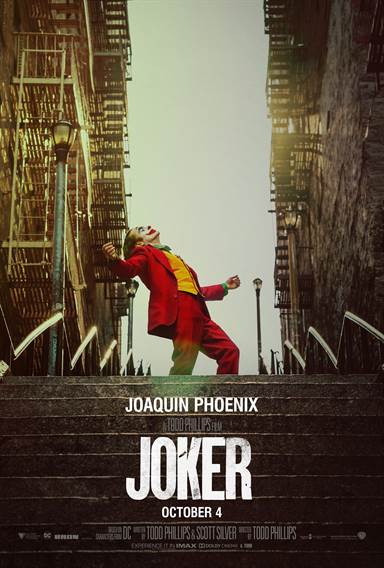 Throughout the years, Batman has had numerous nemeses including Penguin, Catwoman, Two-Face, and The Riddler to name a few. Perhaps one of his most well-known antagonists though is probably Joker. The menacing figure in clown makeup and a purple suit has always come across as highly unstable. However, we never truly knew what made Joker so evil and crazy. While it had always been said he fell into a vat of chemicals that disfigured him and made him go mad, we never knew anything about his early life…until now. Warner Bros. offers audiences a possible look inside Joker's origin story with their latest feature film, Joker.
Arthur Fleck (Joaquin Phoenix; Walk the Line) lives with his ailing mother, Penny (Frances Conroy; Six Feet Under) and works as a clown. He also has a disorder that makes him laugh uncontrollably at inappropriate times due to previous brain trauma from having been abused as a child. Arthur wants to be a standup comedian and tries to write jokes. He has an active imagination and daydreams about his pretty neighbor, Sophie (Zazie Beetz; Deadpool 2), being his girlfriend and about being on the Murray Franklin (Robert DeNiro; Raging Bull) Show.
In the course of several days, Arthur is beaten up on the subway by some young businessmen that he shoots and kills, he finds out his social services and medications are being cut off due to budget cuts, and he gets fired from his job. His mother also has a stroke and while in the hospital he kills her because she is delusional and believed her former employer, Thomas Wayne (Brett Cullen, Person of Interest), was Arthur's father even though Arthur finds out he was actually adopted. Finally, after trying standup, Arthur is made fun of on television by his idol, Franklin, who then invites Arthur to be on the show. Once there Arthur admits to killing the three men on the subway, shoots and kills Franklin and becomes a symbol for all of those in Gotham who are poor and tired of the inequity of wealth.
Phoenix is masterful as the mentally disturbed Arthur/Joker. He plays on one's sympathy while alternately coming across as creepy. Cullen makes Wayne less likable than past portrayals and the whole film has an undercurrent of a political agenda of "us" versus "them". Conroy is the stereotypical sweet, old woman who seems innocent but who has a disturbing past.
It is easy to see why theaters and authorities are concerned that the film will incite violence. The film has an uneasiness to it both from Arthur's story and from watching the public becoming fed up enough to riot in the streets. Director Todd Phillips (The Hangover) offers some spectacular shots that help set the overall tone and feel of the film, such as the rain falling as Arthur enters Arkham State or how we watch Arthur's disjointed ballet movements in a dirty, public restroom after the subway shooting. He also utilizes darker lighting to give the whole movie a sense of heaviness.
The Joker has always been portrayed as a menacing, demonic like psychopath in the past so it was difficult for me to reconcile this version of a vulnerable, mentally ill, disturbed man with the pure evil villain I am used to. I never thought I would pity the Joker but Arthur is someone who evokes sympathy from the audience while at the same time making us angry at his lack of empathy. The film overall is a little difficult and uncomfortable to watch and the whole subplot of the neighbor was completely unnecessary but it is an interesting take on one of Batman's best-known arch enemies and Phoenix delivers an Oscar-worthy performance.
Grade: B+
For more reviews please visit our film/television review section.
For today's home video review, FlickDirect's Austin Putnam reviews JOKER in 4K UHD!🍅 R...

"Joker" centers around the iconic arch nemesis and is an original, standalone story not seen before...

"Joker" centers around the iconic arch nemesis and is an original, standalone story not seen before...
SPONSORED LINKS