Batman & Robin (1997)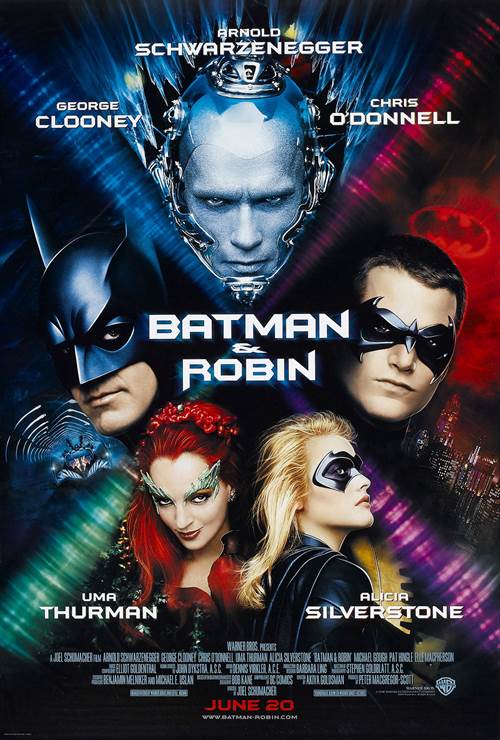 Share this:
| | |
| --- | --- |
| Director: | |
| Writers: | |
| Cast: | |
| Released: | Friday, June 20, 1997 |
| Length: | 125 minutes |
| Studio: | Warner Bros. |
| Genre: | Sci-Fi/Fantasy, Action/Adventure |
| Rating: | Some material may be inappropriate for children under 13. |
Synopsis
George Clooney plays the Dark Knight, facing his deadliest threat yet: cold-hearted Mr. Freeze (Arnold Schwarzenegger) and venemous Poison Ivy (Uma Thurman). Batman has more than Gotham City to protect: the youthful eagerness of crimefighting comrades Robin (Chris O'Donnell) and Batgirl (Alicia Silverstone) puts them frequently in harm's way. New very special effecst include a wild sky-surfing sequence and Mr. Freeze's outrageous arsenal of ice-blasting weapons.

Purchase DVD/Blu-ray/4K UHD physical copy of Batman & Robin today at Amazon.com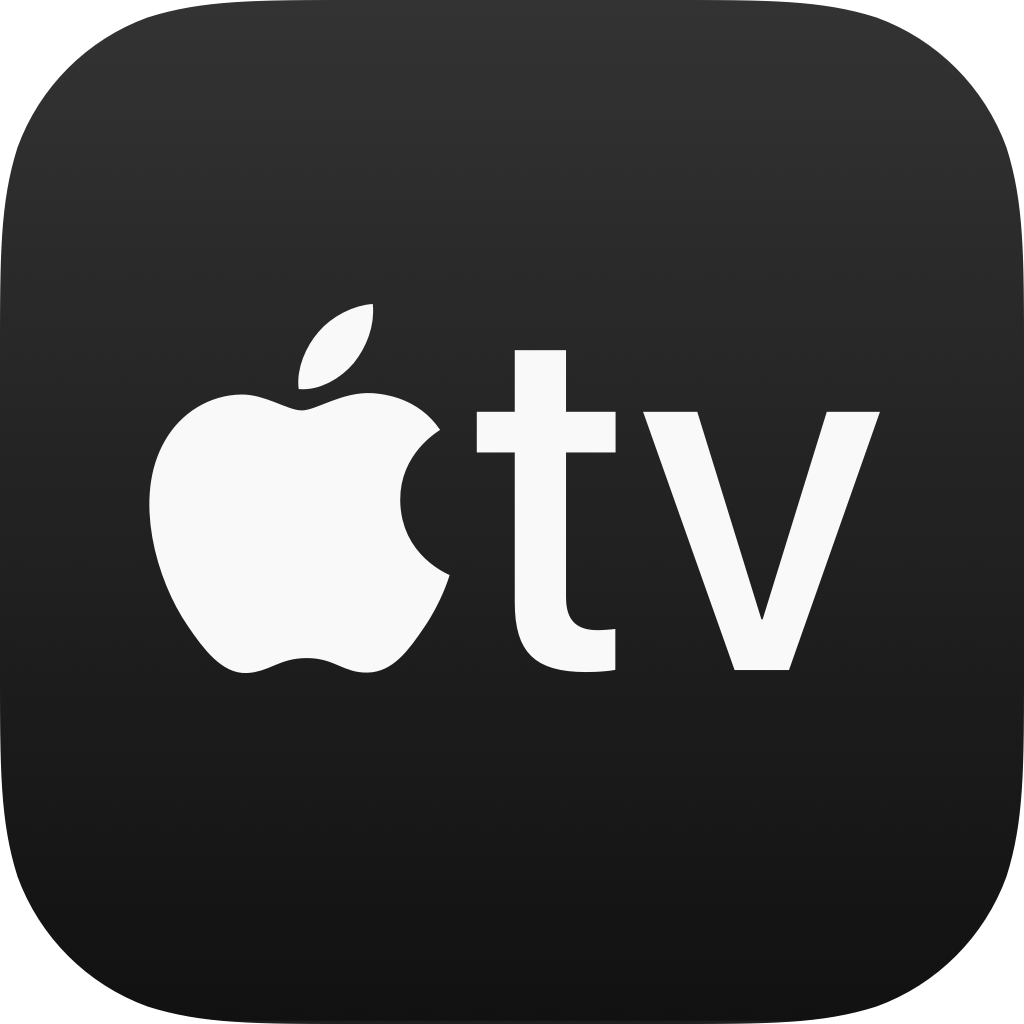 Download Batman & Robin in Digital HD/4K from the iTunes store.
Batman & Robin images are © Warner Bros.. All Rights Reserved.
Michael Keaton in Talks to Reprise Batman Role
6/22/2020 3:29 PM EST
Word around town is that Michael Keaton may be reprising his role as Batman. The actor is currently in talks to star in the Warner Bros.'s DC movie The Flash.Keaton played the iconic superhero in 1989's Batman and again in 1992's Batman Returns. He turned out to be a fan favorite, even though many initially doubted his ability to play the debonair caped crusader. It's also being said that these ta...
More>>
The Dark Knight Coming Back to IMAX Theatres for Batman's 80th A...
3/14/2019 10:52 AM EST
To commemorate the 80th anniversary of Batman, Warner Bros. will be returning all three "Dark Knight" films to IMAX theatres. Jeff Goldstein, President, Domestic Distribution, Warner Bros. Pictures, made the announcement."Christopher Nolan broke new ground with the 'Dark Knight' Trilogy, and this is a rare chance for today's audiences to experience these extraordinary films as they were meant to b...
More>>
Batman's 80th Anniversary Events Announced Around the Globe
3/7/2019 4:04 PM EST
Batman will turn 80 this year, and celebrations for the event are being announced.On March 30, DC Comics will hold a "Happy Birthday Batman" panel at WonderCon, which takes place in Anaheim, with tie-in events that will be held at this year's ComicCon in SanDiego. To celebrate Batman Day on September 21, more events will be held, such as a 5K and 10K cosplay run and a display of Bat-signals in cit...
More>>
Imax to Release The Dark Knight for 10th Anniversary
7/18/2018 2:01 PM EST
In honor of its 10th anniversary, Imax will be releasing The Dark Knight on its screens next month. Beginning on August 24, fans can take advantage of seeing the film in this giant format for one week at Imax theaters in Los Angeles, New York, San Francisco and Toronto.The film, which starred Christian Bale as Batman/Bruce Wayne, was originally released July 18, 2008 and brought the world a legend...
More>>
Hangover Director Todd Phillips Working on Joker Origin Film
8/23/2017 11:02 AM EST
Rumors have been swirling about a possible Joker origin film being in the works. According to reports,  "The Hangover" director Todd Phillips is currently in talks to direct and co-write the film. It is also said that Martin Scorcese could be involved with the project as well.  Origin films have become quite popular in recent years and the Joker would be perfect for such a platform. The character ...
More>>
Matt Reeves Signs on to Direct The Batman
2/23/2017 2:53 PM EST
In a seemingly never ending saga, Matt Reeves has officially signed on to direct "The Batman".Ben Affleck, who stars as Batman, was originally set to direct the film, but stepped back so that he could focus more on his starring role.  Reeves was then offered the job, and negotiations started taking place. Just last week, however, it was announced that negotiations had been put on hold, but that th...
More>>
The Batman Still Looking for a Director
2/20/2017 8:55 AM EST
"The Batman", which will star Ben Affleck as the Caped Crusader, has suffered another setback in production, according to reports. This time, the issue lies with the negotiations between Warner Bros. and Matt Reeves for the role of directing the film.Ben Affleck was to direct "The Batman", as well as star, but had stepped out of the director's chair last month to focus more on his acting role. He ...
More>>
Ben Affleck Steps Down from Directing The Batman
1/30/2017 10:20 PM EST
Ben Affleck has decided that he will be stepping down from directing his upcoming film tentatively titled The Batman.Affleck said in a statement, "There are certain characters who hold a special place in the hearts of millions. Performing this role demands focus, passion and the very best performance I can give. It has become clear that I cannot do both jobs to the level they require. Together wit...
More>>
Ben Affleck Says Batman Film is "Right on Track"
12/14/2016 11:58 AM EST
Ben Affleck was out recently, speaking about his upcoming film, Live by Night, in which he starred as well as directed, produced and wrote the script.  He briefly discussed his other, more high profile film to be released, The Batman."We're on the right track with that and everything is coming together. We're still finishing up a script. I'm very excited", said Affleck.Doing a Batman film is a pre...
More>>
LexCorp Industries Releases Statement Regarding Future of Company
4/1/2016 10:59 AM EST
Warner Bros and DC have brought their universe to our world with the creation of a LexCorp Industries Instagram page, which you can access here.  The company has posted the following:"Due to unfortunate circumstances, LexCorp Industries will be temporarily suspending it's global operations. When interviewed about his actions against a fallen alien, Lex Luthor responded with; "Ding, ding, ding, din...
More>>
Hans Zimmer to Retire from Superhero Film Work
3/31/2016 3:47 PM EST
Hans Zimmer has announced that he will no longer be writing scores for superhero films.  Zimmer definitely won't be retiring altogether, so not to worry, folks.Zimmer said,  "I have officially retired from the superhero business. I did Batman Begins with [Christopher Nolan] 12 years ago, so The Dark Knight trilogy might be three movies to you - to me it was 11 years of my life."Not only did he com...
More>>
Ben Affleck Has Written a Batman Script
3/31/2016 10:58 AM EST
Ben Affleck is no stranger to screenwriting, even having earned an Academy Award for "Good Will Hunting".  Well, now, Affleck has taken on a project close to his heart - a solo Batman film."He's contracted to do at least Justice League One and Two, so at least three times wearing the cape", said WME-IMG's co-CEO Patrick Whitesell in a recent interview.  He added, "there's a script that he's writte...
More>>
Batman & Robin 4K Ultra HD Review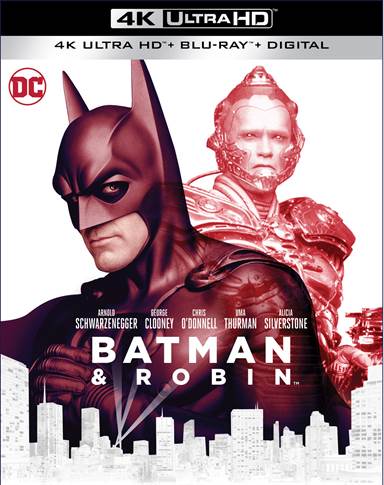 In 1997, two years after the monetarily successful but critically panned
Batman Returns
, Director Joel Schumacher (
The Phantom of the Opera
) helmed the fourth installment of the popular franchise,
Batman & Robin
. Once again, the lead was replaced and George Clooney (
Michael Clayton
) stepped into the role previously held by Michael Keaton (
Spotlight
) and Val Kilmer (
Top Gun
) and, unfortunately, he did nothing to re-energize the franchise to the point that Warner Bros. canceled a fifth film and it would be eight years before another reboot happens. While not the best in the bunch
Batman & Robin
is the last of the grouping so it was a no brainer for Warner Bros. to release it along with the first three on 4K available in stores now.
Once again there are new threats to Gotham City but now Batman has Robin (Chris O'Donnell; Scent of a Woman) at his side and the two fight crime in their home city. The latest is a robbery conducted by Mr. Freeze (Arnold Schwarzenegger; The Terminator), who steals diamonds that he needs to power the cryogenic suit that is keeping him alive. Meanwhile, Poison Ivy (Uma Thurman; Kill Bill: Vol. 1) shows up in Gotham after her mentor tries to kill her when she discovers his secret experiences at Wayne Laboratories. Having been mutated by the poison she was exposed to she goes after Bruce Wayne as revenge.
At a charity event, Poison Ivy tries to convince Bruce to fund her environmental project only to be rejected by him because the project would kill millions of people. At the same event, Mr. Freeze shows up to steal yet another diamond. Realizing they have a mutual enemy, Poison Ivy, and Mr. Freeze team up while Alfred's niece, Barbara (Alicia Silverstone; Clueless) show up to help her uncle but ends up becoming part of the vigilante team as Batgirl.
If Kilmer dug the grave of the Batman saga then Clooney was the final nail in the coffin. Neither actor portrayed the Dark Knight as well as Keaton nor did Schumacher help the franchise at all. Adding powerhouses like Schwarzenegger and Thurman did nothing to ease the pain as the script was woefully dull, convoluted and hokey. Perhaps the only small bright spot in the entire thing was Silverstone who could have done more with a better script but who played Barbara as tough yet intelligent.
While the film isn't great, the 2160p high definition video quality is. The details are so sharp that every leaf on Poison Ivy's costume stands out and Batman's and Robin's costumes are intricately shaped. The Dolby Atmos audio is also magnificent as Warner Bros. really outdid themselves with this transfer. The extras are all ported over from a previous Blu-ray release though. They include: Audio Commentary by Director Joel Schumacher, Shadows of the Bat: The Cinematic Saga of the Dark Knight Pt. 6-Batman Unbound, Batman & Robin: The Heroes, Batman & Robin: The Villains, Beyond Batman, Deleted Scene: Alfred's Lost Love, "The End is the Beginning is the End" Music Video by The Smashing Pumpkins, "Look Into My Eyes" Music Video by Bone-Thugs-N-Harmony, "Foolish Games" Music Video by Jewel, and the Theatrical Trailer. Interestingly, the previously released "Gotham City" music video by R. Kelly is not included in this set. If I was just grading this film on its video and audio quality I would give it an A, however, the film itself isn't great.
If you are buying the other three films in this series, I would invest in this one too since it completes the set and the technical quality is the best we have seen. However, the movie itself leaves something to be desired so keep that in mind while watching it.
Grade: C
For more reviews please visit our film/television review section.
SPONSORED LINKS