Star Trek VI: The Undiscovered Country (1991)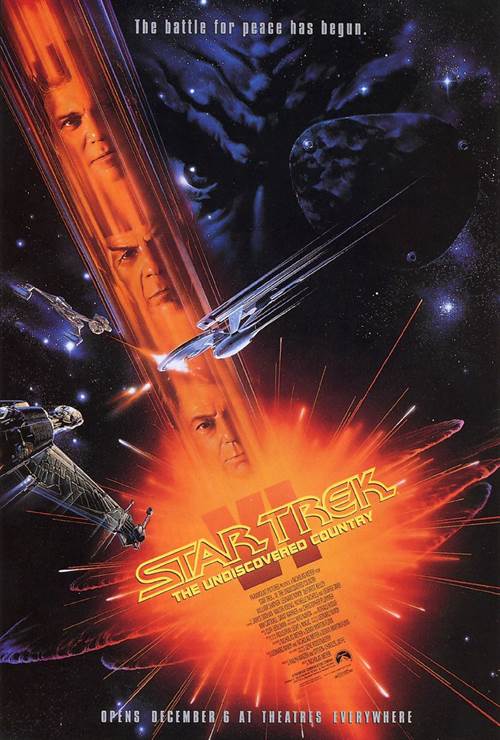 | | |
| --- | --- |
| Director: | |
| Writers: | |
| Cast: | |
| Released: | Friday, December 6, 1991 |
| Length: | 110 minutes |
| Studio: | Paramount Pictures |
| Genre: | Sci-Fi/Fantasy |
| Rating: | Some material may not be suitable for children. |
Star Trek VI: The Undiscovered Country Synopsis
After years of war, the Federation and the Klingon empire find themselves on the brink of a peace summit when a Klingon ship is nearly destroyed by an apparent attack from the Enterprise. Both worlds brace for what may be their deadliest encounter.
Star Trek VI: The Undiscovered Country images are © Paramount Pictures. All Rights Reserved.
Star Trek Discovery Announces Non-Binary and Transgender Additio...
9/2/2020 5:01 PM EST
"Star Trek: Discovery" has announced that they will be adding the first non-binary and transgender characters to their franchise in season three. Blu del Barrio will portray Adira, the show's first non-binary character and Ian Alexander will portray ...
| Full Article
Star Trek Prodigy Logo Revealed During Comic Con at Home
7/23/2020 4:31 PM EST
Nickelodeon and CBS Television Studios have revealed the title and logo for its all-new animated series "Star trek: Prodigy". Both the logo and the title were revealed during the "Star Trek" Universe panel at Comic-Con@Home. The CG-animated series fo...
| Full Article
Cya Live Offers Trekkies a Truly Unique Experience With an Onlin...
4/27/2020 9:10 AM EST
In a time of social distancing, Cyalive.com has become one of the many social outlets that still allows us to connect with others while enjoying some of our favorite films.  On Saturday, April 18, 2020, they had director Peter Segal (50 First Dates) ...
| Full Article
Fathom Events Presents What We Left Behind: Looking Back at Star...
4/17/2019 2:17 PM EST
Fathom Events has announced that for one night only on May 13, they will be holding an event for the documentary "What We Left Behind: Looking Back at Star Trek: Deep Space Nine". The film presents a fascinating in-depth look at the past, present, an...
| Full Article
S.J. Clarkson First Female to be Chosen to Helm Star Trek Franch...
4/26/2018 11:04 PM EST
S.J. Clarkson has been chosen to direct the next installment of the Star Trek films, making her the first female to direct on the iconic sci-fi franchise.Clarkson is best known for her work on Dexter, Bates Motel, Orange is the New Black, Jessica Jon...
| Full Article
Star Trek: Discovery Premier Date Delayed
1/18/2017 3:08 PM EST
Star Trek: Discovery has been delayed yet again according to a statement released by CBS.  The statement reads: "Production on 'Star Trek: Discovery' begins next week. We love the cast, the scripts and are excited about the world the producers have c...
| Full Article
Captain's Log Stardate 94477.81, 50 Years of Star Trek
11/16/2016 4:24 PM EST
50 Years of Star Trek is available for Purchase on Both DVD and Digital HDAs I sit in my chair watching the 50 Years of Star Trek DVD (just released everywhere), which was originally aired on the History Channel, I find myself pondering why… or shoul...
| Full Article
Anton Yelchin's Character Won't Be Re-Cast in Future Star Trek F...
7/20/2016 12:01 PM EST
J.J. Abrams, producer for the "Star Trek" franchise, said that he won't be re-casting Anton Yelchin's Pavel Chekov character in future films.Abrams said, "I would say there's no replacing him. There's no recasting. I can't possibly imagine that, and ...
| Full Article
Fourth Star Trek Film Announced with Hemsworth Returning
7/18/2016 3:45 PM EST
Paramount Pictures, Skydance and Bad Robot have announced that there will be a fourth "Star Trek" film.  Chris Pine and the rest of the cast will return, as well as Chris Hemsworth as George Kirk.  The following is the press release:HOLLYWOOD, CA (Ju...
| Full Article
Idris Elba In Talks to Play Villain in Star Trek 3
3/25/2015 1:06 PM EST
Idris Elba is said to be in talks to star as the villain in "Star Trek 3".  There aren't any details available as to what his character may be, but speculation points to a possible major Klingon presence in this film. The film will once again star Ch...
| Full Article
Leonard Nimoy Passes Away at Age 83
2/27/2015 12:43 PM EST
Leonard Nimoy, best known for his character on Star Trek as Spock, has passed away today. He was 83.Susan Bay Nimoy, his wife, confirmed the news this morning and said that the cause of death was end-stage chronic obstructive pulmonary disease.Nimoy'...
| Full Article
Could We See Shatner and Nimoy Cameos in Upcoming Star Trek?
9/23/2014 3:01 PM EST
Roberto Orci, the co-writer for the two recent "Star Trek" films, reportedly would like to have William Shatner and Leonard Nimoy reprise their roles as Captain Kirk and Mr. Spock in the upcoming third installment. Orci will be directing this time ar...
| Full Article
SPONSORED LINKS