Star Trek Into Darkness (2013)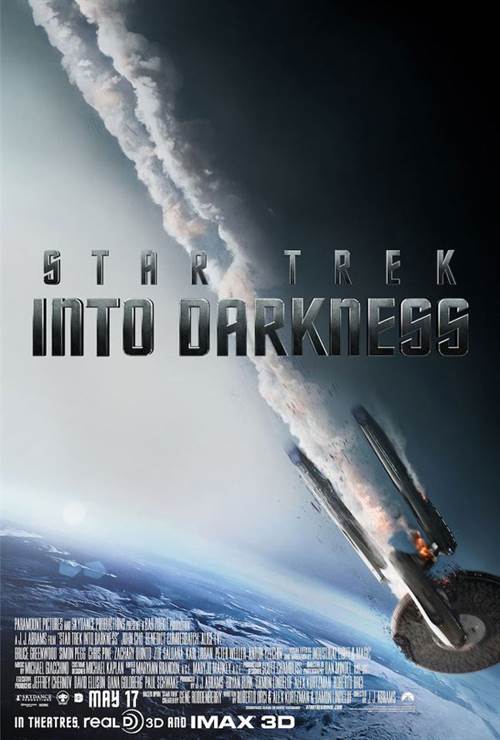 Share this:
| | |
| --- | --- |
| Director: | |
| Writers: | |
| Cast: | |
| Released: | Wednesday, May 15, 2013 |
| Length: | 135 minutes |
| Studio: | Paramount Pictures |
| Genre: | Sci-Fi/Fantasy, Action/Adventure |
| Rating: | Some material may be inappropriate for children under 13. |
Synopsis
In Summer 2013, pioneering director J.J. Abrams will deliver an explosive action thriller that takes Star Trek Into Darkness. When the crew of the Enterprise is called back home, they find an unstoppable force of terror from within their own organization has detonated the fleet and everything it stands for, leaving our world in a state of crisis. With a personal score to settle, Captain Kirk leads a manhunt to a war-zone world to capture a one man weapon of mass destruction. As our heroes are propelled into an epic chess game of life and death, love will be challenged, friendships will be torn apart, and sacrifices must be made for the only family Kirk has left: his crew.

Purchase DVD/Blu-ray/4K UHD physical copy of Star Trek Into Darkness today at Amazon.com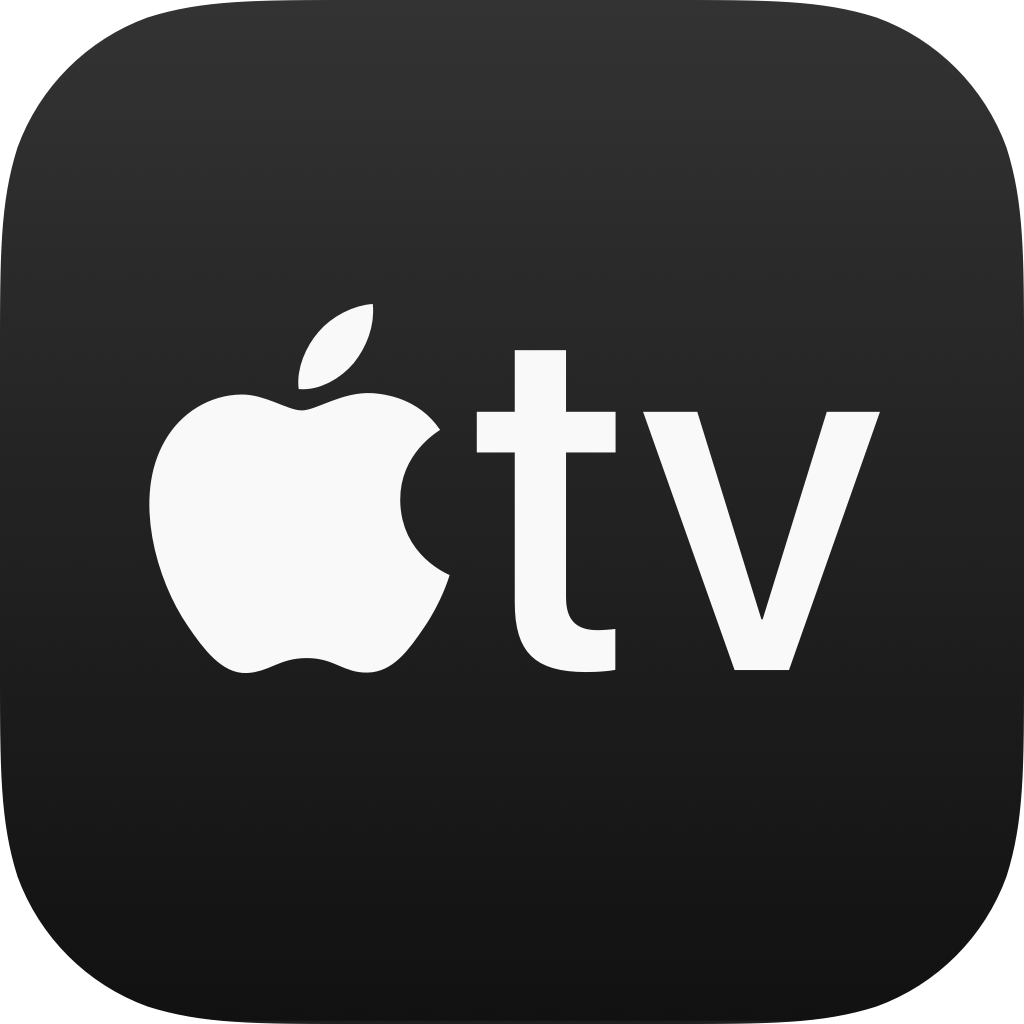 Download Star Trek Into Darkness in Digital HD/4K from the iTunes store.
Star Trek Into Darkness images are © Paramount Pictures. All Rights Reserved.
Star Trek Discovery Announces Non-Binary and Transgender Additio...
9/2/2020 5:01 PM EST
"Star Trek: Discovery" has announced that they will be adding the first non-binary and transgender characters to their franchise in season three. Blu del Barrio will portray Adira, the show's first non-binary character and Ian Alexander will portray Gray, the first transgender actor in the franchise.Michelle Paradise, co-showrunner and executive producer said, "Star Trek has always made a mission ...
More>>
Star Trek Prodigy Logo Revealed During Comic Con at Home
7/23/2020 4:31 PM EST
Nickelodeon and CBS Television Studios have revealed the title and logo for its all-new animated series "Star trek: Prodigy". Both the logo and the title were revealed during the "Star Trek" Universe panel at Comic-Con@Home. The CG-animated series follows a group of lawless teens who discover a derelict Starfleet ship and use it to search for adventure, meaning, and salvation. It was developed by ...
More>>
Cya Live Offers Trekkies a Truly Unique Experience With an Onlin...
4/27/2020 9:10 AM EST
In a time of social distancing, Cyalive.com has become one of the many social outlets that still allows us to connect with others while enjoying some of our favorite films.  On Saturday, April 18, 2020, they had director Peter Segal (50 First Dates) join fans as they watched the 1995 classic film, Tommy Boy.  Fans were able to interact and ask questions while reliving their favorite parts of the m...
More>>
Fathom Events Presents What We Left Behind: Looking Back at Star...
4/17/2019 2:17 PM EST
Fathom Events has announced that for one night only on May 13, they will be holding an event for the documentary "What We Left Behind: Looking Back at Star Trek: Deep Space Nine". The film presents a fascinating in-depth look at the past, present, and future of a series whose dark, edgy take on Gene Roddenberry's vision was often misunderstood when it premiered but has grown into a beloved mainsta...
More>>
S.J. Clarkson First Female to be Chosen to Helm Star Trek Franch...
4/26/2018 11:04 PM EST
S.J. Clarkson has been chosen to direct the next installment of the Star Trek films, making her the first female to direct on the iconic sci-fi franchise.Clarkson is best known for her work on Dexter, Bates Motel, Orange is the New Black, Jessica Jones, and Defenders.The newer set of Star Trek films has grossed over $1 billion at the box office beginning with 2009's Star Trek, followed by Star Tre...
More>>
Star Trek: Discovery Premier Date Delayed
1/18/2017 3:08 PM EST
Star Trek: Discovery has been delayed yet again according to a statement released by CBS.  The statement reads: "Production on 'Star Trek: Discovery' begins next week. We love the cast, the scripts and are excited about the world the producers have created.  This is an ambitious project; we will be flexible on a launch date if it's best for the show.  We've said from the beginning it's more import...
More>>
Captain's Log Stardate 94477.81, 50 Years of Star Trek
11/16/2016 4:24 PM EST
50 Years of Star Trek is available for Purchase on Both DVD and Digital HDAs I sit in my chair watching the 50 Years of Star Trek DVD (just released everywhere), which was originally aired on the History Channel, I find myself pondering why… or should I say how could anyone try to sum up the Star Trek universe in 1 hour and 24 mins. Seriously! 50 years of STAR TREK!? The original series had 80 epi...
More>>
Anton Yelchin's Character Won't Be Re-Cast in Future Star Trek F...
7/20/2016 12:01 PM EST
J.J. Abrams, producer for the "Star Trek" franchise, said that he won't be re-casting Anton Yelchin's Pavel Chekov character in future films.Abrams said, "I would say there's no replacing him. There's no recasting. I can't possibly imagine that, and I think Anton deserves better."Yelchin died on June 19th in a freak accident outside his home. When asked if they would include the death of Chekov's ...
More>>
Fourth Star Trek Film Announced with Hemsworth Returning
7/18/2016 3:45 PM EST
Paramount Pictures, Skydance and Bad Robot have announced that there will be a fourth "Star Trek" film.  Chris Pine and the rest of the cast will return, as well as Chris Hemsworth as George Kirk.  The following is the press release:HOLLYWOOD, CA (July 18, 2016) - Paramount Pictures, Skydance and Bad Robot today announced that the crew of the U.S.S. Enterprise will return to the big screen for ano...
More>>
Idris Elba In Talks to Play Villain in Star Trek 3
3/25/2015 1:06 PM EST
Idris Elba is said to be in talks to star as the villain in "Star Trek 3".  There aren't any details available as to what his character may be, but speculation points to a possible major Klingon presence in this film. The film will once again star Chris Pine, Zachary Quinto, Simon Pegg, Karl Urban, Zoe Saldana and Anton Yelchin. Justin Lin will be directing, and J.J. Abrams will be producing.Produ...
More>>
Leonard Nimoy Passes Away at Age 83
2/27/2015 12:43 PM EST
Leonard Nimoy, best known for his character on Star Trek as Spock, has passed away today. He was 83.Susan Bay Nimoy, his wife, confirmed the news this morning and said that the cause of death was end-stage chronic obstructive pulmonary disease.Nimoy's career spanned over 50 years, with Spock being his most notable character.  His other interests included poetry, photography and music. Nimoy is sur...
More>>
Could We See Shatner and Nimoy Cameos in Upcoming Star Trek?
9/23/2014 3:01 PM EST
Roberto Orci, the co-writer for the two recent "Star Trek" films, reportedly would like to have William Shatner and Leonard Nimoy reprise their roles as Captain Kirk and Mr. Spock in the upcoming third installment. Orci will be directing this time around.  There is little known about the plot, except that it will be set during the latter part of the Enterprise crew's five year journey.  If Orci ge...
More>>
Star Trek Into Darkness Review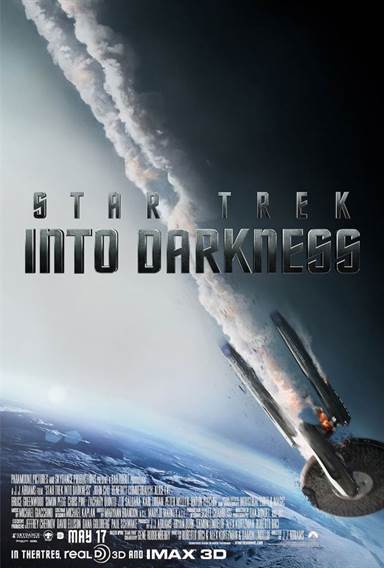 I was completely swept away by the 2009 reinvention of "Star Trek". Director J.J. Abrams approached an impossible creative challenge with startling confidence, restoring awe to a brand name that had lost its way while removing the need to be slavish to Gene Roddenberry's original creation as it paved the way for its own universe of alien planets, adversaries, and whip-crack heroism. Four years later Abrams and Company return with "Star Trek Into Darkness," a sequel that's nearly as thrilling as the previous picture, delivering a sensational view of crew camaraderie and earthbound threat
In an effort to save Spock (Zachary Quinto) from certain doom, Kirk (Chris Pine) breaks the Prime Directive, a move that finds him removed from the captain's chair of the Enterprise. When a terrorist attack hits London, Starfleet Admiral Alexander Marcus (Peter Weller) orders a vigorous investigation, coming across the identity of John Harrison (Benedict Cumberbatch), an enigmatic, curiously unbreakable officer hell bent on disrupting the military plans of the peacekeeping organization. Restored to duty with specific orders to confront Harrison in Klingon territory, Kirk discovers the extent of the cold-blooded killer's plans, putting his beloved crew, including Uhura (Zoe Saldana), Scotty (Simon Pegg) McCoy (Karl Urban), Chekov (Anton Yelchin), and Sulu (John Cho), in the line of fire, while a new member of the team, Carol (Alice Eve), holds important answers to a stockpile of superweapons Marcus has ordered Kirk to use on Harrison before the resolute fiend has a chance to strike again.

"Star Trek Into Darkness" takes the all-important first sequel position, a crucial step for any sci-fi franchise looking to prove itself worthy of long-term adoration. It's not an easy place to be for Abrams, tasked with advancing a beautiful reworking of known elements, deepening appreciation for the characters while establishing a prime villain aching for screen dissection. There must also be a substantial dose of familiarity, time with old friends, and the follow-up conquers this trial wonderfully, returning fans to the sputtery courageousness of the Enterprise crew. Having barely survived their first adventure together, the band must endure a new round of separation to stir up the suspense, finding Scotty resigning his position as engineer after an argument with Kirk over the new photon torpedoes being loaded onto his beloved ship, while Spock and Uhura are experiencing some turbulence in their secretive relationship, with the captain caught in the middle of their quarrel concerning the precious nature of the Vulcan's life. "Star Trek Into Darkness" also provides new levels of responsibility for Sulu, offered a brief moment in the captain's chair, while Chekov is pushed into the belly of the beast, taking over as engineer to the best of his ability. As for McCoy, he's as cantankerous as ever (my goodness, does Urban ever own this role), though his mood is lightened some by Carol's presence.
The crew dynamic is alive and well in the sequel, supplying satisfactory banter that plays up personality divides and, in the case of Spock, persistent questions of logic. Despite its falling-anvil title, "Star Trek Into Darkness" retains a spring in its step, teeming with chaotic chases and zooming starships, boosted by immensely colorful, sharp cinematography by Dan Mindel and supportive scoring by the great Michael Giacchino -- though musically the movie doesn't invest in euphoric themes as much as before. Abrams is terrific with action, showing off the dangers of space jumps and cautious shuttle landings in Klingon territory, and the film culminates with a doozy of a sequence that finds the Enterprise spinning out of control, with Kirk and Scotty forced to navigate disorienting changes in gravity to restore stability to their home ship. "Star Trek Into Darkness" looks and sounds amazing, continuing exactly where the 2009 effort left off while cooking up new visuals that show off bustling cities and new starship tech, upping the intensity of the feature with unusual episodes of peril and dynamic CGI movement.

Thespian charisma also returns in full, watching Pine approach the swagger and maturation of Kirk in unpredicted ways. Although he remains an impulsive captain and a habitual womanizer, Kirk is forced to develop a feel for protection in the sequel, realizing his crew has become a family unit of sorts, worth risk and recklessness to protect. Also engaging is Quinto, sustaining the potency of his perfect casting as Spock, a composed character pushed to the edge of his half-humanity in "Star Trek Into Darkness," revealing fresh dimensions of emotion and courage. Crew interplay is unbeatable, always triumphing over hiccups in the story, which become more intense as Harrison's modus operandi is exposed in full. Cumberbatch is merely serviceable in the role (perhaps too mannered), and there's been a lot of debate lately online as to whether the particular plot twist revolving around Cumberbatch's character was the right one. Quite frankly, without getting into yet another lengthy breakdown of the wrong's and rights of this film, I'll put it simply, I enjoyed this film. Was Harrison's plot twist necessary? Perhaps not. Did I still enjoy the film all the way through? Absolutely and I'd watch it again without hesitation.
"Star Trek Into Darkness" does retain its intended sensation of high-flying adventure, while exploring terrorism's true source. The movie keeps its head above water by focusing on a swift pace and marvelous sequences of teamwork, clutching that precious feeling of breathtaking escapism that came so easily to Abrams four years ago. For a loyal trek fan who has waited for someone to come along and breathe new life into this franchise, "Star Trek Into Darkness" continues to boldly go where no one has gone before.
Read More Star Trek Into Darkness Reviews
For more reviews please visit our film/television review section.
In Summer 2013, pioneering director J.J. Abrams will deliver an explosive action thriller that takes...
SPONSORED LINKS