Scream (2022)
Share this:
| | |
| --- | --- |
| Director: | |
| Writers: | |
| Cast: | |
| Released: | Friday, January 14, 2022 |
| Studio: | Paramount Pictures |
| Genre: | Horror |
| Rating: | This Film Is Not Yet Rated |
Synopsis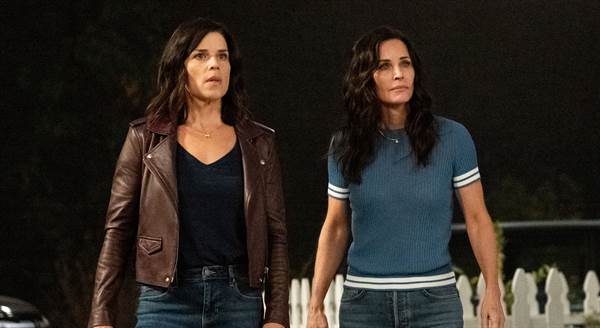 Twenty-five years after a streak of brutal murders shocked the quiet town of Woodsboro, a new killer has donned the Ghostface mask and begins targeting a group of teenagers to resurrect secrets from the town's deadly past. Neve Campbell ("Sidney Prescott"), Courteney Cox ("Gale Weathers") and David Arquette ("Dewey Riley") return to their iconic roles in Scream alongside Melissa Barrera, Kyle Gallner, Mason Gooding, Mikey Madison, Dylan Minnette, Jenna Ortega, Jack Quaid, Marley Shelton, Jasmin Savoy Brown, and Sonia Ammar.
Scream images are © Paramount Pictures. All Rights Reserved.
Sidney Prescott Is Back For Scream 5
9/10/2020 3:28 PM EST
Ever since it was announced that Paramount-Spyglass was relaunching the Scream franchise, there has been speculation as to which characters would/would not be signing on to the project.  David Arquette announced he would once again reprise his role as Dewey Riley in May followed by Courtney Cox, once again as reporter Gale Weathers in late July. This led fans to wonder if Neve Campbell would also ...
More>>
Courtney Cox to Return for Fifth Scream Film
7/31/2020 4:24 PM EST
Courtney Cox will be reprising her role as Gale Weathers for the next "Scream" film. She will be joining her ex-husband and former co-star David Arquette, who will be reprising his role as Dewey Riley.Radio Silence told Deadline, "We can't imagine Scream without the iconic Gale Weathers and are so incredibly thrilled and humbled to have the opportunity to work with Courteney. We're absolute mega f...
More>>
MTV Moving Along With Scream Series Production
8/6/2014 11:21 AM EST
MTV is moving along with its production for their upcoming "Scream" series. The network has hired Jamie Travis to direct the pilot, and have a cast all lined up - Willa Fitzgerald ("Alpha House," "Royal Pains"), Amy Forsyth ("Torment," "Reign"), John Karna ("Premature," "The Neighbors"), Carlson Young ("Key and Peele," "The Kroll Show") and Amadeus Serafini.Susanne Daniels, MTV's president of prog...
More>>
Harvey Weinstein Speaks on Scream Franchise
10/4/2013 3:03 PM EST
Speaking at the Zurich Film Festival, Harvey Weinstein has told Indiewire what he would expect if another "Scream" movie were to go ahead.Both Harvey and his brother Bob have in the past expressed an interest in a fifth movie for the franchise. "Everyone lived in Scream 4. I'm begging him (Bob) to do the movie and just end it. We've milked that cow." Weinstein also said that the forthcoming Scream...
More>>
Craven: Scream 5 A Possibility
5/31/2011 2:59 PM EST
Wes Craven spoke recently about the "Scream" franchise and said that there are no immediate plans yet to make "Scream 5". The master of horror stated he would like to take a break."I'm taking the summer off. I directed and produced, and my wife [Iya Labunka] produced, both Scream 4 and the previous film, My Soul to Take, and they were both very difficult films. So we just decided, 'You know what? ...
More>>
"Scream 4" Granted "R" Rating
3/3/2011 4:27 PM EST
The MPAA has awarded the upcoming film, "Scream 4", its "R" rating. Some were worried that the film would be a bit watered down in order to appeal to the "PG-13" audience.The film was given the "R" rating for "strong bloody violence, language and some teen drinking". The three previous films were all rated "R"....
More>>
Scream 4 Casting Update
5/25/2010 3:50 PM EST
Lake Bell of "Boston Legal" fame is currently in negotiations to star in the upcoming film, "Scream 4". Along with Bell, Ashley Greene, Hayden Panettiere and Rory Culkin have all been offered roles in the film as well. The film will also star Neve Campbell, David Arquette and Courteney Cox. Bell will play a police who is friendly with Neve Campbell and has known her since high school. Greene will ...
More>>
Neve Campbell Talks Scream 4
11/30/2009 9:20 PM EST
Recently, Black Book Magazine caught up with Neve Campbell.  she discussed the upcoming fourth "Scream" project. Campbell says that she is "pretty sure at this stage that Wes [Craven] is back on board to direct" a fourth "Scream". She also went on to discuss her former co-stars for the film. "I haven't spoken to them in a while. I'm sure it took a while to convince them to take part [in the pictu...
More>>
Twenty-five years after a streak of brutal murders shocked the quiet town of Woodsboro, a new killer...
SPONSORED LINKS