Terminator 2: Judgment Day (1991)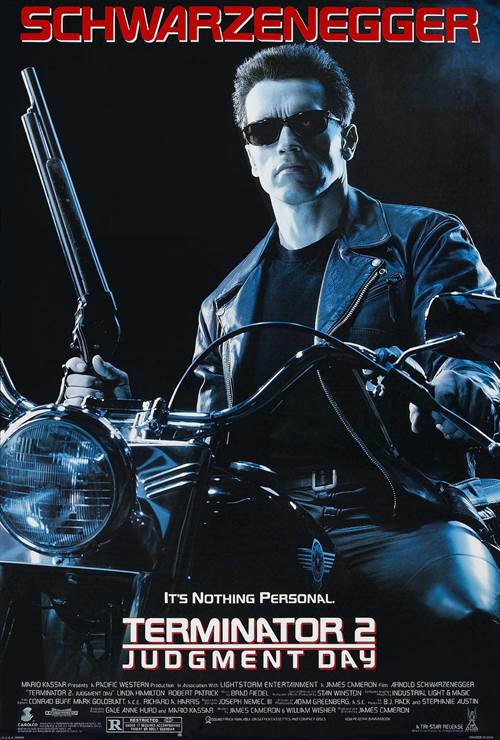 Share this:
| | |
| --- | --- |
| Director: | |
| Writers: | |
| Cast: | |
| Released: | Wednesday, July 3, 1991 |
| Length: | 139 minutes |
| Studio: | Carolco Pictures |
| Genre: | Sci-Fi/Fantasy, Action/Adventure |
| Rating: | Under 17 requires accompanying parent or adult guardian. |
Synopsis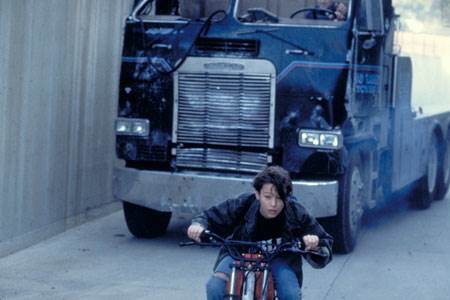 Arnold Schwarzenegger returns as "The Terminator" in this explosive action-adventure spectacle. Now he's one of the good guys, sent back in time to protect John Connor, the boy destined to lead the freedom fighters of the future. Linda Hamilton reprises her role as Sarah Connor, John's mother, a quintessential survivor who has been institutionalized for her warning of the nuclear holocaust she knows is inevitable. Together, the threesome must find a way to stop the ultimate enemy-the T-1000, the most lethal Terminator ever created. Co-written, produced and directed by James Cameron ("The Terminator," "Aliens," "Titanic"), this visual tour de force is also a touching human story of survival.

Purchase DVD/Blu-ray/4K UHD physical copy of Terminator 2: Judgment Day today at Amazon.com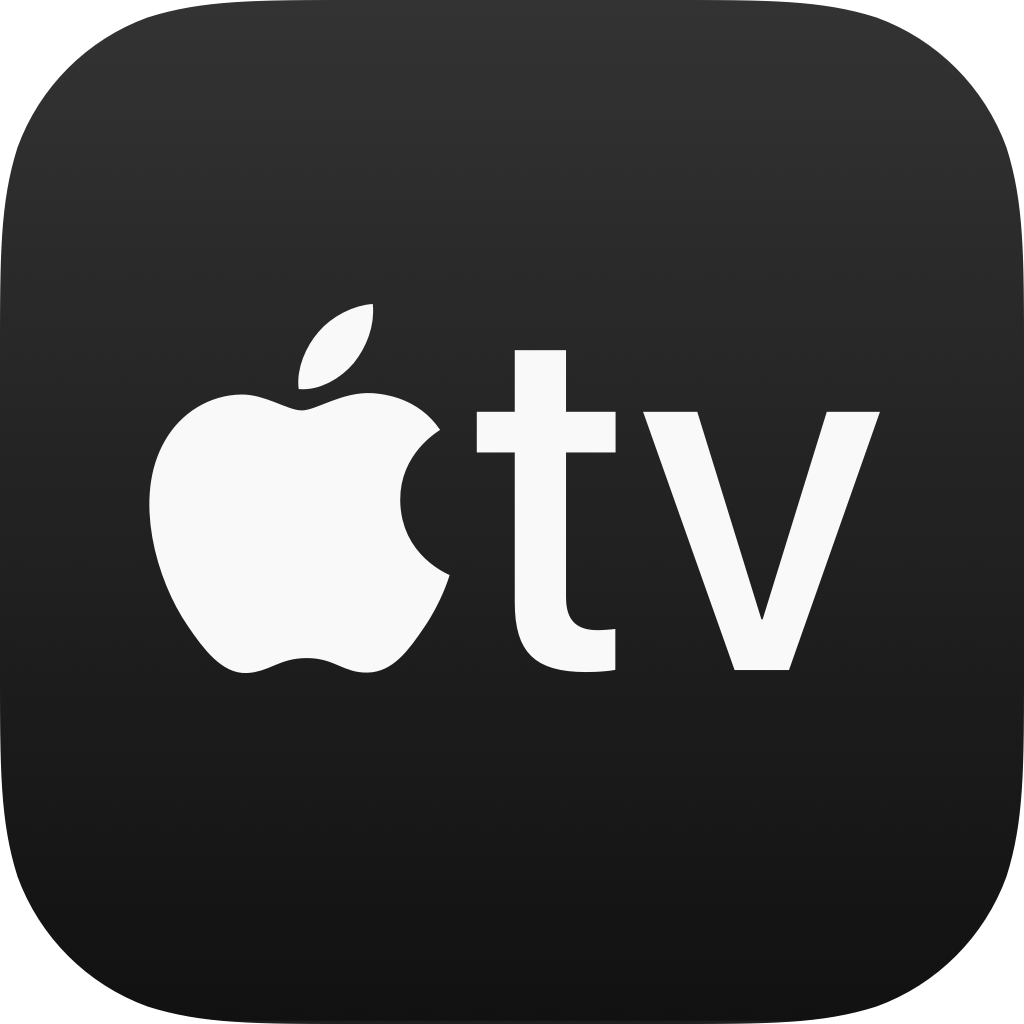 Download Terminator 2: Judgment Day in Digital HD/4K from the iTunes store.
Listen to the Terminator 2: Judgment Day soundtrack on Apple Music.
Terminator 2: Judgment Day images are © Carolco Pictures. All Rights Reserved.
30th Anniversary Terminator 2 Judgement Day 4K Release Coming in...
10/6/2021 4:32 PM EST
To commemorate the 30th anniversary of "Terminator 2: Judgement Day", Lionsgate is releasing the film on 4K Ultra HD™ Steelbook, exclusively at Best Buy. The set will hit shelves on November 23.The film is set 10 years after the events of the original film, "Terminator". Sarah Connor's ordeal is only just beginning as she struggles to protect her son, John - the future leader of the human resistan...
More>>
Terminator Anime Series in the Works for Netflix
2/26/2021 4:32 PM EST
It's been reported that Netflix has ordered a "terminator" anime series. The project is said to still be in the early stages of development."'Terminator' is one of the most iconic sci-fi stories ever created-and has only grown more relevant to our world over time. The new animated series will explore this universe in a way that has never been done before. We can't wait for fans to experience this ...
More>>
L.A. Premier of Terminator Dark Fate Canceled Due to Wildfires
10/28/2019 3:29 PM EST
The premiere of tonight's "Terminator: Dark Fate" in Losa Angels has been canceled due to the brush fires that have broken out in the area.A spokesperson for Paramount said, "In light of the ongoing, active fires being battled in the area, Paramount Pictures and Skydance have canceled tonight's Los Angeles premiere of 'Terminator: Dark Fate". We will be donating food intended for the after-party t...
More>>
Edward Furlong to Return as John Connor in Terminator Dark Fate
7/18/2019 4:12 PM EST
The "Terminator: Dark Fate" panel was held at Comic-Con today in Hall H and was packed with plenty of news.First off, we learned that Edward Furlong will be back to reprise his role as John Connor. Furlong played the character in 1991's "Terminator 2: Judgment Day" and has since been off the radar after struggling with addiction. The announcement was made by producer James Cameron, who was live vi...
More>>
Cast of Terminator: Dark Fate to Receive CinemaCon's Ensemble Award
3/28/2019 2:19 PM EST
Mitch Neuhauser, Managing Director of CinemaCon, has announced that the cast of Terminator: Dark Fate, Linda Hamilton, Natalia Reyes, Mackenzie Davis, and Gabriel Luna, will receive this year's "CinemaCon® Ensemble Award." The will be presented with the award at CinemaCon on Thursday, April 4."With a cast that includes many familiar faces as well as talented newcomers, the next chapter of this blo...
More>>
Linda Hamilton to Reprise Terminator Role for New Trilogy
9/20/2017 10:17 AM EST
It has been announced that Linda Hamilton, Arnold Schwarzenegger, and James Cameron will all be reunited for more Terminator films; a trilogy, in fact. Hamilton appeared in the original Terminator film as well as Terminator 2: Judgment Day."As meaningful as she was to gender and action stars everywhere back then, it's going to make a huge statement to have that seasoned warrior that she's become r...
More>>
More Terminator Films Expected In Future After Some "Readjustments"
10/7/2015 2:18 PM EST
Terminator:Genysis didn't fare as well as expected, but that doesn't mean we won't be seeing more films for the franchise. However, don't expect them to be released any time soon.Dana Goldberg, Skydance Media's chief creative officer, recently spoke at The Wrap's 6th Annual Media Leadership Conference TheGrill, about the franchise's future."I wouldn't say on hold, so much as re-adjusting", said Go...
More>>
Know Your Terminators Before You Go See Terminator Genisys
6/19/2015 12:59 PM EST
Terminator fans, It's time once again to brush off your best Arnie impersonation in anticipation of the latest release in the Series TERMINATOR: GENYSIS. Coming to Theaters in time for the Fourth of July Holiday weekend, TERMINATOR:GENYSIS once again starts Arnold Schwarzenegger alide Jason Clarke and Emilia Clarke in a battle to save the Human race.  To help you impress your friends and win every...
More>>
The Terminator Takes Over Waze Navigation
6/15/2015 1:49 PM EST
HOLLYWOOD, CA (June 15, 2015) - To celebrate the release of the highly anticipated film "TERMINATOR GENISYS," Paramount Pictures, Skydance Productions, Arnold Schwarzenegger and Waze (www.waze.com), have teamed up to give drivers around the world the ultimate voice navigation machine: Arnold Schwarzenegger as the 'Guardian' Terminator from "TERMINATOR GENISYS."Starting today, users of the world's ...
More>>
Schwarzenegger to Star in Terminator 6
2/25/2015 2:14 PM EST
Terminator Genisys will be released this summer, bringing about a new trilogy for the franchise. Arnold Schwarzenegger will be reprising his role for this year's film, but many wondered if he would make it into the other two. But the Terminator himself has now squashed any further doubt. When asked if he would be filming for Terminator 6, the actor answered, "Yes, of course, next year".  Great new...
More>>
Arnold Schwarzenegger Reveals Latest Terminator Film Title
8/6/2014 3:19 PM EST
Arnold Schwarzenegger has revealed, via Instagram, the title to the latest film in the "Terminator" franchise. Schwarzenegger is sitting in the picture, with the words "Terminator Genisys" emblazoned on the back of his chair. Check out the full pic here.In the post, Schwarzenegger thanked the cast and crew and said it was a "fantastic shoot. It was challenging, it was fun, and it was rewarding."Th...
More>>
Arnold Schwarzenegger On Terminator Genesis Film
3/18/2014 9:49 AM EST
Arnold Schwarzenegger recently spoke about his upcoming film, "Terminator Genesis"; something he has been a bit tight lipped about.  "The way it reads, it has the same feel of Terminator 2. It's big. There's hardcore action and it has some really great visual effects in there, but not over the top. It's not a Thor type of movie, even though it's the same director. It has good special effects, but ...
More>>
Terminator 2: Judgment Day 4K Ultra HD Review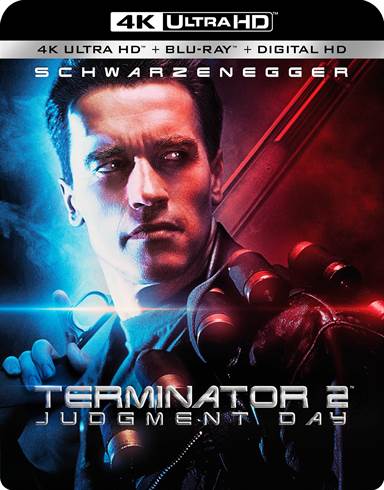 It was a sequel seven years in the making and at the time it had been the most expensive film made to date. The visual effects surpassed everyone's expectations and when it was released on July 3, 1991, it became an instant commercial and critical success. It utilized the latest CGI technology offering audiences something they had rarely seen before and changed the original story that viewers loved in 1984. The second installment in the Terminator series lived up to the original and them some and delighted fans of the first film. Twenty-six years later
Terminator 2: Judgment Day
once again uses the latest that technology has to offer as it is released on 4K Blu-ray this holiday season.
As the film opens we see Ten-year-old John Connor (Edward Furlong; American History X) living with a foster family and getting into all kinds of trouble as his mother Sarah (Linda Hamilton; Children of the Corn) is locked up in the psychiatric hospital. She rants and raves about robots from the future coming to kill her son but nobody believes her. Then one day John shows up at the hospital with the Terminator (Arnold Schwarzenegger; True Lies) sending Sarah into a panic, as she is afraid the Terminator will kill John. Unfortunately, he isn't the one they need to worry about.
It turns out the Terminator has been reprogrammed to help keep John alive as a new, updated threat, The T-1000 (Robert Patrick; The Faculty) has been sent back into time to kill him. The T-1000 is much more advanced and can morph into mimicking other people. It can turn from a solid to a liquid state making it easier to track and hunt down John in an attempt to kill him long before John becomes the leader of the resistance.
The terminator is arguably Schwarzenegger's most recognizable and iconic role as he is well suited to the task of playing a robot from the future. It also gave us some memorable lines and this second film gave us the well-known, "Hasta La Vista Baby" phrase. Hamilton is also remembered for her portrayal of Sarah Connor and the second film in the series saw her in more muscular shape than the first one. This transformation helped make her a believable action star. Furlong was a newcomer to movies but he did a good job for someone without any experience. Patrick also made a lasting impression in his role that has served him for many years.
The 4K resolution presented in 2160p quality is excellent and really showcases the CGI work this film is known for. The morphing T-1000 graphics are superb and the picture quality is top notch. Unfortunately, the DTS- HD master audio 5.1 doesn't live up to the same high standards as the video. While the video has been redone for this release, the audio could have benefited from a Dolby Atmos upgrade. This is truly disappointing, as this would have made this one of the "most purchased" discs during this holiday season.
The Combo pack offers a brand new 55 minute extra entitled Reprogramming, which features candid interviews with cast and crew, terminator lore, and production aspects of the film from start to finish. Also brand new is a trailer for the 2017 3D re-release of the film. Aside from this feature, all the old featurettes from the last round of Blu-ray releases of the film are also included: A 1993 documentary of the making of the film, deleted scenes, and original trailers.
Fans who thought they would only get the theatrical edition of the film will be in for a pleasant surprise as the Blu-ray disc contained in this release has the theatrical, special edition and extended special edition available via seamless branching.
This iconic series solidified Schwarzenegger as an action star of the 1990's and helped in making him a household name. With a unique premise, it also offered audiences something new to enjoy and switching up the second film by making the former bad guy the hero this time was a genius move on the writers and producers part. It kept the series fresh and interesting instead of offering the same recycled storyline we had already seen. Fans of the series will want to get this movie in its most updated form to keep and watch for years to come. The film gets an A+ but this release only gets an A- due to the audio issues.
Grade: A-
Read More Terminator 2: Judgment Day Reviews
Nathan M Rose (A) (Terminator 2: Judgment Day (Skynet Edition) Blu-ray Review)
For more reviews please visit our film/television review section.
Arnold Schwarzenegger returns as "The Terminator" in this explosive action-adventure spectacle. Now...

For today's home video review, FlickDirect's Austin Putnam reviews the classic Terminator 2:...
SPONSORED LINKS