X-Men Origins: Wolverine (2009)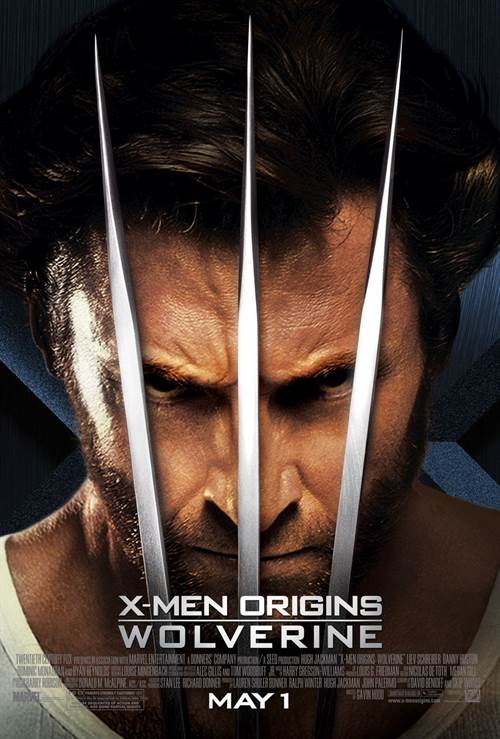 | | |
| --- | --- |
| Director: | |
| Writers: | |
| Cast: | |
| Released: | Friday, May 1, 2009 |
| Length: | 107 minutes |
| Studio: | 20th Century Studios |
| Genre: | Sci-Fi/Fantasy, Action/Adventure |
| Rating: | Some material may be inappropriate for children under 13. |
X-Men Origins: Wolverine Synopsis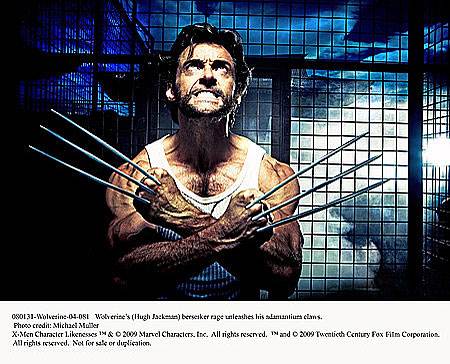 X-Men Origins: Wolverine is set to star Jackman and will be directed by Gavin Hood (Tsotsi, Rendition). The producers are Lauren Shuler Donner and Ralph Winter (who produced all three previous "X-Men" films), along with Jackman and his Seed Prods. producing partner, John Palermo. The film will be executive produced by Marvel Films' Kevin Feige.

Leading up to the events of X-Men, X-Men Origins: Wolverine – written by David Benioff (The Kite Runner, Troy) – tells the story of Wolverine's epically violent and romantic past, his complex relationship with Victor Creed, and the ominous Weapon X program. Along the way, Wolverine encounters many mutants, both familiar and new, including surprise appearances by several legends of the X-Men universe.
X-Men Origins: Wolverine images are © 20th Century Fox. All Rights Reserved.
20th Century Fox Announces X-Men Day Celebration
5/9/2019 1:44 PM EST
On Monday, May 13, 20th Century Fox will kick off X-Men Day - a celebration of the culmination of the X-Men saga, its global fanbase, all the beloved characters, its groundbreaking impact on popular culture and enduring audience appeal for nearly 20 ...
| Full Article
Gore Verbinski in Talks to Direct Gambit
10/5/2017 9:45 PM EST
It's being reported that Gore Verbinski is currently making a deal to direct Gambit for Fox. The X-Men spinoff film will star Channing Tatum as mutant Remy LeBeau. Tatum will also be producing the film along with Reid Carolin, Lauren Shuler Donner an...
| Full Article
Simon Kinberg Set to Direct X-Men: Dark Phoenix
6/14/2017 1:56 PM EST
20th Century Fox has announced the next installment of their X-Men franchise to be Dark Phoenix. Details are limited, but the film will be directed by Simon Kinberg.  Reprising their roles will be Jennifer Lawrence, Michael Fassbender, James McAvoy, ...
| Full Article
Logan Breaks Records and Box Office Earnings Estimates
3/6/2017 11:16 AM EST
Logan has taken the cinematic universe by storm, with people clamoring to get out to see Hugh Jackman's final film as the character, Wolverine. This weekend was the opening weekend for the film, and, as of this morning's reports, it has earned an est...
| Full Article
Jennifer Lawrence Speaks About Her Future with X-Men
5/20/2016 10:32 AM EST
Jennifer Lawrence recently discussed the possibility  of returning to the big screen as Mystique since her three-film X-Men deal has now expired, and the actress had mixed emotions."I would love to come back. I love the fans and I love the character....
| Full Article
Sir Patrick Stewart Confirms Wolverine 3 Role
5/16/2016 11:45 AM EST
Sir Patrick Stewart has confirmed that he will, indeed, be appearing in "Wolverine 3".The project will mark Hugh Jackman's third and final Wolverine film. He has starred as the beloved adamantium clad character since 1999.Stewart announced the "news"...
| Full Article
Wolverine 3 Possible Plot and Rating Revealed
2/23/2016 3:43 PM EST
Hugh Jackman will appear one last time as Wolverine in the upcoming Wolverine 3 film, and there have been some reports about the possible plot and rating.According to the reports, the film will be based on the "Old Man Logan" saga, in which we see Wo...
| Full Article
Hugh Jackman's "Wolverine" Days Coming to an End
5/7/2015 2:57 PM EST
Hugh Jackman, who portrays the Marvel mutant Wolverine, will be saying goodbye to his unbeatable Wolverine character. When Jackman was asked about the upcoming third film, the actor commented, "This will be my last one. It is my last time. It just fe...
| Full Article
Olivia Munn Join X-Men Apocalypse Cast
4/13/2015 5:00 PM EST
Bryan Singer announced today, via Instagram, that Olivia Munn will be joining the cast of X-Men: Apocalypse as Betsy Braddock, a.k.a. Psylocke.Psylocke was featured in 2006's X-Men: The Last Stand, but in a small role, as one of the villains who join...
| Full Article
James McAvoy Speaks About X-Men: Days of Future Past
10/4/2013 10:13 AM EST
James McAvoy (speaking to IGN) has declared the new X-Men: Days of Future Past will "potentially" be the biggest X-Men movie to date. Countdown to the release of X-Men: Days of Future Past (2014), with the iPhone Movie Countdown Clock App.The British...
| Full Article
Halle Berry to Reprise Role as Storm for X-Men Days Of Future Past
3/5/2013 3:53 PM EST
Director Bryan Singer has ended a few days of speculation that Halle Berry will return for the new 2014 X-Men movie "Days Of Future Past" by tweeting "Couldn't be more excited that #HalleBerry has joined the cast of #XMen #DaysofFuturePast Hopefully ...
| Full Article
Omar Sy Joins Cast of X-Men: Days Of Future Past
3/4/2013 10:20 AM EST
UPDATED: It has been confirmed that Halle Berry will reprise her role as Storm in the film.Bryan Singer announced over the weekend that Omar Sy has joined the cast of "X-Men: Days Of Future Past".  The director made the announcement via twitter, sayi...
| Full Article
Movie / Film Review
Wolverine takes the most popular character from the three successful X-Men movies, and explores his origins before the first movie began; wherein we saw him amnesiac and doing unsanctioned prize fights in a Canadian bar. Wolverine, in case you don't know, is the guy with the metal claws that c...
SPONSORED LINKS