The Twilight Saga: New Moon (2009)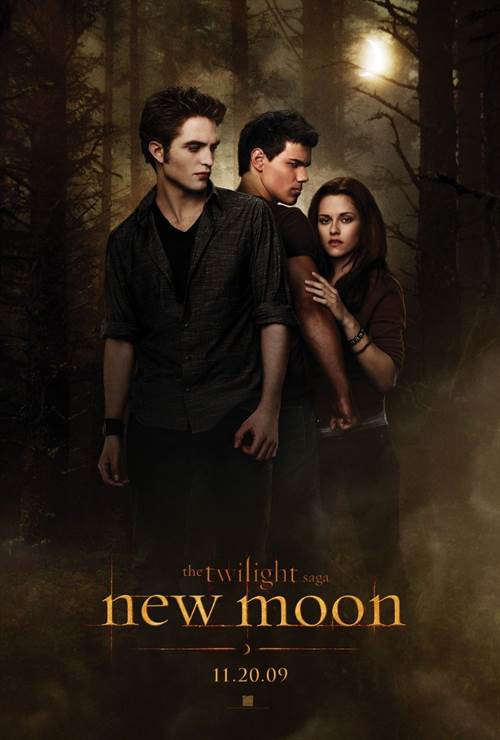 | | |
| --- | --- |
| Director: | |
| Writers: | |
| Cast: | |
| Released: | Friday, November 20, 2009 |
| Length: | 121 minutes |
| Studio: | Summit Entertainment |
| Genre: | Sci-Fi/Fantasy |
| Rating: | Some material may be inappropriate for children under 13. |
The Twilight Saga: New Moon Synopsis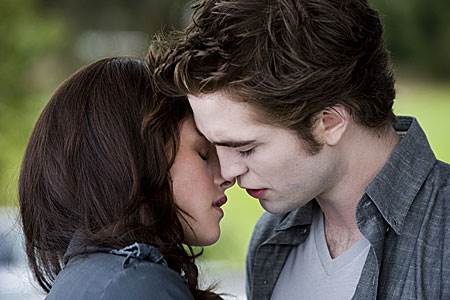 After Bella (Kristen Stewart) recovers from the vampire attack that almost claimed her life, she looks to celebrate her birthday with Edward (Robert Pattinson) and his family. However, a minor accident during the festivities results in Bella's blood being shed, a sight that proves too intense for the Cullens, who decide to leave the town of Forks, Washington, for Bella and Edward's sake. Initially heartbroken, Bella finds a form of comfort in reckless living, as well as an even-closer friendship with Jacob Black. Danger in different forms awaits.

Purchase DVD/Blu-ray/4K UHD physical copy of The Twilight Saga: New Moon today at Amazon.com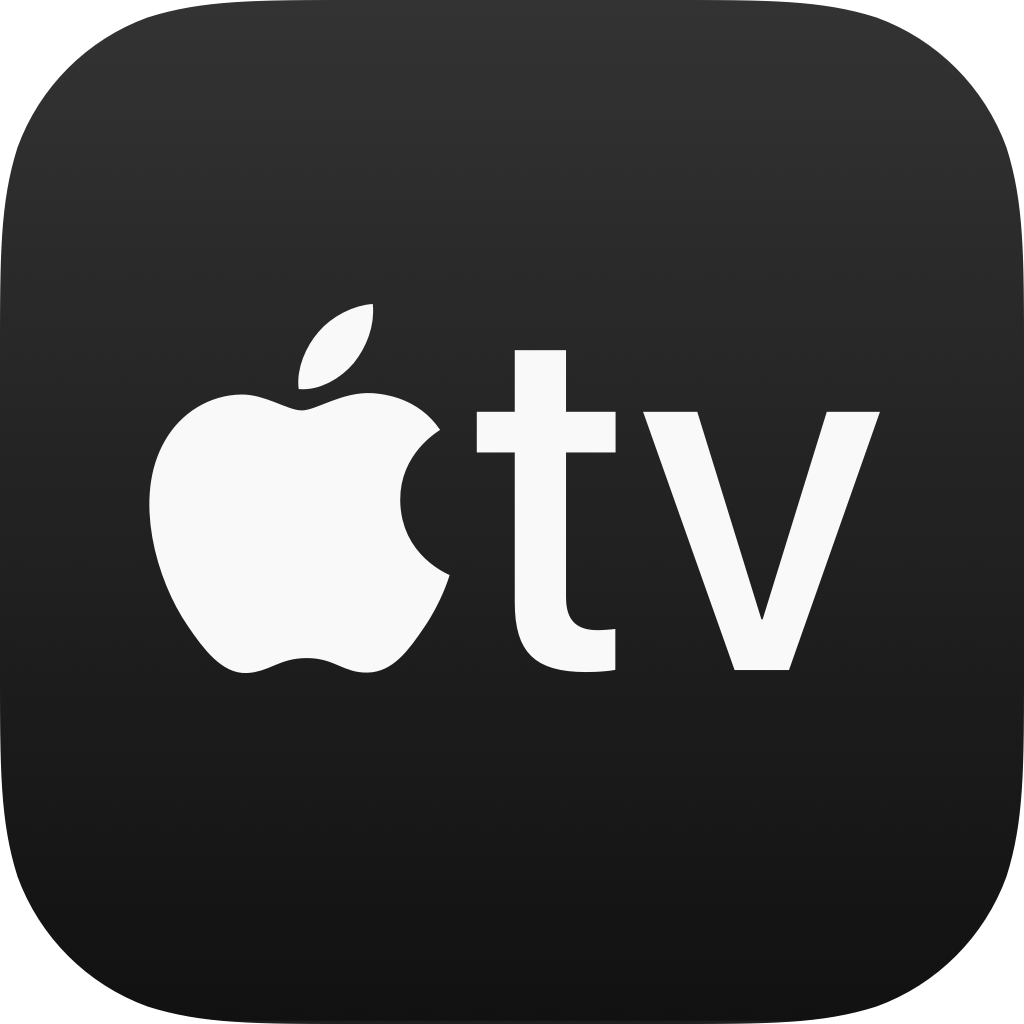 Stream The Twilight Saga: New Moon in Digital HD/4K from the AppleTV store.
Listen to the The Twilight Saga: New Moon soundtrack on Apple Music.
The Twilight Saga: New Moon images are © Summit Entertainment. All Rights Reserved.
Terrorist Attempt On Twilight: Breaking Dawn Discovered
11/16/2012 6:08 PM EST
November 16, 2012- It was just learned by FlickDirect that Blaec Lammers has been arrested and charged with a crime involving the film The Twilight Saga: Breaking Dawn Part 2. Lammers has been taken into custody in Bolivar, Mo, after his mother contacted the police afraid that her 20-year-old son had bought weapons. He has been charged with first degree assault, making a terrorist threat and armed...
More>>
Twighlight Fans Set Up Camp for Monday's Premier
11/8/2012 2:32 PM EST
Die hard "Twilight" fans are already lining up for the release of the next film in the franchise, "Breaking Dawn Part 2".These fans, from around the world, are heading to the Summit Entertainment-hosted camp at Nokia Theater in Downtown LA. There are 2,200 spots open, making this the largest camp to date in the history of the franchise.  The fans who camp will have the opportunity to get a glimpse...
More>>
Lionsgate Announces The Twilight Saga: Breaking Dawn - Part 2 Te...
3/9/2012 11:32 AM EST
The full teaser trailer for "The Twilight Saga: Breaking Dawn - Part 2" will be released online Monday, March 26th at 3am US-PT/6am US-ET, according to Lionsgate.Fans will be able to get a sneak peek on March 20th at 3am US-PT/6am US-ET, will a small amount of footage being released.The trailer will also be released on March 23rd during showings of "The Hunger Games"....
More>>
Twilight Saga Screenwriter Melissa Rosenberg Talks About Breakin...
6/22/2010 2:52 PM EST
MTV News recently spoke with "Twilight" Saga screenwriter Melissa Rosenberg about the upcoming films for "Breaking Dawn". Since ti is now known that the latest installment will be broken up into two films, there are many questions about what will be included in each. The novel has a lot of sex as well as a gory birthing scene; probably not the best material for a PG-13 film. Rosenberg says that th...
More>>
Taylor Launter Brings An Exclusive Never Before Seen Clip From N...
11/15/2009 8:33 PM EST
BURBANK, Calif. - November, 2009  -  On Monday, November 16, fans of "Twilight" will get a double treat when Taylor Lautner brings a never before seen clip from "The Twilight Saga: New Moon" to premiere on "The Jay Leno Show" (Monday-Friday, 10-11 p.m. ET).  The exclusive clip will feature Lautner and co-star Kristen Stewart. Also, on Monday's show Heather Locklear checks in for a "Ten @ Ten" from...
More>>
The Twilight Saga: Extended Edition Blu-ray Review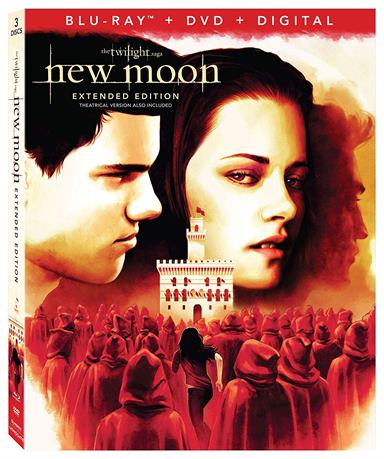 Human beings seem to be fascinated by anything supernatural. Werewolves, ghosts, and vampires are often the subject of stories in books, on television and in movies. In 2005 author Stephenie Meyer threw her hat in the ring with her young adult novel
Twilight
. The book was a best seller, which spawned 3 more books in the series and a total of five films. The saga became a sensation and made stars of its three lead actors – Robert Pattinson (
Harry Potter and the Goblet of Fire
), Taylor Lautner
(Abduction
) and Kristen Stewart (
Snow White and the Huntsman
). As we celebrate the 10
th
anniversary of the first film (coming out in 4K this week) we are also treated to the other four movies rereleased on Blu-ray.
In New Moon, the second installment in the five-part movie saga, Bella's (Stewart) heart is broken as the Cullens leave Forks in Edward's (Pattinson) misguided attempt to keep her safe. Bella, trying to keep Edward close, finds new and more dangerous ways to seek thrills while simultaneously strengthening her friendship with Jacob (Lautner). Bella also learns there are other supernatural beings besides vampires and that Jacob is one of them.
Movie three, Eclipse, has Edward returning as he and Bella prepare to marry much to Jacob's disappointment. However, another vampire creates an army of newly minted baby vampires in an attempt to avenge her lover's death, which was caused by the Cullens. This development causes the Cullen vampires to form a tenuous alliance with the werewolves in an attempt to protect Bella.
Breaking Dawn parts I and II, see the culmination of the series and breaks the final book into two parts. In Part I, Bella and Edward marry and she becomes pregnant with a half vampire/half human baby. The entity growing inside her though is killing Bella and plans are made to do whatever necessary to save her life, including turning her into a vampire which Jacob strongly opposes.
In Part two Bella wakes as a vampire but is aware there are other, ancient vampires, the Vultori, who threaten her daughter, as making a young vampire is strictly forbidden. The Vampires and Werewolves must fight together to save Bella and Edward's daughter since this ancient clan wants to kill her. The final showdown takes place in a large field but ends without bloodshed. In the end, Alice (Ashley Green; Rogue) shows Edwards a glimpse of the future where he and Bella stand with their grown daughter and Jacob who is charged with protecting her.
Each Blu-ray comes with a special cover that is colorful and makes for a nice, little "collector's" series. The 1080p video quality is terrific and offers so much in the way of vibrant colors and wonderful details such as the fur on the werewolves. The CGI in these films is very well done and the Blu-rays show them off nicely. The DTS-HD Master Audio 7.1 is excellent though not as dynamic or intricate as the Dolby Atmos of the 4K version of the original Twilight film. Each combo pack is full of extras for fans to enjoy. While most are previously released, there are literally hours upon hours of footage and features to be reviewed and dissected.
The Twilight saga created a frenzy when the books first came out and it continued and grew with the feature films. While it is hard to believe it's been 10 years since we met Pattinson, Lautner and Stewart as their beloved characters, there are certainly plenty of fans still out there to warrant a celebration of this important anniversary.
If you are a fan, you will want to buy all of the films. If you have a fan in your life these are a great holiday gift idea. Buy them before they are gone!
Grade: B-
Read More The Twilight Saga: New Moon Reviews
For more reviews please visit our film/television review section.
SPONSORED LINKS