Prometheus (2012)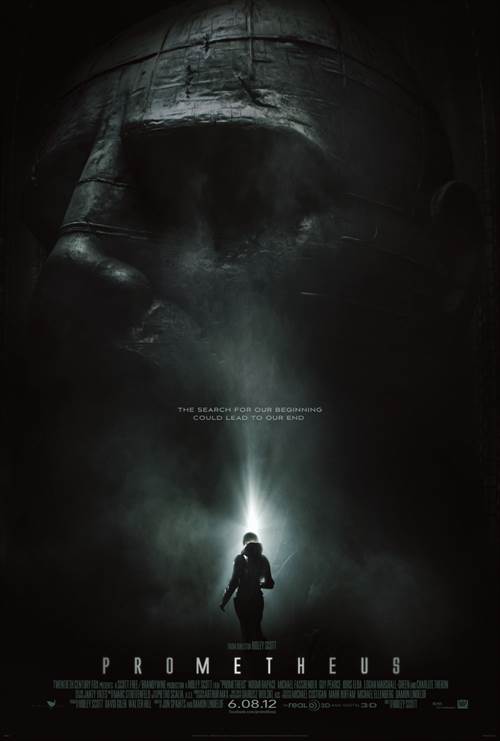 Share this:
| | |
| --- | --- |
| Director: | |
| Writers: | |
| Cast: | |
| Released: | Friday, June 8, 2012 |
| Length: | 124 minutes |
| Studio: | 20th Century Fox |
| Genre: | Sci-Fi/Fantasy, Horror |
| Rating: | Under 17 requires accompanying parent or adult guardian. |
Synopsis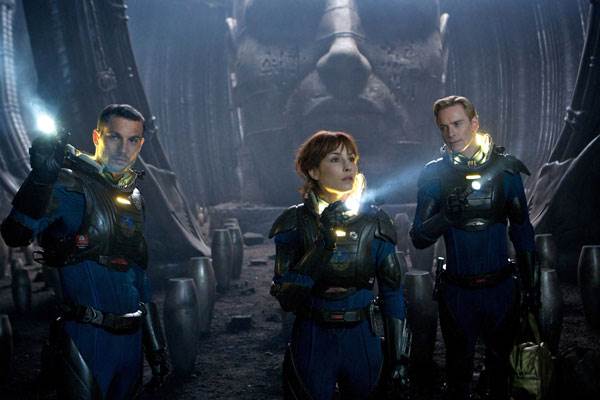 Ridley Scott, director of "Alien" and "Blade Runner," returns to the genre he helped define. With PROMETHEUS, he creates a groundbreaking mythology, in which a team of explorers discover a clue to the origins of mankind on Earth, leading them on a thrilling journey to the darkest corners of the universe. There, they must fight a terrifying battle to save the future of the human race.

Purchase DVD/Blu-ray/4K UHD physical copy of Prometheus today at Amazon.com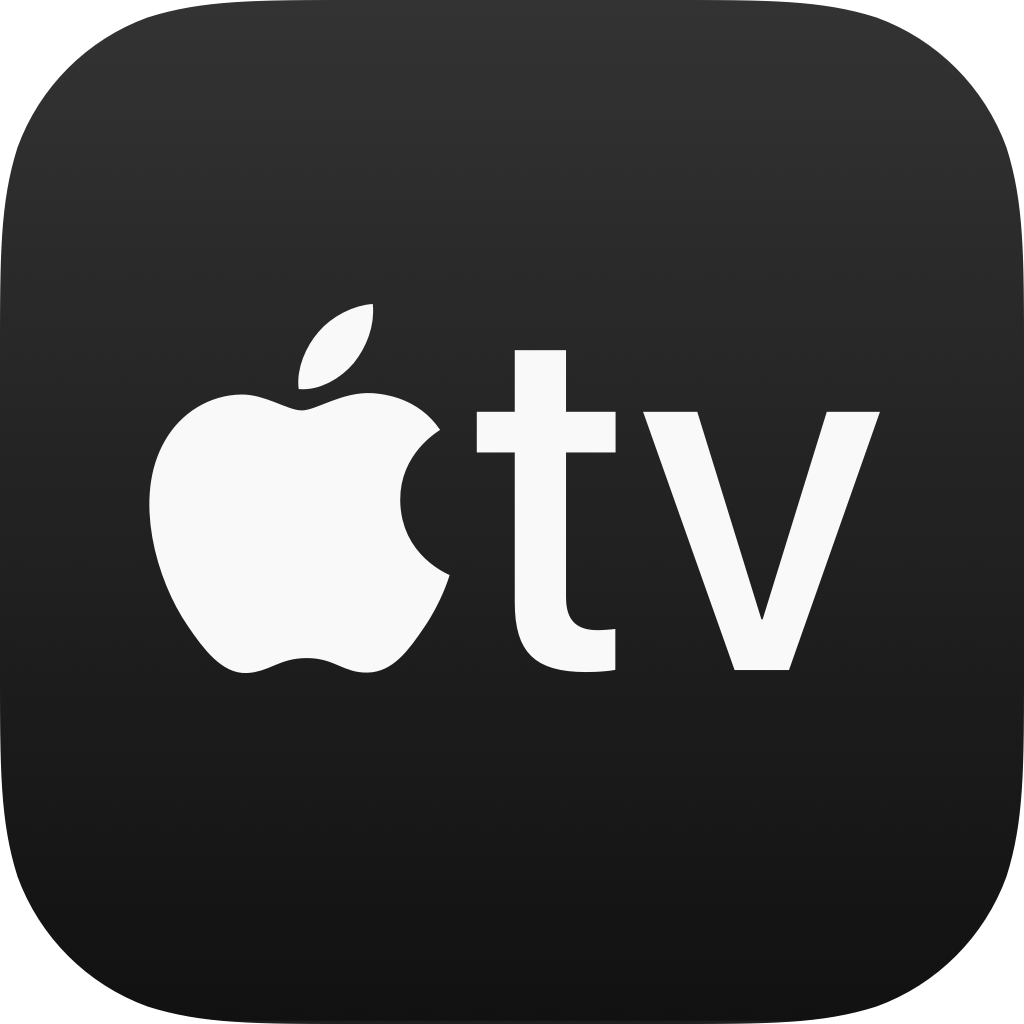 Download Prometheus in Digital HD/4K from the iTunes store.
Listen to the Prometheus soundtrack on Apple Music.
Prometheus images are © 20th Century Fox. All Rights Reserved.
FX Developing Alien TV Series
12/11/2020 4:33 PM EST
FX is developing a new series based on the iconic Alien franchise. The series will be the first story from the franchise to take place on Earth. The announcement was made during the Disney Investor Day event.Fargo and Legion creator Noah Hawley is the creator and executive producer of the new series, which will be a blend of horror and action genres. It's also being said that franchise director Ri...
More>>
James Cameron Hints at Alien 5 Project Coming to Fruition
2/11/2019 10:34 AM EST
James Cameron has been out promoting "Alita: Battle Angel" (he produced the film) and has been vocal about new projects he's developing. Cameron is said to be working on a new idea for the Alien franchise given the fact that Disney will be taking over 20th Century Fox and the rights to the franchise. Also, Ridley Scott seems to have given up on continuing any further with any "Alien" projects afte...
More>>
Ridley Scott Cutting Back on the Number of Alien Films
5/10/2017 4:29 PM EST
Ridley Scott's Alien: Convent is set to be released May 19, and the director is getting the word out about possible revisions to his franchise plans.Scott had originally announced that he planned on making four more Alien films but, now, he seems to have had a change of heart when recently asked about it in an interview."I don't know. [I'll make] maybe two more [films], or maybe one more, I don't ...
More>>
Alien Day Returns Worldwide on April 26
4/3/2017 3:06 PM EST
On April 26, Alien Day will return with a slew of activities to celebrate the franchise. The date is a nod to the planet LV-426. The celebration will also allow fans to commemorate the release of Ridley Scott's latest film in the franchise, Alien: Covenant, on May 10.Cast members will be on hand for the festivities that will take place around the globe and will include the following:  ALIEN DAY li...
More>>
Major Spoilers Revealed for Alien: Covenant
3/13/2017 2:13 PM EST
Ridley Scoot attended SXSW this past weekend and showed 15 minutes of footage from his upcoming "Alien: Covenant" film. The footage shows some plot points, including a huge one that will effect the entire franchise.A description of the scenes was described by "The Verge", and details the beginnings of the final xenomorph creature we see in the franchise. That description is below. WARNING!!! SPOIL...
More>>
Ridley Scott Says 6 More Alien Films Could Be on the Horizon
3/8/2017 11:36 AM EST
Ridley Scott's Alien: Covenant will be in theaters on May 19, and the director says that he plans to keep busy with the franchise for a long time to come.  "If you really want a franchise, I can keep cranking it for another six. I'm not going to close it down again. No way", said Scott. The 79 year old says that he is already working on the next chapter for the Alien franchise, which he brought ba...
More>>
Sigourney Weaver Discusses Upcoming Alien 5 Film
7/7/2016 3:08 PM EST
While 30th anniversary celebration are going on for James Cameron's Aliens, many are wondering about the delayed Alien 5 film, which is said to be a direct sequel to Aliens.Sigourney Weaver recently spoke abut the project, saying it's still an active project. She also gave a few more details, saying, "It's just as if, you know, the path forks and one direction goes off to three and four and anothe...
More>>
Could Noomi Rapace Be Joining Alien: Covenant Cast Afterall?
6/21/2016 3:46 PM EST
Contrary to what reports were about Noomi Rapace not wanting to join the cast of Alien: Covenant, the actress is rumored to be returning to the franchise.Supposedly, Rapace is on set in Australia and it's rumored that she has filmed two weeks worth of scenes already.  The film will be bringing back Michael Fassbender's robot character and will also include Katherine Waterston, Billy Crudup, Danny ...
More>>
Alien Day to be Celebrated Nationwide on April 26
3/29/2016 4:23 PM EST
On April 26, Twentieth Century Fox Consumer Products announced today a global celebration of the Alien franchise culminating with a special 24 hour, fan-focused social media event. The event, Alien Day (#AlienDay426), will include nationwide screenings, never-before-seen consumer product activations and the kickoff of the Alien: Ultimate Trivia Challenge, allowing fans to test their ALIEN knowledg...
More>>
Ridley Scott to Keep Tight Rein on Prometheus Franshise
11/13/2015 1:47 PM EST
Ridley Scott recently commented about the Prometheus franchise, saying that he plans on keeping strict control over its direction.  In an interview, the actor stated, "I'm trying to keep this for myself. I let the other one [Alien] get away from me - I shouldn't have."Scott directed the original Alien film, but then the franchise was passed along to other directors, such as James Cameron and David...
More>>
Prometheus 2 Brings Us One Step Closer to Alien Tie-In
9/24/2015 4:11 PM EST
Ridley Scott's Prometheus 2 will be the next film that the director is working on, and he says that this film will bring us a bit closer to the connection with the Alien franchise, but it's not something he is rushing into.  While at the TIFF film festival, Scott said, "Prometheus has its own story to tell before it eventually ties into the movie that started it all…it won't be in the next one. It...
More>>
Michael Biehn to Return to Alien Franchise?
3/2/2015 3:57 PM EST
Michael Biehn, who starred as Corporal Hicks in Aliens, may be making an appearance in the new installment of the Alien franchise. Biehn, who attended Pensacola Comic-Con over the weekend, was asked by Reddit user Sskywarpe if he was to return to the franchise and the actor reported smiled and said "Yes".Wile nothing has been confirmed as of yet, many fans are very excited about this possible deve...
More>>
Prometheus 4K Ultra HD Review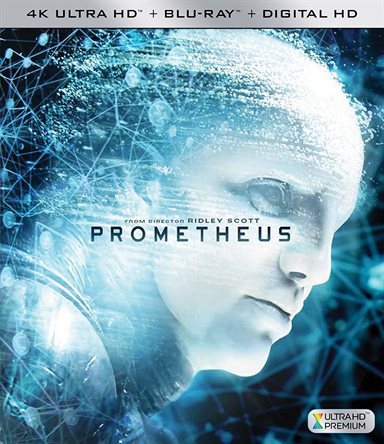 In Space, no one can hear you scream. But why? How did the Aliens come into being? Ridley Scott (
Gladiator
) and 20th Century Fox try to answer these questions with the start of a new prequel series for the Alien saga and its first film,
Prometheus
.
Twenty-nine years before the ill fated day that the Nostromo set foot on LV-426 is the setting for the Prometheus Expedition. Peter Weyland (Guy Pearce; Iron Man 3) and his company, The Weyland Corporation, have funded an expedition by Dr. Elizabeth Shaw (Noomi Rapace; The Girl With The Dragon Tattoo) and Charlie Holloway (Logan Marshall-Green; Dark Blue) to further explore their research into our creators. They are accompanied by a various group of characters included Weyland's son/android David (Michael Fassbender; X-Men: Apocalypse ), his daughter Meredith Vickers (Charlize Theron; Atomic Blonde), and a Stoic captain, Janek (Idris Elba. The Dark Tower)
One's expectations determine how you feel after watching Prometheus. If you were looking for a true "Alien" film that features the infamous Xenomorph and looking for a straight lined horror/suspense film you will be sorely disappointed. These disappointed fans were actually vocal enough to change the direction of the film's sequel Alien: Convent which came out earlier this year and arrived the same date as Prometheus for the home market. However, if you went in without these expectations Prometheus is an amazing film, bringing Ridley Scott back home to his "Alien roots". Underneath all the action and crazy alien mayhem, he is trying to answer the age old story of life and death told in a very entraining way by one of the best directors of this time period.
Scott is truly the master of the science fiction/horror genre that he helped to create. Under a different director, Prometheus might not have fared as well, however, coming from an artistic background Scott pays attention to every item that appears on-screen. Every little detail in the frame has meaning to the overall film and while the enclosed claustrophobic spaces of the original Alien film are not used as much in this iteration he still gives Prometheus an overall ominous feeling that makes one's skin crawl.
While the Xenomorph's ancestors and their's creators, The Engineers, play a large role in the film, the crew interaction with each other is truly the heart and soul of this film. Rapace's character portrayal of Shaw is exceptional. Her drive to find out the meaning of life envelopes her entire character and drives all her motivation in the film. This drive and performance is seen as well in Marshall-Green's Charlie character. However, while hers is driven by caution, his is more on instinct that throws this caution to the wind. While Theron, Elba, and the rest of the cast are amazing in their own right, the performance that shines through the most in Prometheus and even continues on in Alien: Convent is that of the android David portrayed by Fassbender. While androids characters are no stranger to the Alien universe Fassbender's portrayal stands out as the best performance to date. It is truly eerie watching it at times. Fassbender constantly has the audiences guessing his motives and driving purpose throughout the film. At one minute he seems to be caring about the crew, while at the next he appears to be pursuing his own agenda. While his performance did not garner any awards the year of its release one can only hope he does for Alien: Convent.
The disc is encoded in 2160p with a 2.40:1 aspect ratio. While the film was recorded digitally at a very high frame rate, the finished project was only done in a 2k resolution which leads a little bit to a soft picture when it is upgraded to the 2160 resolution. However, saying that, Prometheus has never looked better on a home theater system. Blacks are spot on, and the color palette is truly exceptional with the wide UHD color spectrum that gives an extra enhancement to the subtle color shading found throughout the presentation. Complementing the exceptional video of this release is a DTS-HD Master Audio 7.1 soundtrack ported over from the Blu-ray release of the film. While 20th Century Fox didn't take advantage of a Dolby Atoms or Dolby Vision soundtrack the audio still packs a powerful punch. The dialog is crisp and clear while the special effects take full advantage of the speaker system, having the special effects surround you proving an even creepier feel the film.
The Prometheus combo pack does not contain any new special features created for this 4K UHD release. All of the features have been ported over from the original 3D Blu-ray release of the film including a 1080p digital copy of the film for iTunes and UV, audio commentary by Ridley Scott, John Spaihts, and Damon Lindelof, Deleted and Alternate Scenes, The Peter Weyland Files (promo videos used to virally spread the word about the film), a three hour making of featurette, and the Weyland Corp Archive which contains an miscellaneous collection of artwork, small featurettes, and trailers. While all these special features are over 4 years old they still hold up very nicely and are an interesting look into the world of Prometheus.
Prometheus is a simple and beautiful, thought provoking, amazing film that expands the Alien universe beyond its Xenomorph constraints that tied the sequel's hands. It explores the question of who and why we are here as much as providing entertainment and chills. While a section of the movie going audience rebelled against this film since they went in with expectations of an "Alien film", the movie is great as a stand alone. If you are a fan of this film there is no other version of this movie that comes close to giving you the ultimate experience of watching Prometheus than this new 4K UHD version. I personally applaud Ridley Scott and 20th Century Fox for giving us something familiar yet new in the ever expanding Alien universe. One can only hope they continue with more after this year's Alien: Convent.

Grade: A
Read More Prometheus Reviews
For more reviews please visit our film/television review section.
Ridley Scott, director of "Alien" and "Blade Runner," returns to the genre he helped define. With PR...

Ridley Scott, director of "Alien" and "Blade Runner," returns to the genre he helped define. With PR...

Ridley Scott, director of "Alien" and "Blade Runner," returns to the genre he helped define. With PR...
SPONSORED LINKS