Avengers: Endgame (2019)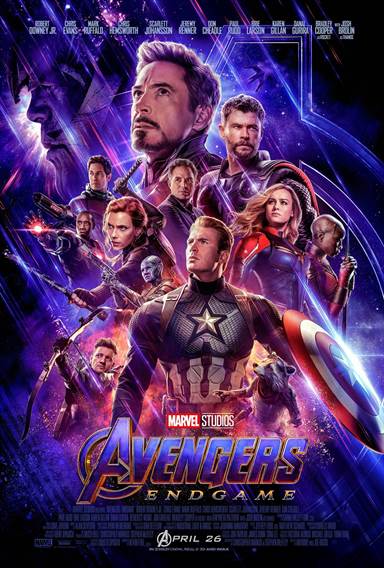 | | |
| --- | --- |
| Director: | |
| Writers: | Christopher Markus, Stephen McFeely |
| Cast: | |
| Released: | Friday, April 26, 2019 |
| Studio: | Walt Disney Pictures |
| Genre: | Sci-Fi/Fantasy, Action/Adventure |
| Rating: | This Film Is Not Yet Rated |
Synopsis
No synopsis available.
Avengers: Endgame images are © Walt Disney Pictures. All Rights Reserved.


Gwyneth Paltrow Leaving Marvel Universe After Avengers: Endgame
02/19/2019 1:28 PM EST
Gwyneth Paltrow, who plays the character of Pepper Potts in the Iron Man/Avengers films, will be leaving the Marvel Cinematic Universe after the release of  Avengers: Endgame. The actress says that while she would be open to a cameo appearance in the future, she won't be playing the character in a larger role.While there haven't been any other actors confirming the same news, it is expected that a...
More>>
Chris Evans Says Goodbye to Captain America
10/04/2018 2:25 PM EST
Goodbye, Cap.Chris Evans tweeted today about his parting from his longtime character, Captain America. In the tweet, Evans said, "Officially wrapped on Avengers 4. It was an emotional day to say the least. Playing this role over the last 8 years has been an honor. To everyone in front of the camera, behind the camera, and in the audience, thank you for the memories! Eternally grateful."Evans began...
More>>

Big Game TV Spot
Today, during the Big Game, fans got an exciting new look at Marvel Studios' AVENGERS: ENDGAME. No synopsis available....
00:30

Trailer
No synopsis available....
2:25
SPONSORED STORIES
Comments

Courtesy of
Movie Hype App
dtsahagian
This movie is going to be amazing if you try to say it's not get outta here
02/09/2019 9:00 PM EST
panda_21
Can't wait
12/19/2018 8:50 PM EST
dtsahagian
I would have titled it extinction
12/10/2018 12:55 PM EST
angelstacy31
I can't wait it's gonna be super cool
10/27/2018 1:32 PM EST
timbrandenburg
I can't wait for this movie next year I'm so excited!!!
10/02/2018 9:46 PM EST
gary_king
It comes out this soon?
09/10/2018 2:34 PM EST
jenn7904
waiting for this.
09/04/2018 4:04 PM EST
dtsahagian
Marvel has officially out did themselves
05/16/2018 10:19 AM EST
xxxhbtxxx2018cherry
Soooo exciting 😝
03/12/2018 2:47 PM EST
mal1ks
Awhhh hell yeah
07/07/2017 7:13 PM EST
ethanpeyon
Can't wait
03/25/2017 6:47 PM EST
robbie
can't wait
01/29/2017 6:09 PM EST
assembled-avenger
Obviously some of these people don't know there comic book movies like they think they do, marvel already has up to phase 7 planned!!
07/24/2015 4:02 PM EST
marvelfan1234
cant wait
03/25/2015 2:09 PM EST
pitt1212
marvel isn't going to stop making movies after this, how can they? they're so successful. it would be foolish for them to especially with all the good will they've built up with the fans
02/22/2015 11:06 AM EST