Avengers: Endgame (2019)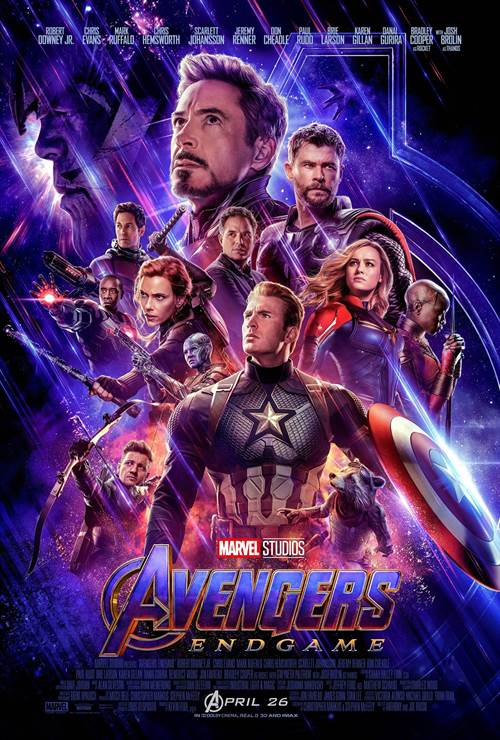 Share this:
| | |
| --- | --- |
| Director: | |
| Writers: | |
| Cast: | |
| Released: | Friday, April 26, 2019 |
| Length: | 181 minutes |
| Studio: | Walt Disney Pictures |
| Genre: | Sci-Fi/Fantasy, Action/Adventure |
| Rating: | Some material may be inappropriate for children under 13. |
Synopsis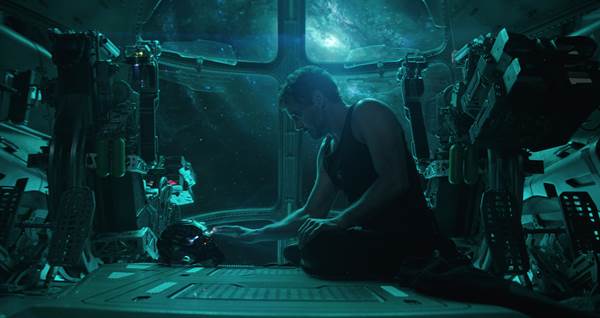 The fourth installment in the Avengers saga is the culmination of 22 interconnected Marvel films and the climax of an epic journey. The world's greatest heroes will finally understand just how fragile our reality is—and the sacrifices that must be made to uphold it—in a story of friendship, teamwork and setting aside differences to overcome an impossible obstacle.

Purchase DVD/Blu-ray/4K UHD physical copy of Avengers: Endgame today at Amazon.com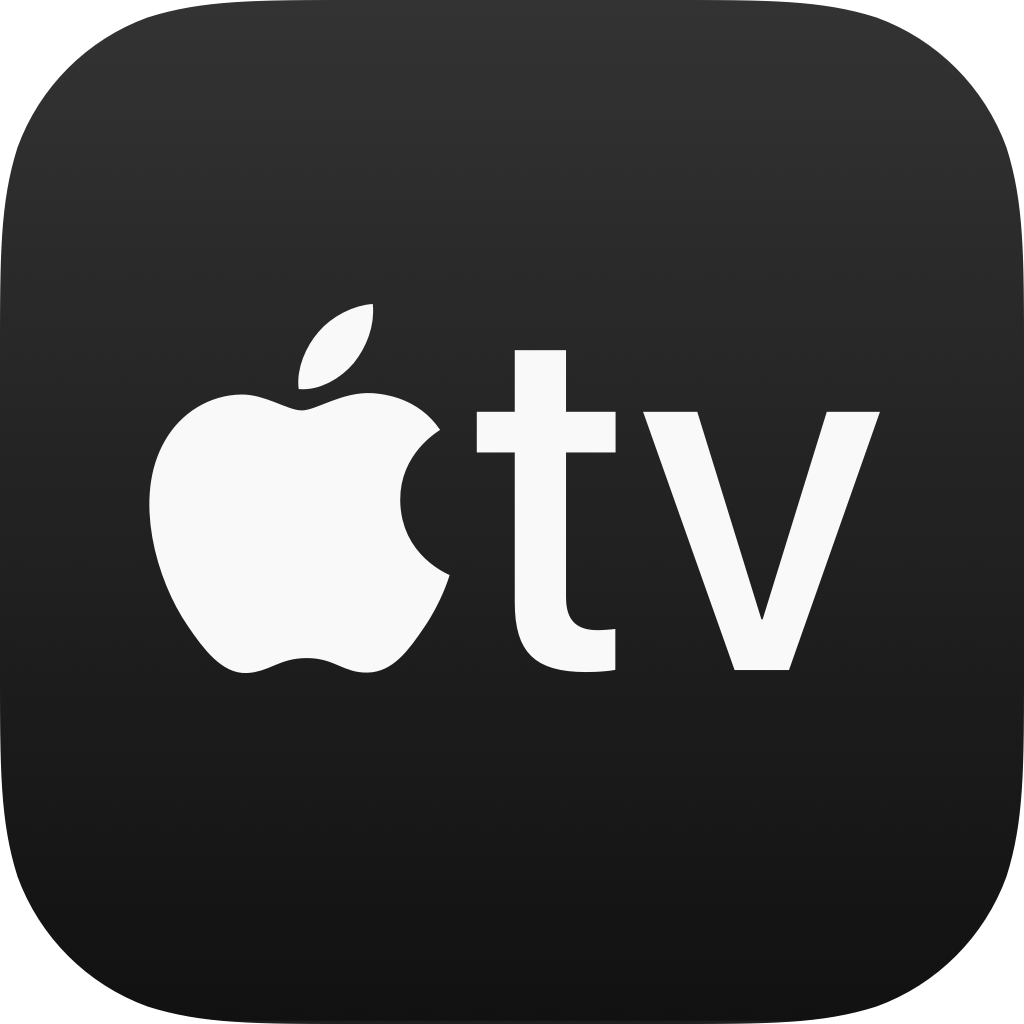 Download Avengers: Endgame in Digital HD/4K from the iTunes store.
Listen to the Avengers: Endgame soundtrack on Apple Music.
Avengers: Endgame images are © Walt Disney Pictures. All Rights Reserved.
Avengers: Endgame Highest Grossing Film of All Time
7/21/2019 4:31 PM EST
It's official. Marvel's Avengers: Endgame is now the highest-grossing film of all time. The film has now reached $2.79 billion, just beating out "Avatar"'s $2.789 billion. This amount, however, doesn't take inflation into account. Kevin Feige spoke about the imminent breaking of the record last night at Comic-Con, saying, "You have to shout-out to Mr. James Cameron, who held that title for a long ...
More>>
We Love You 3000 Tour Announced to Commemorate Avengers:Endgame ...
7/15/2019 4:45 PM EST
Marvel Studios is celebrating the in-home release of "Avengers: Endgame" with the "We Love You 3000" Tour. This tour will serve as a thank-you to fans who have made this franchise so successful over the years. This event will take place in nine different cities - beginning in San Diego at Comic-Con International on July 20. Special guests from the Marvel Studios and Universe will be greeting guest...
More>>
Marvel Studios To Return to Comic-Con's Hall H
6/19/2019 12:36 PM EST
After a notable absence last year at Comic-Con, Marvel will once again be appearing at Hall H. There's no word on exactly what Marvel will be promoting but there are some projects that they have in the works that are likely to be spoken about.Upcoming Marvel films include "Black Widow" (2020), "The Eternals" (2020), "Shang-Chi" (2021), "Black Panther 2" (2021), and "Doctor Strange 2" (2021). Any o...
More>>
MTV Movie & TV Awards Complete Winners List
6/18/2019 10:42 AM EST
The 28th annual MTV Movie & TV Awards took place over the weekend at the Barker Hangar in Santa Monica, California. The show aired last night and was hosted by Shazam! star Zachary Levi. Below is the complete list of winners.BEST MOVIEAvengers: EndgameBEST SHOWGame of ThronesBEST PERFORMANCE IN A MOVIELady Gaga (Ally) - A Star is BornBEST PERFORMANCE IN A SHOWElisabeth Moss (June Osborne/Offred) -...
More>>
Avengers: Endgame Now Second Highest Grossing Film of All Time
5/6/2019 11:50 AM EST
"Avengers: Endgame" has continued to make history, as it is now the second highest grossing film of all time. "Avatar" remains in the top spot - for now."Endgame" has earned over $2.1 billion in just 11 days, a record in itself. No other film has ever reached that amount in such a short time. Even "Avatar" took 47 days to do so. While no one can say for sure whether or not "endgame" will surpass "...
More>>
Avengers: Endgame Moviegoer Hospitalized After Crying Too Much a...
4/30/2019 3:53 PM EST
The "Avengers: Endgame" film has proved too much for one fan to handle.A 21-year-old moviegoer in China cried so much at the end of the film that she began to hyperventilate. After having breathing issues, the girl was rushed to a hospital and given oxygen.A doctor that treated her said, "I saw that the patient had been breathing heavily, and according to the description from her peers, we thought...
More>>
Avengers: Endgame Breaks Records with $1.2 Billion Debut
4/28/2019 12:23 PM EST
Marvel Studios' "Avengers: Endgame" made history this weekend. the film has earned a record-shattering $1.2 billion dollars during its opening weekend. It took just 5 days for the film to reach the $1 billion mark.The film broke the record for its predecessor, "Avengers: Infinity War", which took a then record-breaking 11 days to reach the $1 billion mark. "Kevin Feige and the Marvel Studios team ...
More>>
Avengers: Endgame Fan Fever Takes Hold Ahead of Premiere
4/24/2019 2:18 PM EST
Avengers: Endgame will be released Friday, and fans are beyond excited to finally see the final installment of what is over 20 films in the Marvel Cinematic Universe.Fan fever is quantifiable. According to a survey done of over 1,000 moviegoers that are planning on seeing the film, 63% feel that the release of the film marks an historic moment in cinema. Over 81% are trying to avoid spoilers for t...
More>>
Avengers: Endgame Red Carpet Live Stream Tonight!
4/22/2019 2:21 PM EST
The time has come. The premiere for Avengers: Endgame will take place tonight in Los Angeles and fans can tune in to the red carpet festivities via marvel.com. The live-stream event will begin at 4:30 p.m. PT / 7:30 p.m. ET.Fans tuning in will see stars from the film including Robert Downey Jr., Chris Evans, Mark Ruffalo, Chris Hemsworth, Scarlett Johansson, Jeremy Renner, Brie Larson, Paul Rudd, ...
More>>
Avengers: Endgame Fans Prepare for Film with Massive Binging
4/18/2019 4:48 PM EST
In anticipation of next week's release of Avengers: Endgame, fans are devouring Marvel content. Fandango has conducted a survey that says 89% of Endgame moviegoers will be preparing for the film event by bingeing previous films in the Marvel Cinematic Universe. In that same survey, it was also determined that 49% of the Millennials surveyed said they will be doing their binging this weekend. On to...
More>>
Jeremy Renner Set to Star in Disney+ Hawkeye Series
4/10/2019 5:03 PM EST
Disney+ will be adding a "Hawkeye" series to its lineup with Jeremey Renner set to star. Renner also plays the character in the Marvel Avengers films. The series will feature Renner as Clint Barton, a.k.a. Hawkeye, training Kate Bishop, a member of the Young Avengers, to be a Master Archer. It joins series featuring Tom Hiddleston's Loki and Elizabeth Olsen's Scarlet Witch. We will next see Renner...
More>>
Avengers: Endgame Breaks Atom Tickets Pre-Sale Records
4/9/2019 10:26 PM EST
Avengers: Endgame continues to break ticket sale records. Today, Atom tickets announced that pre-sales for the film has sold nearly twice as many tickets in its first week of pre-sales than the next four record holders combined, which includes Aquaman, Star Wars: The Last Jedi, Avengers: Infinity War and Captain Marvel.Now, Atom Tickets is offering an exclusive Bosslogic movie poster as a gift wit...
More>>
Avengers: Endgame Theatrical Review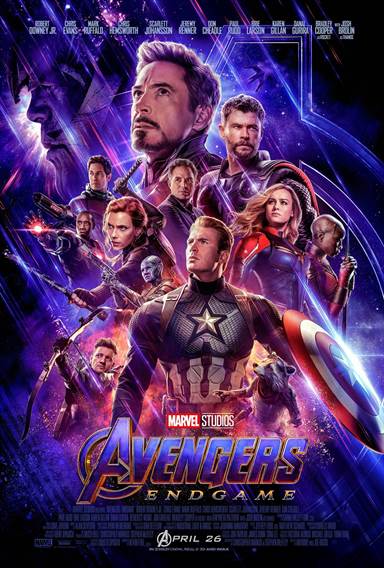 Yes, people die…just like in real life. Yes, some superheroes come back to continue on the legacy of the Marvel Cinematic Universe and yes, some don't. It's been eleven years and twenty-one movies in the making and now we get to watch as the Avengers battle Thanos for control of the galaxy. It's easy to say that
Avengers: Endgame
is one of the most highly anticipated films of 2019 and I can tell you it lives up to the hype. Fans of the franchise won't be disappointed and anyone who saw
Avengers: Infinity War
should be satisfied with the resolution of the saga.
When the film begins they are feeling the after effects of "the snap". Tony Stark/Iron Man (Robert Downey, Jr.; Sherlock Holmes) and Nebula (Karen Gillan; Jumanji: Welcome To the Jungle) are floating helplessly in a spaceship. Steve Rogers/Captain America (Chris Evans: Gifted), Black Widow/Natasha (Scarlet Johansson: Lost In Translation) and Thor (Chris Hemsworth; Snow White and the Huntsman) are at Avengers headquarters trying to figure out how to bring everyone back. Suddenly, Captain Marvel/Carol Danvers (Brie Larson; Room) comes and saves the spaceship and meets the Avengers.
Then it is five years later and Earth (and the rest of the Galaxy) is trying to pick up the pieces when Scott Lang/Ant-Man (Paul Rudd; I Love You, Man) shows up after having been stuck in the Quantum Realm. After finding his daughter and learning about what happened he heads to Avengers Headquarters to discuss his theory about time travel. He, Steve and Natasha implore Tony to help them create a vortex so they can go back and collect the infinity stones before Thanos (Josh Brolin; Deadpool 2) can get them. Great plan but, of course, nothing goes the way it should so people die and an epic battle ensues. And that is all I'm going to tell you because I don't want to spoil the ending.
Acts one and two only include some of the main players - Thor, Ant-Man, Captain America, Black Widow, Iron Man, Rocket (Bradley Cooper; A Star Is Born), Bruce Banner/The Hulk (Mark Ruffalo; Spotlight) and Clint Barton/Hawkeye (Jeremy Renner; The Hurt Locker) - but some players they are. Everyone brings their A game and moves the story along at a decent pace. When the third act arrives we get glimpses of almost everyone and the last thirty minutes of the film is exciting and thrilling.
Of course, there are some upsetting scenes and many people will leave the theater crying. As I said already… people die and not necessarily the people you want to have die. But some people come back and you will find yourself cheering more than once before the movie is over. There is also the last cameo of Stan Lee before he passed so there is a special moment for any Marvel fan to savor.
The Russo Brothers (Captain America: The Winter Soldier) do an excellent job with this three-hour film. I often complain that superhero movies have action scenes which last way too long or that lack dramatic content in favor of action. That is not the case here. They blend the action with drama that moves the plot along and keeps the audience engaged. The effects are sharp and clean and nothing looks fake or fabricated. The storyline takes a different look at time travel and spends a minute mocking previous time travel films which definitely adds some of the humor to the film. The three-hour running time flies by and before you know it the movie is over.
There are always questions that don't get answered or at least not to one's satisfaction and the deaths are hard to take but Avengers: Endgame doesn't disappoint. There is so much to absorb that one sitting isn't enough and I can't wait to get to the theater so I can see it a second time.
Grade: A
Read More Avengers: Endgame Reviews
For more reviews please visit our film/television review section.
SPONSORED LINKS