Scream (1996)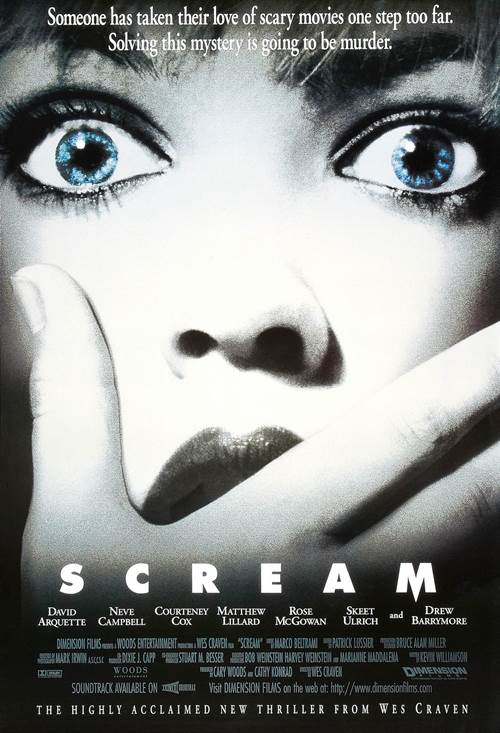 | | |
| --- | --- |
| Director: | |
| Writers: | |
| Cast: | |
| Released: | Friday, December 20, 1996 |
| Length: | 111 minutes |
| Studio: | Dimension FIlms |
| Genre: | Horror |
| Rating: | Under 17 requires accompanying parent or adult guardian. |
Scream Synopsis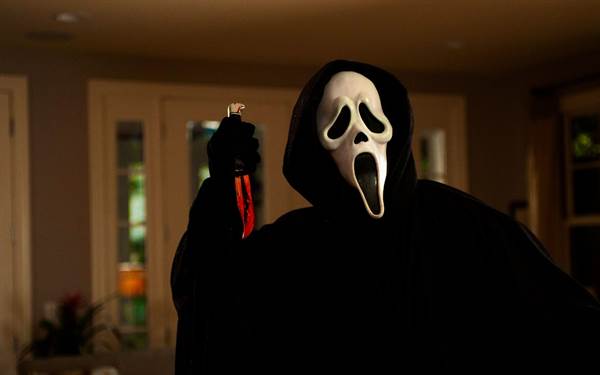 After a series of mysterious deaths befalls their small town, an offbeat group of friends led by Sidney Prescott (Neve Campbell) becomes the target of a masked killer. As the body count rises, Sidney and her friends turn to the "rules" of horror films to help navigate the real-life terror they're living in. The film also stars Courteney Cox, David Arquette, Skeet Ulrich, Matthew Lillard, Jamie Kennedy, Rose McGowan, and Drew Barrymore.
Scream images are © Dimension FIlms. All Rights Reserved.
Samara Weaving to Star in Paramount's Action-Packed Film Bella
3/28/2023 3:27 PM EST
Scream VI actress Samara Weaving has been cast in the upcoming film "Bella" from Paramount Pictures.The film will be set in 1980s New York City during an unprecedented crime wave where a cop's daughter finds herself going on a rampage after her fathe...
| Full Article
Win Fandango Tickets to See SCREAM VI in Theaters!
3/8/2023 4:17 PM EST
It is hard to believe it has been almost 30 years since Scream premiered in movie theaters.  Fans loved the film so much that this month the sixth movie in the franchise is being released. While the other films centered around Sydney Prescott (Neve C...
| Full Article
New Additions Added to Scream 6 Cast Including Samara Weaving
7/15/2022 10:47 AM EST
"Scream 6" has added two more members to its cast - Samara Weaving (The Valet) and Tony Revolori (Spider-Man: No Way Home).The actors join a cast that already includes Melissa Barrera, Jasmin Savoy Brown, Mason Gooding, and Jenna Ortega, with Hayden ...
| Full Article
Neve Campbell Won't Return for Scream 6
6/6/2022 2:03 PM EST
Neve Campbell has confirmed that she will not be starring in "Scream 6". The actress made the confirmation after rumors began on the convention circuit that she wouldn't be reprising her role."Sadly I won't be making the next Scream film," said Campb...
| Full Article
Hayden Panettiere Set to Reprise Scream Role
5/12/2022 1:15 PM EST
It's been announced that Hayden Panettiere will be reprising her role from "Scream 4" in the upcoming "Scream" reboot sequel. Panettiere will play Kirby Reed alongside Melissa Barrera, Jasmin Savoy Brown, Mason Gooding, and Jenna Ortega.The sequel wi...
| Full Article
Familiar Faces Returning for Scream Sequel
5/10/2022 2:21 PM EST
Spyglass Media and Paramount have announced that the newest faces of "Scream" will be returning for its sequel. Melissa Barrera ("Sam,") Jasmin Savoy Brown ("Mindy,") Mason Gooding ("Chad,"), and Jenna Ortega ("Tara") will all reprise their roles for...
| Full Article
Scream to Add Another Installment to Franchise
2/3/2022 3:26 PM EST
The latest installment of "Scream", which was released back on January 14, will be getting a sequel."Working with such a wonderful and talented family of creators - and in the lineage Wes and Kevin so expertly built - has been the thrill of a lifetim...
| Full Article
Scream Overtakes Spider-Man for Number One at Box Office
1/17/2022 2:48 PM EST
"Scream" has taken first place on the box office list after a $34 million opening weekend. The new film boots "Spider-Man: No Way Home" down to second. The opening weekend earnings mean that they will clear a good profit since the film's budget was o...
| Full Article
Commemorative Scream Soundtrack Box Set to be Released
1/7/2022 4:42 PM EST
"Scream", the long-awaited franchise film will be released in theatres on January 14, and to commemorate the event, The deluxe Scream: Original Motion Picture Soundtracks Box Set will be released. The set features Marco Beltrami's scores from the fir...
| Full Article
New Scream Film Wrapped and Heading to Theatres January 2022
11/18/2020 1:25 PM EST
Executive Producer Kevin Williamson took to Instagram today to announce some "Scream" franchise news.In his post, he wrote," That's a wrap on Scream, which I'm excited to announce is the official title of the next film! Nearly 25 years ago, when I wr...
| Full Article
Sidney Prescott Is Back For Scream 5
9/10/2020 3:28 PM EST
Ever since it was announced that Paramount-Spyglass was relaunching the Scream franchise, there has been speculation as to which characters would/would not be signing on to the project.  David Arquette announced he would once again reprise his role a...
| Full Article
Courtney Cox to Return for Fifth Scream Film
7/31/2020 4:24 PM EST
Courtney Cox will be reprising her role as Gale Weathers for the next "Scream" film. She will be joining her ex-husband and former co-star David Arquette, who will be reprising his role as Dewey Riley.Radio Silence told Deadline, "We can't imagine Sc...
| Full Article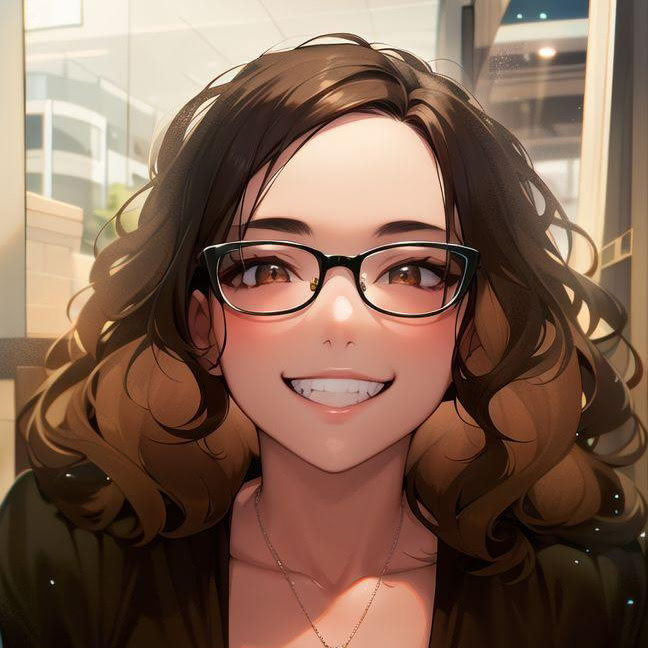 Physical Media: 4K UHD Review
When Scream first made its way to theaters it seemed as if it was going to be "just another horror movie" but it proved everyone wrong and has become a beloved franchise.
PRE-ORDER FROM AMAZON TODAY! -- https://amzn.to/37z3ra9...
SPONSORED LINKS