Thor (2011)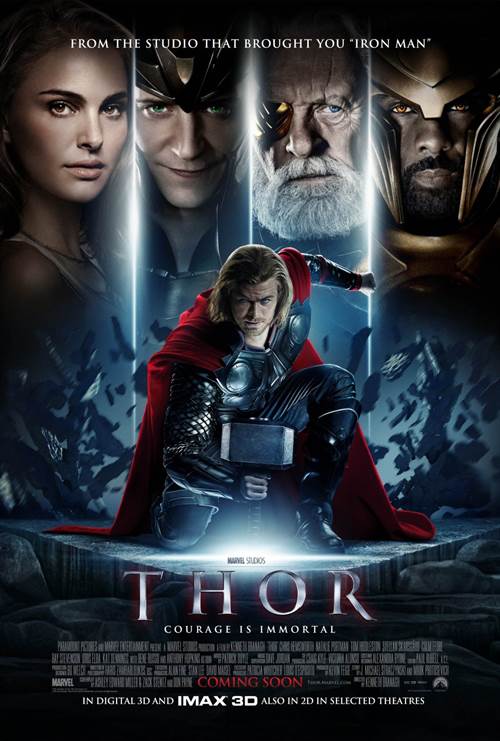 Share this:
| | |
| --- | --- |
| Director: | |
| Writers: | |
| Cast: | |
| Released: | Friday, May 6, 2011 |
| Length: | 114 minutes |
| Studio: | Walt Disney Pictures |
| Genre: | Sci-Fi/Fantasy, Action/Adventure |
| Rating: | Some material may be inappropriate for children under 13. |
Synopsis
As the son of Odin (Anthony Hopkins), the king of the Norse gods, Thor (Chris Hemsworth) is soon to inherit the throne of Asgard from his aging father. However, on the day that he is to be crowned, Thor reacts with brutality when the gods' enemies , the Frost Giants, enter the palace in violation of their treaty. As punishment, Odin banishes Thor to Earth. While Loki (Tom Hiddleston), Thor's brother, plots mischief in Asgard, Thor, now stripped of his powers, faces his greatest threat yet.

Purchase DVD/Blu-ray/4K UHD physical copy of Thor today at Amazon.com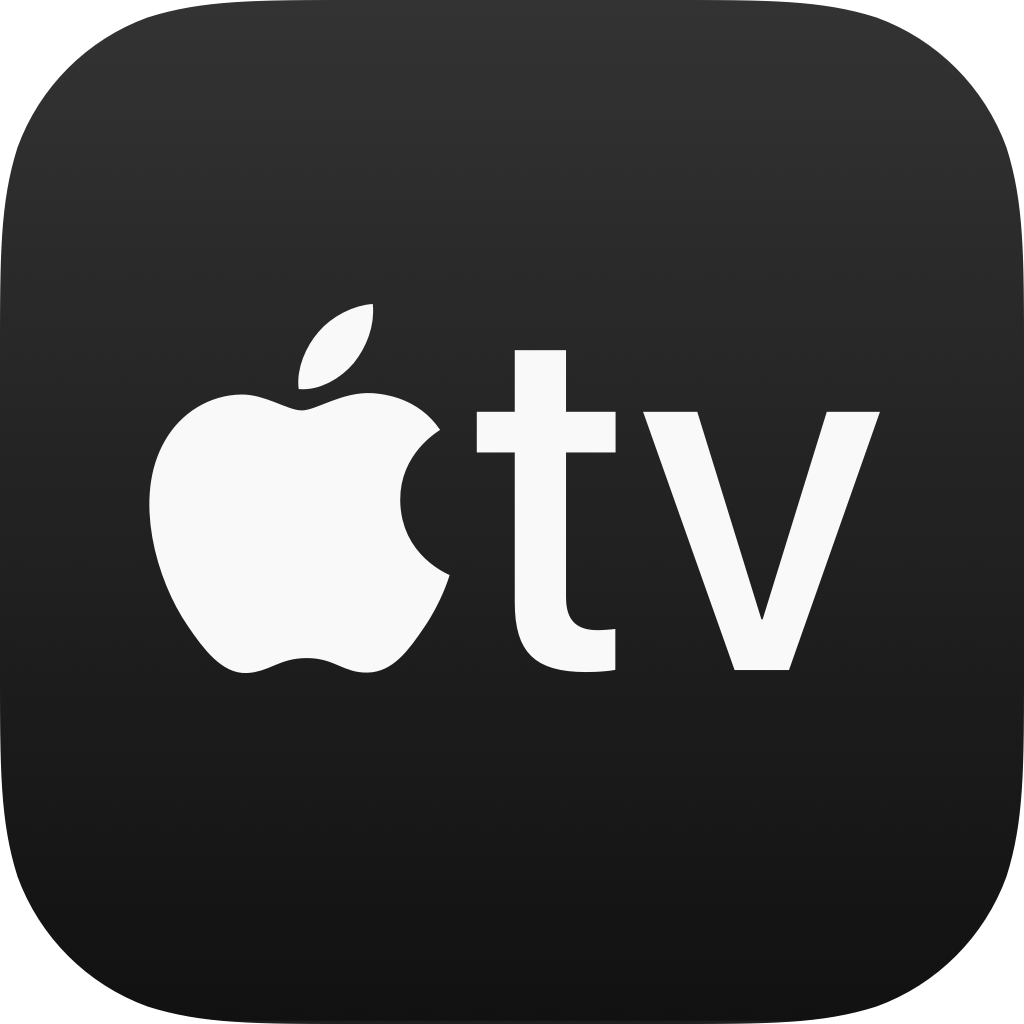 Download Thor in Digital HD/4K from the iTunes store.
Thor images are © Walt Disney Pictures. All Rights Reserved.
Taika Waititi Will Return to Direct Thor 4
7/17/2019 1:00 PM EST
Taika Waititi will be returning to the "Thor" franchise to direct "Thor 4". He previously directed 2017's "Thor: Ragnarok". Hemsworth is expected to reprise his role of Thor.Waititi recently directed "Jojo Rabbit" and his credits also include "Boy," "Hunt for the Wilderpeople" and "What We Do in the Shadows.""Thor: Ragnarok" was a huge success, earning over $854 million worldwide. No release date ...
More>>
Marvel Studios Thor: Ragnarok Superpower of Stem Challenge
8/23/2017 12:41 PM EST
Disney, Marvel Studios, Dolby Laboratories, Synchrony Bank, American Association for the Advancement of Science, Broadcom MASTERS and Society for Science & the Public are pleased to present the nationwide MARVEL STUDIOS' THOR: RAGNAROK SUPERPOWER OF STEM CHALLENGE in conjunction with the November 3, 2017 theatrical release of Marvel Studios' Thor: Ragnarok, starring Chris Hemsworth, Tom Hiddleston...
More>>
Planet Hulk to be Featured in Thor: Ragnarok
12/22/2016 10:52 AM EST
Some exciting news for all you Hulk fans out there - the Plant Hulk storyline will be incorporated into the upcoming Thor: Ragnarok film. We knew that mark Mark Ruffalo would be returning to the Thor franchise, but now it has been confirmed that we will be visiting Sakaar (Planet Hulk) in the film.Director Taika Waititi said, "Sakaar was just an insane, far-off, futuristic place which was the bigg...
More>>
Marvel's Thor: The Dark World Trailer 2 Revealed
8/7/2013 1:48 PM EST
The new trailer for MARVEL'S THOR: THE DARK WORLD is now available on YouTube, having just debuted as part of their Geek Week's Super Wednesday.Countdown to the release of Marvel's Thor: The Dark World, with the iPhone Movie Countdown Clock App.Marvel's "Thor: The Dark World" continues the big-screen adventures of Thor, the Mighty Avenger, as he battles to save Earth and all the Nine Realms from a...
More>>
Thor: The Dark World To Have Epic Battle
9/11/2012 3:46 PM EST
Filming for "Thor: The Dark World" began yesterday in Bourne Wood, Surrey, and The Daily Mail has posted some great shots of the action taking place.The pictures show Chris Hemsworth, as Thor, and Jaimie Alexander, as Sif, engaging in some sort of battle. It is said that this film will have more of a "Viking influence" to it, and with  frequent "Game of Thrones" episode director Alan Taylor at the...
More>>
Zachary Levi In Talks to Star in Thor Sequel
6/11/2012 11:01 AM EST
Zachary Levi, star of "Chuck", is said to be in talks to replace Josh Dallas as the role of Fandral in the upcoming "Thor" sequel.Dallas' schedule for ABC's "Once Upon a Time" will interfere with the schedule for the film. Levi was one of the original actors in talks to play the character in the 2011 film, but, was unable to because of his commitment to "Chuck" at the time.The sequel, which will b...
More>>
Idris Elba Returning For Thor 2
5/16/2012 9:43 AM EST
With the Avengers doing so well at the box office, Marvel seems it can do no wrong. One of the principle Avengers is Thor and there's some casting news on the up and coming sequel to the original 2011 movie starring Chris Hemsworth.   As of today, it is confirmed that Idris Elba is coming back to play Heimdall, the guardian of Asgard who stands sentry on the Rainbow Bridge. "I'm going to do Thor a...
More>>
Jenkins Out as Thor 2 Director
12/7/2011 4:04 PM EST
The Thor sequel is yet again without a director.Patty Jenkins, who took over as director after Kenneth Branagh announced he wasn't going to stay on, has left the production. Jenkins was the first female to direct a Marvel Studios film.According to her statement, Jenkins says, "I have had a great time working at Marvel. We parted on very good terms, and I look forward to working with them again." S...
More>>
Patty Jenkins New Thor Director?
9/29/2011 3:26 PM EST
Patty Jenkins, who directed "Monster", has been rumored to be a possible director for the upcoming "Thor 2" film. Chris Hemsworth, "Thor" himself, has discussed his thoughts on jenkins taking the reigns."She has a great take on the story and a solid grasp on that kind of universe. Branagh read every comic book he could get his hands on. She also looked like she had done her homework", said Hemswor...
More>>
Branagh Out as "Thor 2" Director
6/30/2011 5:06 PM EST
It has been reported that "Thor 2" is a definite "go" for Marvel Studios. Kenneth Branagh, however, won't be returning to direct the flick.The film, which grossed $437 million dollars, will have some involvement of Branagh, but currently, a new director is being sought out. Chris Helm will be returning to reprise his role.A release date for "Thor 2" will be finalized by today by Disney....
More>>
Thor Theatrical Review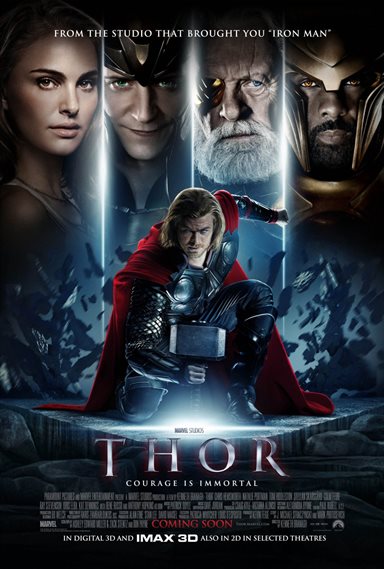 First there was Iron Man, then the Hulk; soon there will be Captain America but first comes the mighty Thor. That is the latest in the wave of comic book movies to hit theaters in recent years. Since the success of the first Iron Man film Marvel has been able to begin establishing continuity to their movies and characters. This began with Iron Man and with each successive film the back story of this universe slowly builds.

But first let's discuss Thor; the film stars Chris Hemsworth as the God of Thunder, son to the all-powerful Odin and brother of Loki. The opening sequence shows Thor's arrival on Earth, or Midgard as it is known by Thor and his people. Here we are also introduced to Jane Foster (Natalie Portman) a physicist trying to deduce the origin of strange meteorological phenomena that has been occurring recently. It culminates with Thor's arrival.

Before we can go further though, we jump back some time to when Thor was a young boy and his father was reciting the tale of the war against the Frost Giants to Thor and Loki. Odin banished his enemies back to their own realm and ushered in an era of peace. Now Thor is a young man and about to take his rightful place upon the throne of Asgard, their home. Before that can happens a rouge group of Frost Giants infiltrates Asgard and attempts to steal a weapon that will allow them to restart their war.

They are unsuccessful but Thor being aggressive and stubborn believes they should go the Frost Giants home to take revenge for they transgression. Odin forbids him to go but Thor goes anyway, along some loyal friends. When their attempt to wipe out their enemies fails, Odin steps in and punishes Thor for his disobedience, banishing him to Earth and stripping him of his powers and weapon. This brings back to his arrival on Earth and Jane Foster's discovery of him.

After some initial comedic misunderstanding Jane and her colleges Erik (Stellan Skarsgard) and Darcy (Kat Dennings) take Thor back to their lab where they try to figure out how he is connected to the disturbance from the night before. At the same time, Thor's hammer has landed on Earth and some locals who have discovered it are attempting to lift it. Unbeknownst to them Odin has placed an enchantment on it that only allows it to be lifted by one who is worthy.

When Thor learns of the hammer's existence on Earth he heads out to retrieve it. What he does not expect is that S.H.I.E.L.D., a government peace keeping task force has already secured the site where the hammer has landed and are not about to allow him to just walk in and take it. After Thor battles his way past the guards he is astonished to find out that he cannot lift the hammer, naturally because he is still unworthy of its power.

At the same time that Thor is learning about his new home, Loki is setting about to take over Asgard as its new King since Odin has become too weak to lead. He makes a journey to Earth to be sure that Thor will never attempt to return to Asgard by telling him that Odin has died and condemned his son to his final breath. After being unable to lift the hammer and hearing this news Thor begins to accept his new life on this world. Of course that won't be the case; Loki makes a deal with the Frost Giants and sends a doomsday golem to finish off Thor. As the events culminate in a final showdown between Thor and his brother he must find a way to return home in time to save his father and his people from the onslaught of the Frost Giants.

With most super hero films you go in expecting heavy action with some light drama thrown in for good measure, and that is no different with this film. Hemsworth certainly looks the part and does a good job when it comes to the action sequences. Each character has enough screen time for you to get a sense of who they are. The only times that the audience may feel a little lost is when learning about the mythology of Asgard. Without a little background in Norse mythology there may be times where you feel overwhelmed by what's being said. Thankfully the film is aware of this fact and doesn't tread too long in history. For comic book fans this movie will be a welcome delight as we see more of a presence from S.H.I.E.L.D. and their field leader Agent Colson.

Anyone who has been paying attention will squeal with delight at the prospect of what's to come from this film. Overall Thor is a fun action film with excellent special effects, great looking actors and lots of comic lore that is sure to make any movie goer happy they went to the theater.

For more reviews please visit our film/television review section.
SPONSORED LINKS