The Mummy: Tomb of the Dragon Emperor (2008)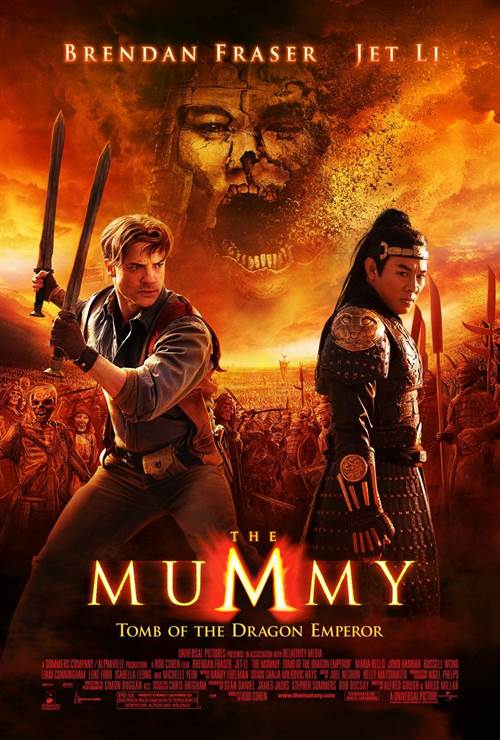 | | |
| --- | --- |
| Director: | |
| Writers: | |
| Cast: | |
| Released: | Friday, August 1, 2008 |
| Length: | 114 minutes |
| Studio: | Universal Pictures |
| Genre: | Sci-Fi/Fantasy, Action/Adventure |
| Rating: | Some material may be inappropriate for children under 13. |
The Mummy: Tomb of the Dragon Emperor Synopsis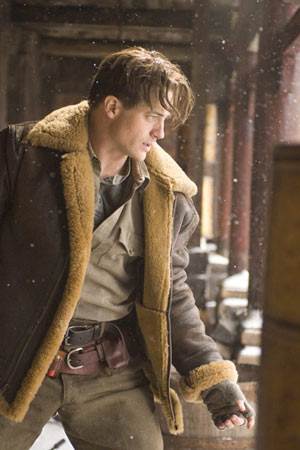 Brendan Fraser returns as explorer Rick O'Connell to combat the resurrected Han Emperor (Jet Li) in an epic that races from the catacombs of ancient China high into the frigid Himalayas. Rick is joined in this all-new adventure by son Alex (Luke Ford), wife Evelyn (Maria Bello) and her brother, Jonathan (John Hannah). And this time, the O'Connells must stop a mummy awoken from a 2,000-year-old curse who threatens to plunge the world into his merciless, unending service. Doomed by a double-crossing sorceress (Michelle Yeoh) to spend eternity in suspended animation, China's ruthless Dragon Emperor and his 10,000 warriors have laid forgotten for eons, entombed in clay as a vast, silent terra cotta army. But when dashing adventurer Alex O'Connell is tricked into awakening the ruler from eternal slumber, the reckless young archaeologist must seek the help of the only people who know more than he does about taking down the undead: his parents.
The Mummy: Tomb of the Dragon Emperor images are © Universal Pictures. All Rights Reserved.
Brendan Fraser Open to Returning to Mummy Franchise
10/12/2022 12:58 PM EST
When recently asked about returning to "The Mummy" franchise, Brendan Fraser said that he would be open to the idea. Fraser starred as adventurer Rick O'Connell in the film series, which started back in 1999."I don't know how it would work. But I'd b...
| Full Article
New Mummy Film Could Star Female Lead
10/14/2015 11:53 AM EST
Universal will be launching a new "Mummy" to start their new monsters franchise, but this time, we could see a female lead in the film.Boris Karloff played the Mummy back in 1932, and in 1999, Arnold Vosloo took the lead.  Now, casting is open to eit...
| Full Article
Total Recall Director, Len Wiseman, In Final Talks To Take Over ...
9/25/2012 10:13 AM EST
Len Wiseman has been set by Universal Pictures to direct "The Mummy", a reboot of the franchise which most recently spawned a trilogy earning around $1.25 billion.  The film will be written by Jon Spaihts and produced by Alex Kurtzman and Roberto Orc...
| Full Article
The Mummy To Get A Reboot
4/6/2012 2:36 PM EST
Thirteen years it seems is a long enough wait to reboot a movie these days, according to Universal Pictures any way. That's how long ago Stephen Sommers bought Imhotep back from his then sixty Seven years slumber in the Mummy. A movie that went on to...
| Full Article
Mummy 3 September 2007 Update
9/13/2007 10:57 AM EST
Maria Bello was recently interviewd by Sci Fi Wire at the Toronto Film Festival, where she was promoting her new film, The Jane Austen Book Club.  She spoke of her upcoming role in The Mummy: Tomb of the Dragon Emporor.Bello, who will be replacing Ra...
| Full Article
Scorpion King Sequel In The Works
6/19/2007 2:25 PM EST
There is a sequel for "The Scorpion King" in the works, and it's reported that Russell Mulcahy will be the director. Mulcahy also directed Resident Evil: Extinction and Highlander.The Scorpion King was a spin-off from "The Mummy" movies series, whic...
| Full Article
Mummy Franchise To Be Reinvented With Brendan Fraser in 3rd Film
9/8/2006 10:40 AM EST
Brendan Fraser will reprise the role of Rick O'Connell from the popular "The Mummy" franchise. Details are scarce but the role will re-imagine the character in a "new setting" rumored to be away from the desert and the mummies curse.  Joe Johnston is...
| Full Article
Movie / Film Review
What's the opposite of 'Synergy' where things are more than the sum of their parts? The answer is "antagonism" where additive elements actually detract from the whole. This is the force at work in the third Mummy franchise with Brendan Frasier reprising his role as Rick O'Connell, archaeol...
Movie / Film Review
It has been seven years since the O'Connell's were on the silver screen, and they are back this summer in The Mummy: Tomb of the Dragon Emperor. However, unlike past mummy films, this is one that should have stayed buried in its tomb. Brendan Fraser returns as explorer Rick O'Connell to c...
SPONSORED LINKS