Terminator: The Sarah Connor Chronicles (2008)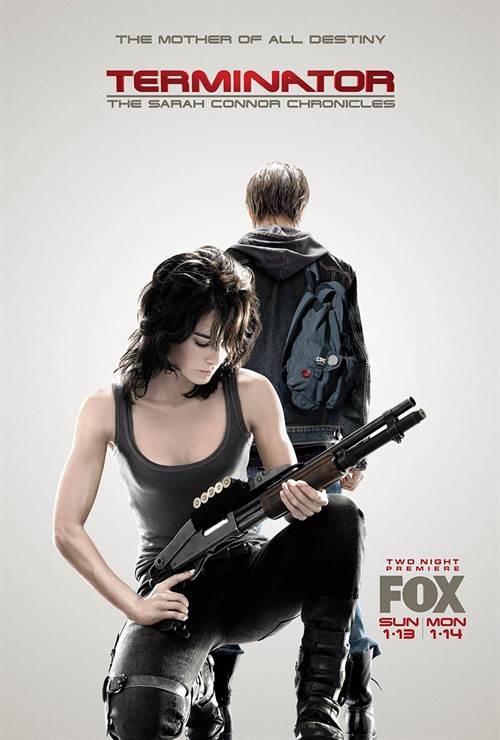 Share this:
| | |
| --- | --- |
| Created By: | |
| Cast: | |
| Air Date: | Sunday, January 13, 2008 |
| Studio: | 20th Century Studios |
| Genre: | Television, Sci-Fi/Fantasy |
| Rating: | This program contains material that parents may find unsuitable for younger children. |
Synopsis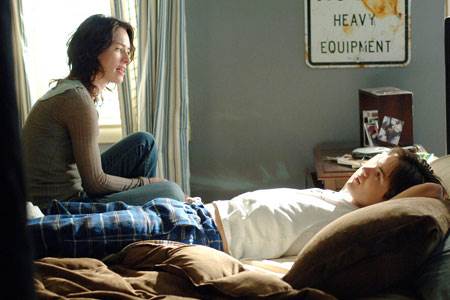 At the end of "Terminator 2: Judgment Day," Sarah vanquished the Terminator sent from the future to kill her teenage son, John. Sarah and John now find themselves alone in a very dangerous, complicated world. Fugitives from the law, they are confronted with the reality that still more enemies from the future, and the present, could attack at any moment.

TERMINATOR: THE SARAH CONNOR CHRONICLES reveals what happens when SARAH (Lena Headey) stops running and goes on the offensive against an ever-evolving technological enemy bent on destroying her life, and perhaps the world. Her son, 15-year-old JOHN CONNOR (Thomas Dekker), knows that he may be the future savior of mankind, but is not yet ready to take on the mantle of leadership that he's told is his destiny. John finds himself inextricably drawn to CAMERON (Summer Glau), an enigmatic and otherworldly student at his high school, who soon proves to be much more than his confidante - she assumes the role of Sarah and John's fearless protector. On their trail are not only threats from the future, but an intelligent and tough FBI agent, JAMES ELLISON (Richard T.Jones), who soon becomes a powerful ally.

TERMINATOR: THE SARAH CONNOR CHRONICLES represents an exciting reinvention of the "Terminator" franchise, in which the strong and intrepid Sarah discovers that protecting her son and stopping the rise of the machines is more difficult than she had ever imagined.
Purchase DVD/Blu-ray/4K physical copy of Terminator: The Sarah Connor Chronicles today at
Download Terminator: The Sarah Connor Chronicles in Digital HD/4K from the iTunes store.
Terminator: The Sarah Connor Chronicles images are © 20th Century Studios. All Rights Reserved.


L.A. Premier of Terminator Dark Fate Canceled Due to Wildfires
10/28/2019 3:29 PM EST
The premiere of tonight's "Terminator: Dark Fate" in Losa Angels has been canceled due to the brush fires that have broken out in the area.A spokesperson for Paramount said, "In light of the ongoing, active fires being battled in the area, Paramount Pictures and Skydance have canceled tonight's Los Angeles premiere of 'Terminator: Dark Fate". We will be donating food intended for the after-party t...
More>>
Edward Furlong to Return as John Connor in Terminator Dark Fate
7/18/2019 4:12 PM EST
The "Terminator: Dark Fate" panel was held at Comic-Con today in Hall H and was packed with plenty of news.First off, we learned that Edward Furlong will be back to reprise his role as John Connor. Furlong played the character in 1991's "Terminator 2: Judgment Day" and has since been off the radar after struggling with addiction. The announcement was made by producer James Cameron, who was live vi...
More>>
Cast of Terminator: Dark Fate to Receive CinemaCon's Ensemble Award
3/28/2019 2:19 PM EST
Mitch Neuhauser, Managing Director of CinemaCon, has announced that the cast of Terminator: Dark Fate, Linda Hamilton, Natalia Reyes, Mackenzie Davis, and Gabriel Luna, will receive this year's "CinemaCon® Ensemble Award." The will be presented with the award at CinemaCon on Thursday, April 4."With a cast that includes many familiar faces as well as talented newcomers, the next chapter of this blo...
More>>
Linda Hamilton to Reprise Terminator Role for New Trilogy
9/20/2017 10:17 AM EST
It has been announced that Linda Hamilton, Arnold Schwarzenegger, and James Cameron will all be reunited for more Terminator films; a trilogy, in fact. Hamilton appeared in the original Terminator film as well as Terminator 2: Judgment Day."As meaningful as she was to gender and action stars everywhere back then, it's going to make a huge statement to have that seasoned warrior that she's become r...
More>>
More Terminator Films Expected In Future After Some "Readjustments"
10/7/2015 2:18 PM EST
Terminator:Genysis didn't fare as well as expected, but that doesn't mean we won't be seeing more films for the franchise. However, don't expect them to be released any time soon.Dana Goldberg, Skydance Media's chief creative officer, recently spoke at The Wrap's 6th Annual Media Leadership Conference TheGrill, about the franchise's future."I wouldn't say on hold, so much as re-adjusting", said Go...
More>>
Know Your Terminators Before You Go See Terminator Genisys
6/19/2015 12:59 PM EST
Terminator fans, It's time once again to brush off your best Arnie impersonation in anticipation of the latest release in the Series TERMINATOR: GENYSIS. Coming to Theaters in time for the Fourth of July Holiday weekend, TERMINATOR:GENYSIS once again starts Arnold Schwarzenegger alide Jason Clarke and Emilia Clarke in a battle to save the Human race.  To help you impress your friends and win every...
More>>
The Terminator Takes Over Waze Navigation
6/15/2015 1:49 PM EST
HOLLYWOOD, CA (June 15, 2015) - To celebrate the release of the highly anticipated film "TERMINATOR GENISYS," Paramount Pictures, Skydance Productions, Arnold Schwarzenegger and Waze (www.waze.com), have teamed up to give drivers around the world the ultimate voice navigation machine: Arnold Schwarzenegger as the 'Guardian' Terminator from "TERMINATOR GENISYS."Starting today, users of the world's ...
More>>
Schwarzenegger to Star in Terminator 6
2/25/2015 2:14 PM EST
Terminator Genisys will be released this summer, bringing about a new trilogy for the franchise. Arnold Schwarzenegger will be reprising his role for this year's film, but many wondered if he would make it into the other two. But the Terminator himself has now squashed any further doubt. When asked if he would be filming for Terminator 6, the actor answered, "Yes, of course, next year".  Great new...
More>>
Arnold Schwarzenegger Reveals Latest Terminator Film Title
8/6/2014 3:19 PM EST
Arnold Schwarzenegger has revealed, via Instagram, the title to the latest film in the "Terminator" franchise. Schwarzenegger is sitting in the picture, with the words "Terminator Genisys" emblazoned on the back of his chair. Check out the full pic here.In the post, Schwarzenegger thanked the cast and crew and said it was a "fantastic shoot. It was challenging, it was fun, and it was rewarding."Th...
More>>
Arnold Schwarzenegger On Terminator Genesis Film
3/18/2014 9:49 AM EST
Arnold Schwarzenegger recently spoke about his upcoming film, "Terminator Genesis"; something he has been a bit tight lipped about.  "The way it reads, it has the same feel of Terminator 2. It's big. There's hardcore action and it has some really great visual effects in there, but not over the top. It's not a Thor type of movie, even though it's the same director. It has good special effects, but ...
More>>
Jai Courtney to Star in Terminator Reboot
2/19/2014 3:45 PM EST
Jai Courtney, who starred in "A Good Day to Die Hard" and "Jack Reacher", has been cast as Kyle Reese in the upcoming "Terminator" reboot.The film will also star Emilia Clarke, who will be playing Sarah Connor and Jason Clarke, who will be playing John Connor.  The new trilogy will be directed by Alan Taylor.  No plot details have been revealed yet....
More>>
Terminator Series To Be Launched in 2015 Along With Feature Film
12/6/2013 4:19 PM EST
Skydance Prods. and Annapurna Pictures will be releasing a "Terminator" series in conjunction with the film that will be released in 2015.The show will follow the 1984 film, but will be going in a completely different direction. The same is expected for the upcoming trilogy, but no plot details have surfaced for that as of yet. The new trilogy and series stories will be intertwined , much like Mar...
More>>
Terminator: The Sarah Connor Chronicles Series Review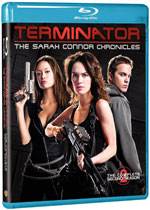 Back in 1984 I heard Roger Ebert say on TV that an upcoming movie was about a "Cyborg assassin from the future." He advised viewers to "put your brain on hold for this one." The words "cyborg assassin" weren't very common in the early 80's (now they hand out candy covered cyborg assassins at baby showers) and it got my attention. When a friend wanted to see it I was shocked to discover that the one thing I absolutely didn't have to do was "put my brain on hold."

It was smart--and well it should've been, it was allegedly ripping off Harlan Ellison! But regardless, the Terminator franchise is one of the premier science fiction properties in film (even 3, while not great avoided being a complete embarrassment). Making this into a TV show, especially a Fox TV show, seems like a risky gambit: the odds of the show's producers "getting it" seem fairly remote ... and with Fox, if it is too good, it'll be canceled.

I am pleased to report: it's the canceled one. Terminator: The Sarah Connor Chronicles is, in fact, good enough that it's probably doomed in Fox's hands. In fact, a splinter fan-group from the future has already sent back one of their own to create an online petition to protest its eventual cancellation (note: in our time-stream the show has not yet been canceled. The petition was started before the show even aired ... like the fan was born and trained for this eventual conflict!).

The show provides us with Sarah, her son John (played by Heroes' Thomas Dekker who was Claire-boyfriend Zack) and Summer Glau who is now typecast from Firefly as a combat machine. In TTSCC she's a literal combat machine being a back-from-the-future cyborg guardian. The casting took 16 weeks (mainly to get Sarah and John right) and it's paid off. While John lacks some "screen presence" it's mainly, I think, because the female leads are so strong.

And they are strong: Sarah, played by Lena Headey, comes off as smart, as fiercely protective as a mother bear, and tough as nails--tougher, perhaps than the actually indestructible Glau. For her part, Glau isn't as robotic as her cyber-brethren (she describes herself as "different" with a very human faint smile) and this is probably a good thing for a show that means to sustain itself for more than 127 minutes. The survivalist ethic and the non-stop chase vibe from the first movies is carried through at least the first two episodes.

As a piece of the Terminator franchise TTSCC shines. While it may lack something in the potential grandeur of the movies (giant car-crash set pieces, future battle-zones) it works well enough in its element. The filming, score, and language are all on-point. The F/x hit where they have to and hard enough to make the story work (the Terminator makeup works well enough on TV). The writing is pretty sharp: some of it is expository but it knows when to shut up too (there is a 9/11 scene done with hand gestures and a voice-over that works wonderfully).

They don't answer all of my questions about time-wars (why not kill Sarah when she's 12?) but I guess that's a pretty tall order. I like how Sarah shoots for the eyes of a terminator unit. I like how the camera pans over construction machinery the same way those machines were the focus in the original movie. I even like the various cyborg one-liners as they try to figure out what's appropriate to say.

I like how Sarah is strong--but also damaged (and not a bitch). I like how John is pissed off about living on the run--but not whiny. I like how the River-nator's first name is "Cameron" (will there be a couples joke where someone calls her John Cameron? I hope not). I like the way that the cyborg doesn't tell the truth all the time. I like the way there is a whole "time war" going on and it isn't just one terminator and one victim.

They've made a lot of good decisions with The Sarah Connor Chronicles. Let's hope they're around long enough to see them through.

Grade: A
-- Marco Chacon
Read More Terminator: The Sarah Connor Chronicles Reviews
Marco Chacon (A) (Terminator: The Sarah Connor Chronicles The Complete First Season DVD Review)
For more reviews please visit our film/television review section.
SPONSORED LINKS