John Wick: Chapter 3 - Parabellum (2019)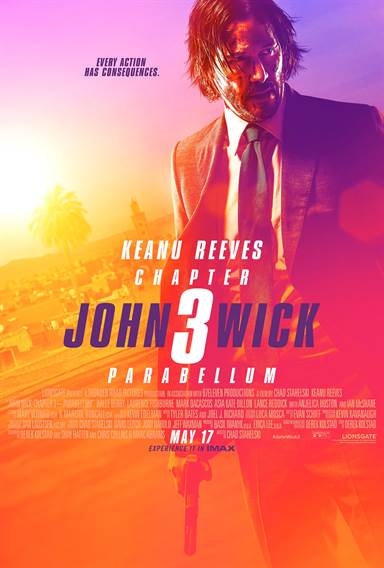 | | |
| --- | --- |
| Director: | |
| Writers: | Derek Kolstad |
| Cast: | |
| Released: | Friday, May 17, 2019 |
| Length: | 130 minutes |
| Studio: | Summit Entertainment |
| Genre: | Action/Adventure |
| Rating: | Under 17 requires accompanying parent or adult guardian. |
Synopsis
In this third installment of the adrenaline-fueled action franchise, super-assassin John Wick (Keanu Reeves) returns with a $14 million price tag on his head and an army of bounty-hunting killers on his trail. After killing a member of the shadowy international assassin's guild, the High Table, John Wick is excommunicado, but the world's most ruthless hit men and women await his every turn.
Purchase your copy of John Wick: Chapter 3 - Parabellum today at
Download John Wick: Chapter 3 - Parabellum in Digital HD from the iTunes store.
Listen to the John Wick: Chapter 3 - Parabellum soundtrack on Apple Music.
John Wick: Chapter 3 - Parabellum images are © Summit Entertainment. All Rights Reserved.


John Wick's Favorite Hobby Revealed by Keanu Reeves
5/10/2019 2:33 PM EDT
Ever wonder what an assassin enjoys doing in his off time? Well, as for John wick, his hobby was originally supposed to be in the first film but was ultimately cut. Reeves was recently interviewed by Uproxx and revealed what that hobby was."In the first script, they had John Wick described as working with old leather-bound books and book restoration. We filmed it. It's not in the movie, but we fil...
More>>
John Wick: Chapter 3 - Parabellum Theatrical Review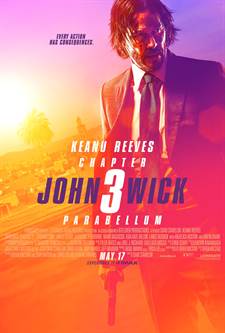 Let's start by saying; if you're a John Wick fan, you won't be disappointed by this latest installment of the franchise. The same goes for Keanu Reeves fans, Halle Berry fans, Action Movie fans, and just plain well-made Pop Movie fans.
Right from the very first film, you could tell this opus was always meant to be a franchise; the type of movie series an audience could just eat up with their senses. It mixed Martial Arts with Gun and Gangster action, all overseen by some mysterious ruling body with strict laws just made to be broken. Let's call it "Movie Fu", like Reeves himself does. The only questions to be asked were how long would it last and how many sequels could it spawn?
Well here's number three and its still spot on. Pop movie action so beautifully 'over the top' you can't take your eyes off the screen for a minute or you might miss some blissfully brutal bone-crunching moment of it's brilliantly conceived and choreographed violence. It takes my breath away just writing about it.
Here's The Storyline…
When last seen, super-assassin John Wick (Reeves), was told he was now 'excommunicado' and that there was no place of shelter for him after killing a member of the "High Table", the shadowy international assassin's guild. Episode 3 picks up moments later with Wick running down the street just before a $14 million contract is put out on his head and an army of bounty-hunting killers will try to collect it. With the world's most ruthless hit men and women attacking at every turn, and his chances for survival getting thinner by the moment, Wick can only fight his way out of New York City by seeking the aid of some not so friendly allies.
Wick eventually manages to make his way to Sofia (Halle Berry), who is head of the 'Continental' safe zone hotel in Morocco. She isn't happy about their reunion but is forced to help him after he calls in a long-standing debt.
What happens from there is pure mayhem, that is to say, I lost count of the bodies that piled up.
As an action director, Chad Stahelski has proven himself to be one of the all-time best. Along with Reeves, they've created a sub-genre that will probably outlast them both. If your waiting for another great film to come along in the same mold, give it up, the best you'll find will only be a poor imitation, that is until John Wick 4 is upon us.
What really takes this film to the next level are the terrific performances by some great actors, both the stars and the secondary cast. That's rare, especially in an action film. You could sense that everyone working on the film had a good time making it.
My take… at the beginning of the film a character says, "Tick tock, no time to dilly-dally", take his advice and go see Mr. Wick in action again, you won't be disappointed.
Grade: B+
-- Alyn Darnay
For more reviews please visit our film/television review section.
SPONSORED LINKS