Transformers (2007)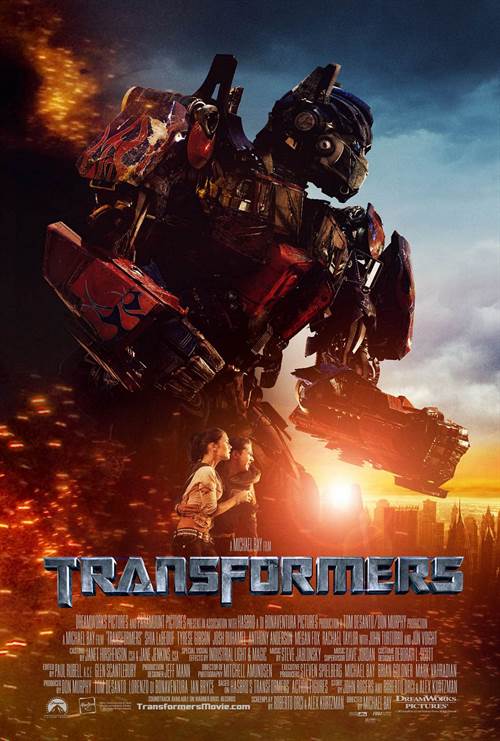 | | |
| --- | --- |
| Director: | |
| Cast: | |
| Released: | Tuesday, July 3, 2007 |
| Length: | 140 minutes |
| Studio: | Paramount Pictures |
| Genre: | Sci-Fi/Fantasy, Action/Adventure |
| Rating: | Some material may be inappropriate for children under 13. |
This film contains a scene during or after the credits.
Transformers Synopsis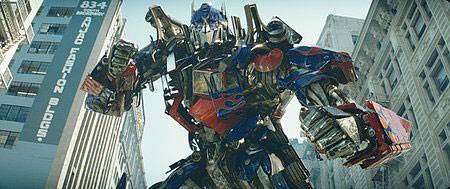 The Earth is caught in the middle of an intergalactic war between two races of robots, the heroic Autobots and the evil Decepticons, which are able to change into a variety of objects, including cars, trucks, planes and other technological creations.

Purchase DVD/Blu-ray/4K UHD physical copy of Transformers today at Amazon.com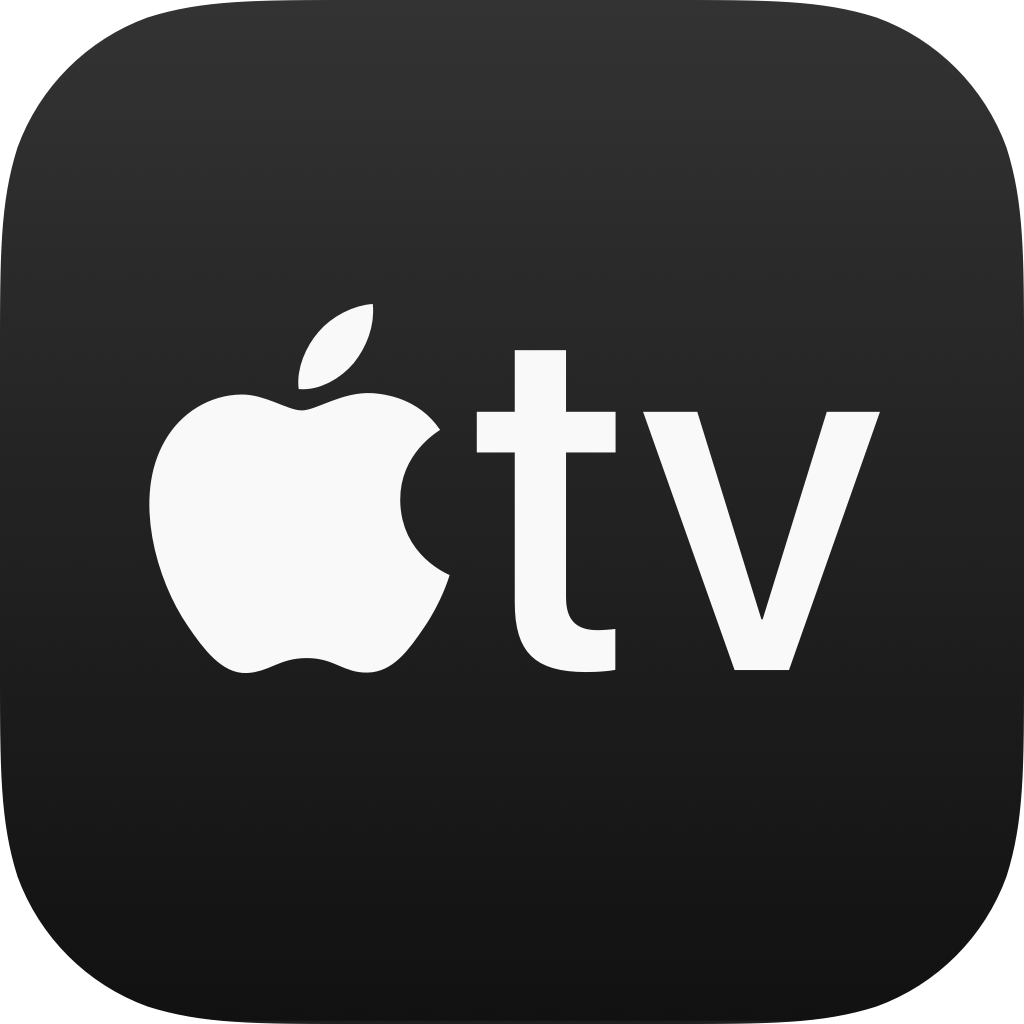 Stream Transformers in Digital HD/4K from the AppleTV store.
Listen to the Transformers soundtrack on Apple Music.
Transformers images are © Paramount Pictures. All Rights Reserved.
Win Bumblebee on 4k UHD!
4/1/2019 1:38 AM EST
Have you enjoyed all of the Transformer movies that have come out in the past several years?  Is Bumblebee your favorite character? Then this is the contest for you. FlickDirect, in conjunction with Paramount Pictures, wants to give one lucky winner the chance to own BUMBLEBEE for themselves as they celebrate the release of the DVD, Blu-ray 4K Combo pack on April 5, 2019.To enter follow the 4 simp...
More>>
Transformers 7 Taken Out of Paramount's 2019 Lineup
5/24/2018 2:18 PM EST
Paramount has decided to take Transformers 7 out of its 2019 lineup. The film was originally scheduled to debut on June 28, 2019. That date will now see the release of Tiffany Haddish's comedy "Limited Partners".The studio will still be releasing the Transformers spinoff Bumblebee on December 21 of this year.Haddish is coming off the success of last year's "Girls Trip" and we can see her next in "...
More>>
Principal Photography Begins on Bumblebee
7/31/2017 3:59 PM EST
Paramount Pictures has announced that they have begun principal photography on "Bumblebee", which is being directed by Travis Knight."Bumblebee" takes place in 1987, where we find the bot hiding out in a junkyard in a small Californian beach town. Charlie (Hailee Steinfeld), on the cusp of turning 18 and trying to find her place in the world, discovers Bumblebee, battle-scarred and broken.  When C...
More>>
Travis Knight to Helm Bumblebee Standalone Film
3/2/2017 9:21 PM EST
Transformers was a hugely popular franchise, both in the 80s and now, and one of its star characters will be getting a spinoff film. Bumblebee will be the focus of the spinoff, and Travis Knight has been chosen to helm the project.Knight directed the Oscar-nominated stop-motion animated film, Kubo And The Two Strings. He is also the president and CEO of Laika, his animation house, based out of Por...
More>>
Michael Bay Discusses Tranformers: The Last Knight on His Website
2/3/2017 10:32 AM EST
Michael Bay has taken to his official site to discuss the upcoming film, Transformers: The Last Knight, and what the franchise has meant to him.  He spoke about the mythology of this film, and how this release is "bittersweet". The Last Knight trailer was released back in December, and now, with the plot synopsis released by Paramount, we see that this could very well the last film of the franchis...
More>>
Josh Duhamel Confirms Return to Transformers
5/18/2016 1:03 PM EST
Josh Duhamel, who starred in the first three Transformer films, will be returning to the franchise.  The actor tweeted out the following:"Lieutenant Colonel Lennox reporting for duty. Let's do this. #transformers"Duhamel, who portrayed Lt. Col. Lennox, skipped the last film, Age of Extinction, but will be back for the upcoming "Transformers: The Last Knight".The franchise will be releasing their f...
More>>
Michael Bay Confirms His Return for Transformers 5
1/5/2016 9:50 AM EST
It has been confirmed by Michael Bay, himself, that he will be returning to direct Transformers 5.  Bay made the announcement while doing promotion for his upcoming film, "13 Hours".It is also expected that Mark Wahlberg will be returning to franchise, as well as Lorenzo di Bonaventura, who will be producing. While plot details for the newest installment aren't released yet, it is said that Wahlbe...
More>>
Michael Bay Will Stay On for Fifth Transformer Film
7/1/2014 3:49 PM EST
It has been reported that Michael Bay will be directing the next installment of the Transformers franchise, "Transformers 5".Bay has agreed to come back on board, but under one condition - he wants to make a "smaller" film first.  This means that the film will most likely not be released in 2016.  Ben Kendrick, producer for the film, said in a statement, "I think it's one of those classic things w...
More>>
Next Transformers Film Could Feature Dinobots
5/22/2013 1:54 PM EST
There are rumors swirling around about the possibility of the Dinobots making an appearance in the next "Transformers" film.Supposedly, the villain Lockdown will be in the film and is said to own a ship full of decommissioned Transformers including the Dinobots.  It is said that Optimus Prime and Bumblebee will use the Dinobots  Grimlock and a Pterandon to ride into Hong Kong.Filming beings next m...
More>>
New Casting Revealed for Transformers 4
1/8/2013 4:05 PM EST
"Transformers" director, Michael Bay, has just announced new casting for the upcoming fourth film in the franchise via his website.Bay wrote, "I just hired a great new actor for Transformers 4 to star against Mark Wahlberg. Jack Reynor, he is an Irish kid that came to America with 30 bucks in his pocket. Pretty ballsy. Seriously who does that? Anyway I spotted him in a great little Irish movie Wha...
More>>
Mark Wahlberg to Star in Transformers 4
11/9/2012 11:34 AM EST
In somewhat shocking news, Michael Bay has announced that Mark Wahlberg will be starring in the upcoming "Transformers 4" film. "Mark is awesome. We had a blast working on Pain And Gain and I'm so fired up to be back working with him. An actor of his caliber is the perfect guy to re-invigorate the franchise and carry on the Transformers' legacy,"  said Bay via his website. The film will be produce...
More>>
Mark Wahlberg Wanted for Upcoming Transformers Film
10/24/2012 4:08 PM EST
It is rumored that Michael Bay is interested in Mark Wahlberg for the leading man role in the fourth movie of the "Transformers" franchise, although the director has taken to his personal website to try and quell this, his statement can be found here.Bay himself has been on record stating that this is most likely his final "Transformers" movie, though this one may be different from the others, as ...
More>>
Transformers Theatrical Review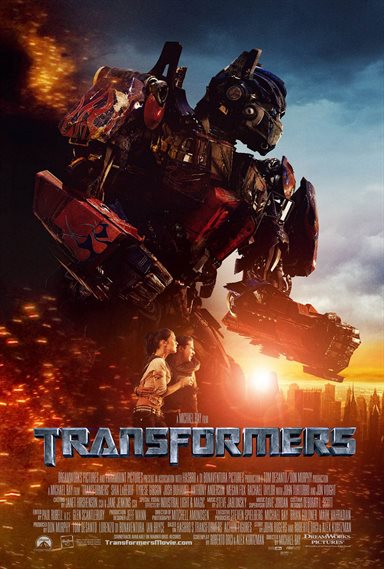 I missed the 1984 TV show by about 5 years: being in high school placed me outside the zone where I'd watch it. I was
aware
of it though: a Saturday-morning cartoon featuring overly literal names, the same formula bad guys again and again, and (I'll guess) a moral message embedded somewhere in each episode for the same reasons cereal commercials try to convince mom there's something--
anything
--healthy in the box (note: the 'balanced' part of the 'balanced breakfast' relies heavily on all kinds of raw fruits and vitamins laden on the other side of the seesaw from the enormous mound of sugar in order to 'balance it out.').
So I knew that they were
robots in disguise
and
more than meets the eye
... and I didn't much
care
. But it's hot. It's July. That means I was surely gonna go see it. So see it, I did. Now: I didn't know much about the characters but you'd have to be pretty removed not to know that Optimus Prime was the good guy and turns into a truck and Megatron is the bad guy (who turned into a gun in the cartoon ... and apparently required someone else to shoot him ... what kind of a 'leader' power is
that
!?).
But I didn't know much else.
Fortunately, it doesn't matter: I'm not going to bore you with even a cursory plot synopsis. Instead I'm going to tell you directly what you need to know about
Transformers
.
1. It is a pretty darn good summer blockbuster movie.
2. It is not
that
good.
Pretty Darn Good
The war between good and evil begins on earth with a robot attacking a military base. Bay does the mil-porn in a first rate fashion. The spec-ops guys manage to be likable, competent, and sharp. The hardware is
sexay
. The
AC-130 Spooky II
(it's sister is the better known
Spectre
gunship) that kicks the ass of a Decepticon is one of the most terrifying mobile weapon platforms in the world and Bay brings it home in fine form. Even better: in
Transformers
the military guys get stuff to do. They aren't just helpless while the robots save the day--they get their own share of kills.
The kids (a high school couple) are cute enough and gawky enough to be entertaining: there's a wonderfully cringe-inducing bit of dialog where the boy's mom gets
way
too speculative about what he might have been doing holed up in his room--he's looking for something that'll save the world--while his girlfriend is hiding out nearby. They're done reasonably well and carry the movie well enough.
The robots are good. For one thing, Bay insisted that they not gain mystery mass. This was news to me: they get
pretty big
. But Bay (who felt that
Transformers
was a 'stupid toy movie' when it was first pitched) decided that he wanted some nod to reasonableness somewhere in it. This, to my mind, is the kind of smart move I'd expect from a director like Cameron. I'm surprised it came from Bay--but I'm happy for it. Their fights are fast and hard to follow. They're highly destructive. They look like they mean business.
Yeah: it's clear those are weightless CGI robots all over the place--but they chew up enough CGI scenery that it's easy to forgive it. The Decepticons are clever and evil (the writing on Barricade, the evil police car, says
To punish and enslave
rather than
To serve and protect
). There's a decent sense of power and mass to the whole thing.
And Yeah: the Autobots (who, um, turn into
cars
... and trucks--remember, this cartoon-literalness here) are product placement all over the place. But if there was ever a good excuse, it has gotta be this.
The action works. The pacing doesn't falter and at 144 minutes it even seems quick. That's about the best compliment you can give a movie like this.
It Wasn't That Good
And yet. Well, for one thing, I kept asking myself 'What
if
James Cameron had made this movie?' I surely can't channel him but it's not like it's out of the question. Here are places where the movie is dumb and it
could've
been smart. Smart would've been far better reader--smart--if it'd actually hit
really clever
would've put this over the
top
.
1. Super-hackers are overused and poorly done. We're seeing a lot of 'the best hacker in the world' these days and they're all bad cliches (over weight, live with mom, temperamental). In this case the uber-hacker doesn't even do anything significant to the story-line except take up some time and be (very, very slightly) comical. The computer-nonsense is even worse. Why not do a few hours of extra homework and come up with something actually interesting for these guys to say ... actually, you know, intelligent?
2. The government agency that's above top-secret is
goofy
. Yeah, maybe they're science-nerds playing at being secret-agent-men but I don't buy that for a minute. It's clear they're just played for laughs--to ratchet up the humor a little. Make those guys actually
behave
like hard core secret agents or have the actual spec-ops guys remark that they really seem like a bunch of petty amateurs. Remember the government in
E.T.
? Bursting through the door in ghost-like hazmat suits? Barely seen (in the original) deploying through the forest with the camera focused on their guns? Moving so fast and with so little character they were like a malign force of nature more than actual guys? That's what the alien response team ought to be like. Anything less and we, the U.S. government, just aren't taking it seriously.
3. Smarter violence. Don't get me wrong: it's pretty smart. Bay made the animators pattern the combat off martial arts movies. That's not a bad way to start--but there are some places I'd have gone for
smart
instead of
big and loud
. Remember the fight scenes in T2 where the T-1000 just reverse-morphs instead of turning around ... and so on. Cameron spent a lot of time figuring out what a shape-changing robot might fight like. It think that could've been done here.
Example? There's a chase scene where two (valuable, innocent) humans are in an autobot being chased by a driver-less decepticon. If I were filming that, I'd have highlighted the fact that the car with mushy humans inside was limited in what it could crash through without injuring them while the pure-robot bad-guy had no such restraints. Thus, the good car would have to drive
smarter
. That would've been really interesting (and, in fact, we saw stuff like that in the epic motorcycle/truck T2 chase scene).
4. Be smarter about the moral. In a traditional Hollywood movie, when 'moral statement' is introduced in the beginning it'll be played out at the end. Often (and
even worse
) the movie doesn't get its own moral right! In the most recent
Fantastic Four
movie, the character who gets upbraided for being a solo-act saves the day at the end by being ...
a solo act
. In this movie there is a moral statement that gets reinforced--but in the end--well, let's just say that things happen without the stated 'necessary ingredient.'
This doesn't feel like a sophisticated take on overly-simplistic-moralizing: the movie is
no where near
that coolly cynical. In the animated
Transformers
movie there's a tragic death at the end. In this version, there is some hinting that maybe a good-guy could take one for the team. Whether someone does or not, I'll say this: if a 'family movie' introduces a moral-message (like FF's
you gotta be a team player
) this is essentially a high school football team coach talking to you.
That's fine--but if the movie is going to
contradict
that vision (superstars who are selfish jerks really do dominate in some sports--no matter what 'coach' would like to think) that movie must carry subtle undertones of that all the way through before building to a dark crescendo at the end where it actually makes the
point
that locker-room slogans are really best for winning football games and our real, adult lives are more nuanced.
Transformers
is
not
that movie. Neither was
Fantastic Four
. If a film is going walk away from its premise for an upbeat or flashy finale, it is
weak
. Worse, it's pandering--see the bit at the beginning about selling sugary cereal to mom by claiming something in there beyond the box is actually good for you (maybe the toy? Probably.).
So I'd have ditched that if I were Bay.
5. Family friendly means there has to be some bodily-function joke to keep 8-year-old boys entertained. So there is at least one. I could live without that. While we're at it, the 'characters' of the Autobots (cursory as they are) to reek of 80's stereotypes. I'm pretty sure that one of them is the "black dude" and he's the "break dancing autobot" (and he's the one that gets it). It's plausible that they learned to speak English, as they say, from the Internet--but if that was true, their dialog would be
horrific
.
Optimus Prime: DIE NOOB!!
Megatron: Im In UR BASE, STEALING UR CUBE!
Bumblebee: OH NOES! THEY BE TAKING MY CUBE!!
Megatron: ST4RS[REAM! U HALF FA1LED ME! L4MR!
Starscream: NOES! EYE IS L33T!!
Sam (the human kid): "Lord? Can they
all
die?"
Interestingly Bay originally wanted to have the robots be silent. This would've been a good move: I was most impressed with Bumblebee who speaks (initially) only with songs off the radio.
Conclusion
In company with other big-budget summer action movies,
Transformers
delivers the goods. It deserves the big screen. Its pushing-the-envelope computer effects (Dreamworks had to upgrade their server farm and it still took 38hrs to do one-frame of the movie) are flashy enough to rock the house. But it wouldn't have taken, you know,
39
hours per frame to make it
smarter
. Maybe a little
darker
. I think in the end, playing to the fan-base (who are all in their 30's now) made a movie that (in family-friendly style) combines the
average
of what appeals to the two age-ranges rather than the
best
. I think and despite its big and shininess, while it is a fun movie, it's something of a missed opportunity for greatness.
NOTE: They are making two more. While I have little expectation that it'll take a turn for the more sophisticated, there's always that chance.
-- Marco Chacon
Read More Transformers Reviews
For more reviews please visit our film/television review section.
SPONSORED LINKS