Transformers: Revenge of the Fallen (2009)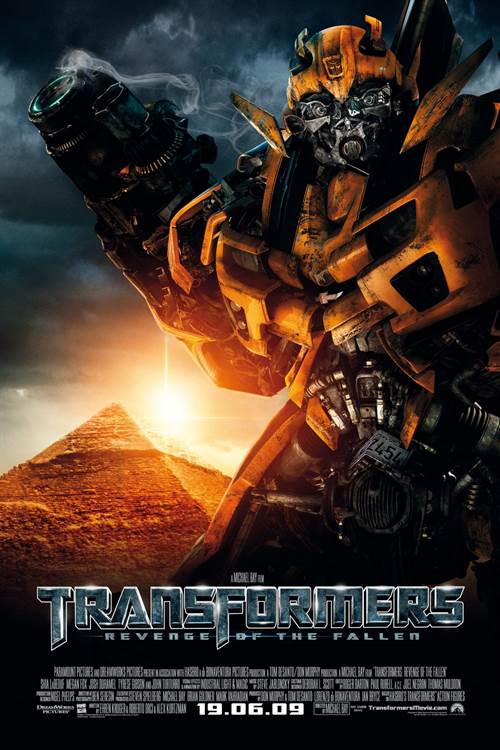 | | |
| --- | --- |
| Director: | |
| Writers: | |
| Cast: | |
| Released: | Wednesday, June 24, 2009 |
| Length: | 150 minutes |
| Studio: | Paramount Pictures |
| Genre: | Sci-Fi/Fantasy, Action/Adventure |
| Rating: | Some material may be inappropriate for children under 13. |
Transformers: Revenge of the Fallen Synopsis
Transformers: Revenge of the Fallen is an upcoming science fiction/action film due for release on June 24, 2009. It is the sequel to 2007's Transformers, which was the first live action Transformers film. Michael Bay and Steven Spielberg return respectively as director and executive producer, while Shia LaBeouf reprises the role of Sam Witwicky, the human caught in the war between Autobots and Decepticons. The film introduces many more robots and the scope has been expanded to numerous countries, the most important of which is Egypt.
Transformers: Revenge of the Fallen images are © Paramount Pictures. All Rights Reserved.
Win Bumblebee on 4k UHD!
4/1/2019 1:38 AM EST
Have you enjoyed all of the Transformer movies that have come out in the past several years?  Is Bumblebee your favorite character? Then this is the contest for you. FlickDirect, in conjunction with Paramount Pictures, wants to give one lucky winner ...
| Full Article
Transformers 7 Taken Out of Paramount's 2019 Lineup
5/24/2018 2:18 PM EST
Paramount has decided to take Transformers 7 out of its 2019 lineup. The film was originally scheduled to debut on June 28, 2019. That date will now see the release of Tiffany Haddish's comedy "Limited Partners".The studio will still be releasing the...
| Full Article
Principal Photography Begins on Bumblebee
7/31/2017 3:59 PM EST
Paramount Pictures has announced that they have begun principal photography on "Bumblebee", which is being directed by Travis Knight."Bumblebee" takes place in 1987, where we find the bot hiding out in a junkyard in a small Californian beach town. Ch...
| Full Article
Travis Knight to Helm Bumblebee Standalone Film
3/2/2017 9:21 PM EST
Transformers was a hugely popular franchise, both in the 80s and now, and one of its star characters will be getting a spinoff film. Bumblebee will be the focus of the spinoff, and Travis Knight has been chosen to helm the project.Knight directed the...
| Full Article
Michael Bay Discusses Tranformers: The Last Knight on His Website
2/3/2017 10:32 AM EST
Michael Bay has taken to his official site to discuss the upcoming film, Transformers: The Last Knight, and what the franchise has meant to him.  He spoke about the mythology of this film, and how this release is "bittersweet". The Last Knight traile...
| Full Article
Josh Duhamel Confirms Return to Transformers
5/18/2016 1:03 PM EST
Josh Duhamel, who starred in the first three Transformer films, will be returning to the franchise.  The actor tweeted out the following:"Lieutenant Colonel Lennox reporting for duty. Let's do this. #transformers"Duhamel, who portrayed Lt. Col. Lenno...
| Full Article
Michael Bay Confirms His Return for Transformers 5
1/5/2016 9:50 AM EST
It has been confirmed by Michael Bay, himself, that he will be returning to direct Transformers 5.  Bay made the announcement while doing promotion for his upcoming film, "13 Hours".It is also expected that Mark Wahlberg will be returning to franchis...
| Full Article
Michael Bay Will Stay On for Fifth Transformer Film
7/1/2014 3:49 PM EST
It has been reported that Michael Bay will be directing the next installment of the Transformers franchise, "Transformers 5".Bay has agreed to come back on board, but under one condition - he wants to make a "smaller" film first.  This means that the...
| Full Article
Next Transformers Film Could Feature Dinobots
5/22/2013 1:54 PM EST
There are rumors swirling around about the possibility of the Dinobots making an appearance in the next "Transformers" film.Supposedly, the villain Lockdown will be in the film and is said to own a ship full of decommissioned Transformers including t...
| Full Article
New Casting Revealed for Transformers 4
1/8/2013 4:05 PM EST
"Transformers" director, Michael Bay, has just announced new casting for the upcoming fourth film in the franchise via his website.Bay wrote, "I just hired a great new actor for Transformers 4 to star against Mark Wahlberg. Jack Reynor, he is an Iris...
| Full Article
Mark Wahlberg to Star in Transformers 4
11/9/2012 11:34 AM EST
In somewhat shocking news, Michael Bay has announced that Mark Wahlberg will be starring in the upcoming "Transformers 4" film. "Mark is awesome. We had a blast working on Pain And Gain and I'm so fired up to be back working with him. An actor of his...
| Full Article
Mark Wahlberg Wanted for Upcoming Transformers Film
10/24/2012 4:08 PM EST
It is rumored that Michael Bay is interested in Mark Wahlberg for the leading man role in the fourth movie of the "Transformers" franchise, although the director has taken to his personal website to try and quell this, his statement can be found here...
| Full Article
Movie / Film Review
"It is easy to shoot an art movie in a winery in the South of France. But people have no idea how hard it is to create something like Transformers. They (the critics) review me before they have even seen the movie."-- Michael BayThe real question is, "What was Michael Bay...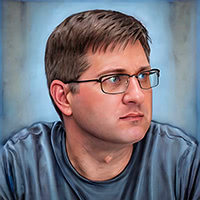 Movie / Film Review
This is one of the hard movies to review, because I could give this movie an F and if you are a fan of the first movie, you're probably going to go see it in the theater anyway. While I did enjoy the movie, from a overall movie perspective the movie doesn't quite cut it. Set two years afte...
SPONSORED LINKS