Predators (2010)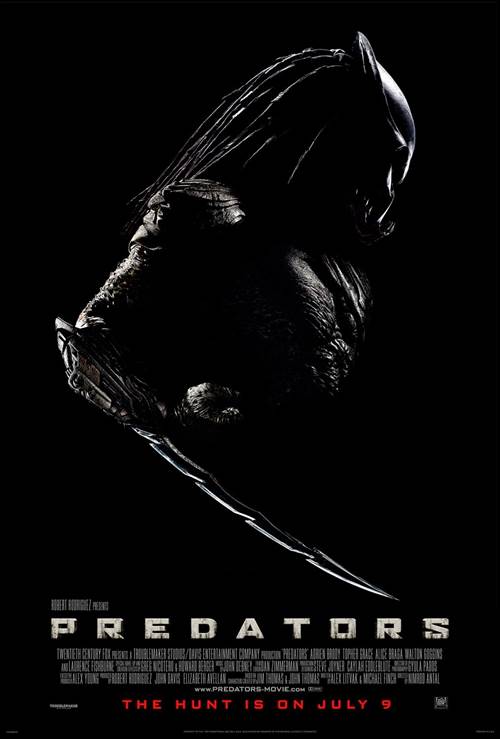 Share this:
| | |
| --- | --- |
| Director: | |
| Writers: | Robert Rodriguez, Alex Litvak, Michael Finch, Laurence Fishburne |
| Cast: | |
| Released: | Wednesday, July 7, 2010 |
| Length: | 106 minutes |
| Studio: | 20th Century Studios |
| Genre: | Sci-Fi/Fantasy, Action/Adventure |
| Rating: | Under 17 requires accompanying parent or adult guardian. |
Synopsis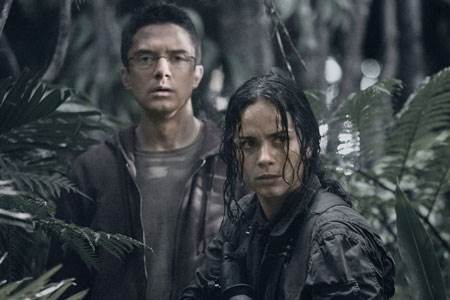 Maverick filmmaker Robert Rodriguez tackles producing duties for a revamp of the Predator film series with this 20th Century Fox/Troublemaker Studios production focusing on a human survival adventure set on the Predator's home planet.Rugged mercenary Royce (Adrien Brody) inherits command of an elite team of human fighters -- including dorky-but-dangerous Edwin (Topher Grace) and tough-but-beautiful Isabelle (Alice Braga) -- as they are hunted by a race of ruthless alien trackers known as Predators. Director Nimród Antal's sci-fi action explosion, which also stars Laurence Fishburne and an uzi-toting Danny Trejo, is a direct sequel to the 1987 blockbuster Predator.
Purchase DVD/Blu-ray/4K physical copy of Predators today at
Download Predators in Digital HD/4K from the iTunes store.
Predators images are © 20th Century Studios. All Rights Reserved.


Benicio del Toro to Star in Predator Reboot
9/13/2016 12:18 PM EST
Benicio del Toro is currently in talks to star in Fox's upcoming reboot of Predator.  The original franchise began back in 1987 and, of course, starred Arnold Schwarzenegger.The film will be directed by Shane Black and written by Fred Dekker.  The film's original producers, John Davis, Joel Silver, and Lawrence Gordon, will be producing. Along with Schwarzenegger, Predator starred Carl Weathers an...
More>>
Arnold Schwarzenegger Interested in Predator Role
3/8/2016 9:31 AM EST
Arnold Schwarzenegger said that he plans on meeting with Shane Black, The Predator screenwriter and director, to discuss his possible return as Major Alan "Dutch" Schaefer for the upcoming film."I haven't talked with him (Shane Black) yet but I'm going to meet with him for lunch sometime soon. Just as soon as I'm finished with this and "The Apprentice" and all this stuff. But I will get together w...
More>>
Predator Film Script Turned in to Studio
11/30/2015 2:06 PM EST
The script for the sequel to 20th Century Fox's Predator has been completed and handed in, according to Fred Dekker, the script writer.  This marks one step closer to the sequel that many fans are curious and excited about.The film project was announced last summer by director Shane Black along with Dekker.  There weren't any details released about the plot, other than it would be an  "inventive s...
More>>
Ridley Scott Confirms Prometheus 2 as Next Film
8/28/2015 3:14 PM EST
During a recent interview, Ridley Scott has confirmed that Prometheus 2 is, in fact, the next film he has lined up.  While speaking about his film, The Martian, alongside Matt Damon, Damon commented, "Ridley was done with the movie about two weeks after we shot!"  Ridley added, "I was already on to my next movie! I was starting to look for locations for my next movie, which is Prometheus 2."Ridley...
More>>
Predator Reboot To Be Released
6/25/2014 12:06 PM EST
It was announced this morning that there will be a "Predator" reboot released, and that the film will be directed by Shane Black (Iron Man 3).The original film was released in 1990 and starred Arnold Schwarzenegger, Carl Weathers, Bill Duke, Jesse Ventura, Richard Chaves, and Elpidia Carrillo. Interestingly enough, Shane Black also had a small part in the original.  Fred Dekker will be writing the...
More>>
A Head-Popping Film With Friends (Predator 3D at SDCC)
8/2/2013 2:37 PM EST
When the water rises in a creek, it rushes. Allowing for the poor analogy of crowds of water molecules and crowds of people, you could not reach the same conclusion on the main exhibit hall floor of San Diego Comic-Con International, though 2013 seems to be flowing more smoothly than did the crowds of 2012. Whether this is due to greater excitement over this year's events, or lesser, I cannot say....
More>>
Predators Trailer "Money Shot" Not In Actual Film
7/13/2010 8:44 PM EST
Robert Rodriguez sat down with MTV news a few weeks ago to discuss the recently released "Predators" film. While being interviewed, Rodriguez was asked why a specific scene that was shown in the trailer was left out of the actual film. The scene is question was of Adrien Brody's character being covered in laser gun sights by the Predators. In the film, however, he is covered with a single beam of ...
More>>
Robert Rodriquez To Re-make Predator
5/11/2009 3:27 PM EST
For all you "Predator" and Robert Rodriguez fans out there, listen up. Word has it that the acclaimed director has plans on doing a remake of the classic Arnold Schwarzenegger action/sci-fi film, Predator.Rodriguez announced his decision at a press conference at his Troublemaker Studios saying, "I'm going to be able to shoot my upcoming Machete here, a sci-fi action film called Nervewrackers, a re...
More>>
Predators Theatrical Review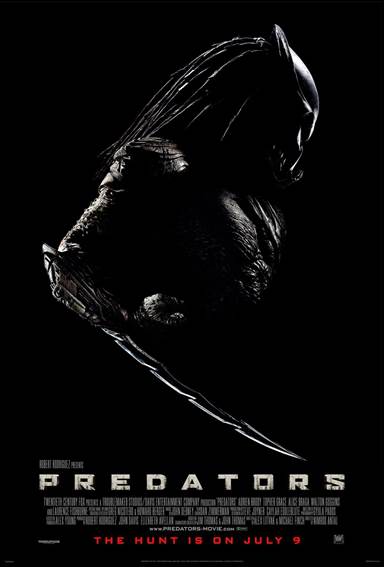 Do you realize how great things are now? No longer are we bound by the conventions of cinema to listen to Jesse Ventura wax metaphor on his sexual prowess. The adhocracy of special effects devices has been banished in favor of computers, and shall ever be unmourned. The false camaraderie of impossible men is replaced by the true mutual mistrust of the people of our world, and no longer need they all be Americans.
Everywhere you look these days, things are different. As time has gone by, we find that the deep jungle grows ever sparser. We can actually rely on our colleagues to help us, however amoral they might seem to be, or how obviously Chekov's some of their guns are. There's a new brand of Predator alien with an extra row of teeth, perhaps to make up for the overall sanitization of the mouth design. A man known for acting (Adrien Brody, The Pianist, The Jacket) can take the place of a man better known for bodybuilding. We may even find that, if we look in the right place, that it is disconcertingly obvious that we're on a different planet.
Indeed, Predators solves most of the problems of Predator. The supporting cast is no longer dead weight, and may no longer be accused of drowning the flow of the story in a silly series of B-plots. Substituting for an awkward friendship/betrayal/redemption arc is the show-stealing Nolan (Laurence Fishburne, The Matrix) in a small, yet critical role. The motif of predator and prey is played to much more strongly, and the final battle is no longer harnessed to an improbably elaborate trap.
Nevertheless, Predators also falls foul in failing, or refusing, to recreate the conceptual elegance of Predator's final act. It was the strongest of possible interpretations of the theme, and played marvelously to its actors' strengths. In its place, we have the inconceivable introduction of Predator politics, only to make possible a human/Predator alliance as a plot device, whose most favorable comparison must be to the similar, and similarly immersion-ruining alliance in Alien vs. Predator. It is not the mistakes that Predators made that make it so flawed, however--it is the risks it refused to take.
Read More Predators Reviews
For more reviews please visit our film/television review section.
SPONSORED LINKS